Emotionally Overwhelmed? This is the Truth You Need to Know
Are you ready to lose that overwhelming sense that "something must be wrong with me" and learn, instead, to embrace this HSP gift God's given you? The Sensitive & Strong Community Cafe is open to new members now!
If only I could take a scalpel to my emotions the way a surgeon cuts out cancer.
Today, I'm overwhelmed by my own emotional sensitivity.
Tired of feeling #AllTheFeels #AllTheTime.
It's nobody's fault. It's unpredictable. And it's exhausting.
Welcome to my world.
If you're a Highly Sensitive Person, this — or your own version of this — is your world, too.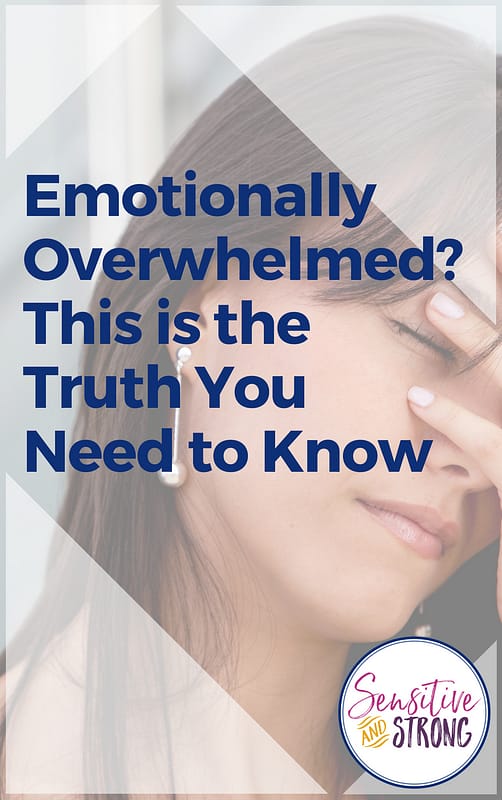 When Sensitive and Strong subscribers respond to the question, "What's your #1 struggle in this overwhelming world?" the majority of the answers sound like these:
Our own emotions
My biggest struggle is keeping my emotions under control when I'm feeling pressure to get things done in time.
Managing my overwhelming feelings within day to day situations
I struggle with remaining steady. I don't want to be tossed around by my emotions. I have grown so much and yet at times feel like I just fall into a pit out of nowhere. Knowing what peace feels like, it is all the more discouraging when I fall into those times of worry, overwhelmed, feeling like I just can't reign my emotions in no matter how hard I try. I want to feel my emotions, but not be ruled by them.
Others' emotions
My biggest struggle is over-identifying with other people's tragedy and pain so much so that I almost make it mine and I almost feel like how can I be free if they are not.
My biggest struggle is letting how others are feeling mess with how I am feeling. I can immediately tell if someone is angry, or sad or disappointed, or bored, and this impacts how I act and sometimes feel. Sometimes, if I know them well enough, I know they are angry or upset before they will even admit it.
The needs, resistance, and lessons are endless and everywhere. It's overwhelming. I know there is only one Savior, and that I am one of many servant teachers…
So clearly, the problem is emotions.
Right?
And the obvious solution is to quit our emotions. Cold turkey.
Which solves everything.
Right?
But here's what some of our Sensitive and Strong Sisters say happens when they try to live emotion-free:
I shut down and become a shell of myself.
I become numb to it all.
I quit everything and hide.
I stay "in my head" and ruminate.
How about you? Do these ring true?
For me they sure do.
And none of these sound like solutions. In fact, they sound like a whole new batch of problems!
So, if quitting our emotions isn't the solution to our problem, what is?
Wrong Problem, Wrong Solution
If you're at all like me, people have told you, all your life, that you're "too emotional."
And you've assumed that they're right.
But what if they're not?
When asked, "What is the greatest of all the commandments?" Jesus does not say, "Love the Lord your God with all your soul and with all your mind and with all your strength — but cut out your heart."
Jesus actually says,
Love the Lord your God with all your heart and with all your soul and with all your mind and with all your strength. Mark 12:30 (NIV)
He calls us to live and love with our heart and soul and mind and strength completely integrated—and in tact. No scalpel necessary.
What if we've named the wrong problem all along? What if your emotions aren't your enemy, after all?
Consider this quote*:
Between stimulus and response there is a space. In that space is our power to choose our response. In our response lies our growth and our freedom.
Apply this to a scenario in which there's no space between your stimulus and response.
When there's no space, then there's no power to choose your response. Which means there's no growth and 0 freedom.
We have a word for this scenario.
But it's not emotion.
It's reaction.
Which means that:
Emotional sensitivity isn't your problem — reactivity is.
Right Problem, Right Solution
The solution to reactivity isn't suppressing, denying, or removing your emotions.
It's learning how to expand the space between stimulus and response.
We can't remove our emotions; they're hard-wired, a vital part of our HSP DNA.
But we can learn to choose how we re-spond — rather than re-act — to our emotions
Instead of constantly feeling emotionally overwhelmed, we can become consciously, intentionally, emotionally response-able — for our own emotions and those of others.
As I manage my own #AllTheFeels moments, I'll be revisiting the resources listed below. They contain practical tools that help expand the space between stimulus and response.
Whatever you do, keep this goal in mind:
Instead of trying to control your emotions, focus on learning to manage your reactions.
If you're feeling emotionally overwhelmed, check out the whole series:
* This quote has been widely — and erroneously — attributed to Nazi concentration camp survivor, Viktor Frankl. The actual author is unknown.
This blog post became part of a chapter in Sensitive & Strong: a Guide for Highly Sensitive Persons and Those Who Love Them, co-authored by Denise J. Hughes and Cheri Gregory.