HSP Self-Care: Why You Need to Keep Your Options Open
Are you ready to lose that overwhelming sense that "something must be wrong with me" and learn, instead, to embrace this HSP gift God's given you? The Sensitive & Strong Community Cafe is now open to new members, and we'd love to have you join us!
I don't want to drive to Banff.
My flight from San Francisco, California to Calgary, Canada has barely lifted off, and I'm already dreading what awaits me once I land:
Getting through customs.

Finding my luggage.

Renting a car.

Wrestling with my GPS.

Navigating unfamiliar streets and highways.

Finding my way to someplace I've never been at dusk.
It's all so overwhelming!
Why, oh why, did I think I needed to rent a car?
I think back to a different trip a few months ago.
Oh yeah. Then, having a rental car was definitely "carrying my own jam jar."
My own set of keys gave me the control I needed … during that trip. When planning this trip, I expected control to be my top need yet again. But now that I'm on my way, control takes a distant second place.
I lean my head back and close my eyes.
I'm just so tired.
What I need more than anything else right now?
Rest.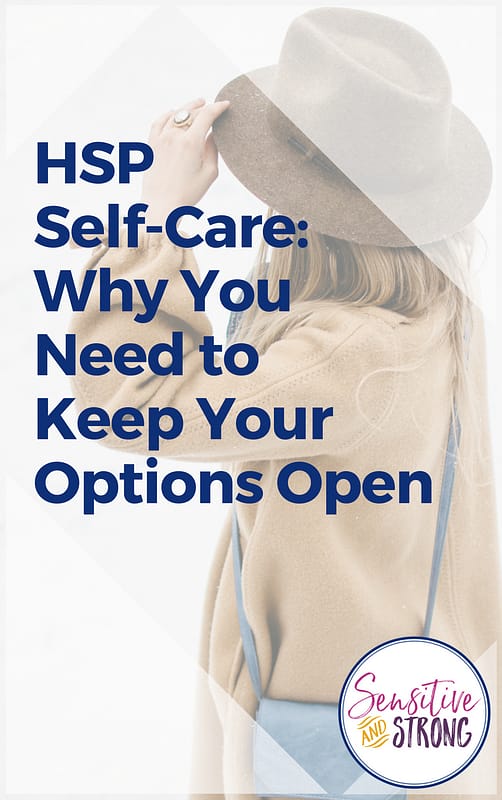 My plane has scarcely touched down in Calgary when I turn on my cell phone and search for Uber.
Crazy, I know, but I might as well see how much they charge.
I sigh when I see the price. I'm not surprised that the one-way fee to Banff is almost as much as a one-week car rental, but I'm still disappointed.
It would have been so nice to just get into a car and have someone else drive me there.
I clear customs, grab my luggage, and start trekking to the car rental lot.
A glance out the window confirms my fears: my two-hour delay leaving SFO means that I'll be starting my drive to Banff at sundown.
I hate driving in the dark, especially in a new area.
As I trudge from Door 17 to Door 5, I mentally tick off the vendors as I pass them by.
Mac's Convenience Store.

Jugo Juice.

Banff Airporter.

Travelex Worldwide Money.

Tim Horton's.

Starbucks.
I halt.
"Banff Airporter"?!?
Hope surges as I retrace my steps.
Within fifteen minutes, I'm sitting on a comfortable shuttle bus, feet up, seat reclined, earbuds in, quiet music on.
I'm actually saving money. And, more importantly, I have what I need most:

Rest.
Wishy-Washy vs. Self-Care?
The next day, I made a short video for the Sensitive and Strong Facebook group in which I shared a few thoughts that went something like this:
When I made the reservations, I thought I knew what I was going to need. I expected to need independence. So I booked a rental car.

But when it actually came to the moment of getting the rental car, that's not what I needed. I needed to not drive myself. I needed to not be saddled with a rental car. I needed to not pay the high parking fees I learned about only after making the reservation.

I think about what people have told me over the years.

"You're wishy-washy."

"You change your mind too much."

Which feeds my fear of being "high maintenance."

But isn't it interesting that what I predicted I would need ended up being so different from what I actually needed?

So, what's the balance, here, of needing the control of making certain plans while also needing the flexibility to change plans?

What's the difference between being wishy-washy and simply keeping my options open?
When I was younger I used to force myself to follow through.
I'd tell myself, "You planned it; you committed to it; you gotta do it." Or, "I should want this, thus, I must do it."
But what if we could take a more gentle approach to ourselves and our plans?
What if consciously re-prioritizing our needs in the moment isn't a sign of wishy-washiness but of self-care and <gasp> personal responsibility?
What if intentionally re-deciding because our situation has changed doesn't make us "high maintenance" — it makes us adaptive?
How to Keep Your Options Open
I traveled solo to Banff, so nobody else was affected by my change in plans. Had I been traveling in a group, with other people depending on me for transportation, things would have been more complicated.
I would have felt obligated to Stick To The Original Plan.
Which makes me realize how often I paint myself into a corner with other people by communicating plans in such detail that I feel like I dare not make any changes.
A few ways we can keep our options open:
1) Share more what and less how.
In my example, the "what" was "get to Banff." That stayed the same, even though my "how" changed from "by renting a car" to "via shuttle bus."
2) Include contingency clauses.
Make a list of things that could reasonably result in changes:
"…assuming no delays…"

"…as long as it's sunny…"

"…depending on our energy levels…"
Inserting phrases like these in your planning conversations normalizes the need for flexibility.
3) Discuss Option B … and C, D, E, F, and G.
We HSPs are often the only canary in any given coal mine. We sense that something is wrong before anyone else does. We recognize the need for change while others are still trying to "suck it up, Buttercup."
Discussing options ahead of time draws others into pre-emptive conversations.
"If it rains, how about we _____ rather than_____?"
"If some of us are feeling too exhausted to_____, we can_____ while everyone else_____."
"If it's too dark to_____, I can_____."
Self-Care = Caring for Others
Such discussions aren't "high maintenance."
They're kind.
Considerate.
Generous.
When you invite others to join you in thinking through your options, you are offering them the gift of freedom.
freedom from unrealistic expectations
This type of intentional self-care is a powerful way of loving others.
Plus, when you initiate these conversations ahead of time, you might notice someone who looks especially grateful, even surprised.
Watch for the woman who says nothing but nods a lot. She may well be Highly Sensitive Person who doesn't yet know that HSP is a thing.
She just knows that she's always been easily overwhelmed, and nobody understands her.
But you do.
And by advocating for yourself, you're advocating for her, too.
Real self-care doesn't mean you care only for yourself; it means that because you care for yourself, you can truly care for others, too.