Why Wouldn't You Want to Be an HSP?
Are you ready to lose that overwhelming sense that "something must be wrong with me" and learn, instead, to embrace this HSP gift God's given you? The Sensitive & Strong Community Cafe is open to new members now!
"This is scary. You're totally describing me. "
We've been sitting at Starbucks for over an hour, talking on the inhale and the exhale.
My friend has nodded so often, I'm surprised her head is still attached. She's laughed, cried, and thrown her hands up in the "How did you know?" gesture over and over.
Everything I've told her about being a Highly Sensitive Person is totally hitting home.
But there's a hitch.
"I just can't stand the word sensitive," she says with an involuntary shudder.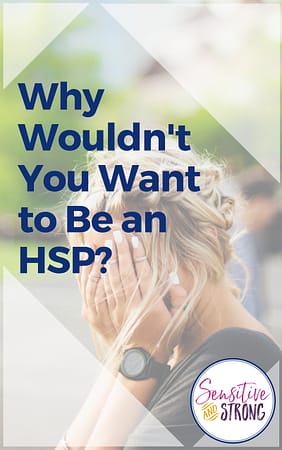 3 Reasons Why You Don't Want to Be an HSP
Five years ago, my only reaction to a woman who was less-than-thrilled to learn that she's an HSP was my classic deer-in-the-headlights stare.
(Not exactly an expression of empathy.)
Their experience was so different from mine, and I didn't know what it meant.
But now, I'm used to hearing things like
"I just can't stand the word sensitive."
"My family would never let me hear the end of it if I told them I'm a Highly Sensitive Person."
"Even though I got a high score on the quiz, I hate admitting to myself that I'm an HSP."
I'm grateful to those of you who are helping me understand why sometimes we really don't want to be HSP. Here are three common concerns:
1) The word sensitive carries negative connotations.
Look sensitive up on www.Dictionary.com, and you'll find that it means:
"easily irritated or annoyed"
"delicate, touchy"
"requiring tact or caution"
Synonyms include
tense
unstable
high-strung
That's a whole lotta baggage for one three-syllable word!
2) In many families, strong and self-sufficient are the only acceptable qualities.
If you're anything else, you'd best "suck it up, Buttercup."
3) For most of us, our idealized identity doesn't include sensitivity.
When you were a little girl, did you tell your parents, "When I grow up, I want to be an HSP"?
Neither did I. Being an HSP is a truth about our wiring, not a goal we aspire to.
3 Reasons Why You Can Embrace Being HSP
The "3 Reasons Why You Don't Want to Be an HSP" list above is valid. So is this list of powerful reframes.
1) The word sensitive has a plethora of positive meanings.
Here's a short list:
attentive
authentic
aware
careful
committed
conscientious
deep
deliberate
discerning
empathetic
faithful
fine
insightful
intentional
intuitive
keen
knowing
observant
perceptive
reflective
responsive
precise
thoughtful
tuned-in
understanding
vulnerable
No, you can't change what other people think about your sensitivity.
But you can remind yourself: I get to choose what being HSP means to me.
2) Research is redefining what it means to be strong.
About that last word on the list — vulnerable
Thanks to the ground-breaking work of Dr. Brene Brown, we know that vulnerability is not a sign of weakness; it's actually a sign of strength.
(Can't see the video? Click here to watch directly on YouTube!)
Remind yourself: My sensitivity is a strength.
3) We value HSP qualities … in other people.
Many of us are conditioned to abuse ourselves and care only for others.
You berate yourself for being "such a big crybaby." But when a friend becomes tearful, you quickly assure her, "It's okay!" and hand her a Kleenex.
Read through the positive list again. These are the kind of people you're drawn to, aren't they? The goal, now, is to give yourself the same welcome you give others.
So remind yourself: The sensitivity I admire in others is the same sensitivity I see in me.
Why You Never Wanted to Be an HSP
During that Starbucks conversation with my friend, I had an all-new insight about why being an HSP is so hard for some of us to accept.
It was the light bulb moment I've been waiting five years to finally have, and I'll share it with you next week.
Between now and then, I'd love to hear from you.
What makes it hard for you to accept that you're an HSP?
What makes it hard for you to share with others that you're an HSP?
What would make it easier for you to admit to yourself and others that sensitive is in your DNA?