How to Increase Your Emotional Resiliency as an HSP
Are you ready to lose that overwhelming sense that "something must be wrong with me" and learn, instead, to embrace this HSP gift God's given you? The Sensitive & Strong Community Cafe is now open to new members, and we'd love to have you join us!
"Do you feel like your sensitivity helps you or hinders you in growing your grit*?
Recently, I asked this question in an email to the Sensitive and Strong Connection, and ohhhhh, the reflective responses! You've given me much food for thought, research, and further pray-cessing.
Here are a few representative comments, some from those who feel that being an HSP hinders you in developing emotional resiliency and some from those who feel that your sensitivity helps you in growing your grit.
High sensitivity often feels like automatic low emotional resiliency.
From a reader who gets my inability to remain sane within earshot of yappers:
Grit? What's that? LOL! I'm too busy people-pleasing and having anxiety over barking dogs to focus on bravery or backbone. "Passion and perseverance for long term and meaningful goals" — that sounds wonderful … but does not sound like anything I've ever done.
From a reader who eloquently illustrates the need to recognize and respect sensitivity early on:
My whole life growing up, when I was told continually that I was too sensitive, that I needed to develop a thicker skin (how do you even do that?), and so on … then, the sensitivity was a weakness. … I seriously chose a career path that I saw as less competitive than what I truly wanted to do because I did not think I could handle it.
HSPs can develop high emotional resiliency.
From a reader who demonstrates the importance of acceptance:
When I was looking at my sensitivity as a curse, it was a problem. I was weak, lacking self-control. But now that I am doing better at accepting it, my sensitivity helps me to be stronger. It helps me sense a possible bad result in time to make a better choice.
From a reader who is starting to see the surprise gifts hidden within sensitivity:
To be honest, I think my sensitivity currently hinders me. But I am slowly coming to see that with attentiveness to my own rhythms and to applying the gospel specifically to my anxiety and sensitivity, I could be a person of grit and determination … Perhaps part of my sensitivity TO my sensitivity makes me able to perceive some things that are going to help me in growing my GRIT!
From a reader who senses how our sensitivity can connect us strongly to our dependance on God:
Definitely helps! It gives me the motivation to "set aside the sin that so easily entangles" me and reminds me that my Heavenly Father always is patient with me as I push toward my goals.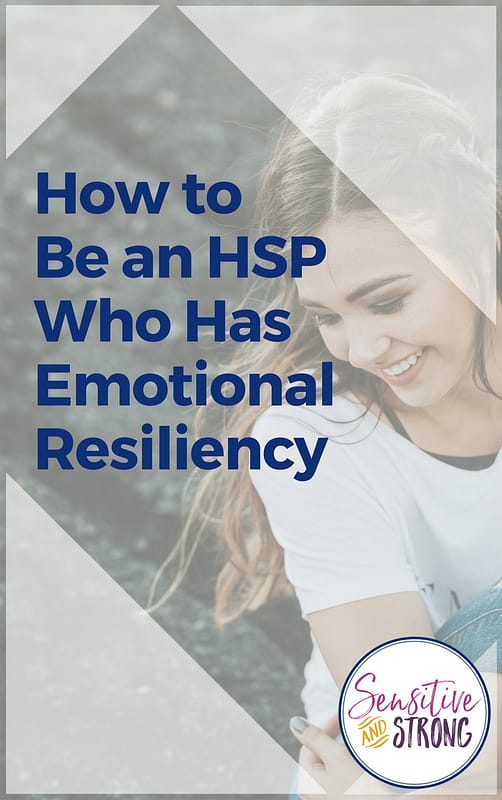 What We Can Learn From Jesus About Our Sensitivity
Now, let's take a leisurely walk together through the miracle of Jesus feeding the five thousand. John 6:5-13 (NIV)
When Jesus looked up and saw a great crowd coming toward him, he said to Philip, "Where shall we buy bread for these people to eat?" He asked this only to test him, for he already had in mind what he was going to do.
Doesn't this sound like a trick question? It feels like Jesus is asking the impossible.
Philip answered him, "It would take more than half a year's wages to buy enough bread for each one to have a bite!"
Philip sounds a tad sarcastic … and totally overwhelmed.
He's saying, "Even if I worked for 180 days straight, I'd only earn enough money to feed all 5,000 men ONE LITTLE BITE. Which is basically NOTHING. Because they'd want ANOTHER bite. And ANOTHER. And ANOTHER."
Feel at all familiar?
The feeling of No matter how hard I work, no matter how much I do, I can't even make a dent!
Another of his disciples, Andrew, Simon Peter's brother, spoke up, "Here is a boy with five small barley loaves and two small fish, but how far will they go among so many?"
Oh, how I identify with Andrew! And how often I sound just like him.
"five small barley loaves" and "two small fish"
and the question that echoes in the heart of every HSP:
"How far will so little go among so many?"
How far will the few hours in my day go among so many tasks I need to do?
How far will my feeble gifts go among all the people I care about?
How far will my tiny attempts go among the endless needs I perceive?
Jesus said, "Have the people sit down."

There was plenty of grass in that place, and they sat down (about five thousand men were there).
Jesus does nothing by accident. And John is a detail-conscious writer (perhaps a fellow HSP?) who records the scene with intentionality. So why does Jesus ask everyone to sit down? And why does John tell us "there was plenty of grass in that place"?
This moment evokes Psalm 23:
The Lord is my shepherd; I shall not want.
He maketh me to lie down in green pastures …
He restoreth my soul …
And sets the stage for
John 10
, when Jesus will tell them, "I am the good shepherd…"
Jesus then took the loaves, gave thanks, and distributed to those who were seated as much as they wanted. He did the same with the fish.
Phillip gives up. Andrew gives up. All they can see is how little they have.
Jesus gives thanks. God takes the little he has and multiplies it from scarcity into abundance.
Notice that Jesus gives thanks for what others have ridiculed, mocked, disdained, and dismissed.
When they had all had enough to eat, he said to his disciples, "Gather the pieces that are left over. Let nothing be wasted."

So they gathered them and filled twelve baskets with the pieces of the five barley loaves left over by those who had eaten.
Notice, too, that John does not report that everyone gets "just barely enough to keep from fainting."
Nope.
He records that they all have "enough to eat."
ENOUGH.
MORE than enough, in fact.
Abundance.
Bounty.
Excess!
And notice how many baskets were left over?
12.
One. Per. Disciple.
Imagine Phillip and Andrew, each carrying his own basket of left-overs, finally realizing:

What's absurdity to me is abundance with God.
You CAN Be an HSP Who Has Emotional Resiliency
Friend, the strong in "Sensitive and Strong" doesn't refer to your strength.
It refers to Jesus.
Jesus is the Strength of every tender heart.
Paul, who wrestled with a "thorn in the flesh" that he begged God to remove — just as so many of us have begged God to take away our sensitivities — says this in 2 Corinthians 12:9-10 (NIV)
But he said to me, "My grace is sufficient for you, for my power is made perfect in weakness." Therefore I will boast all the more gladly about my weaknesses, so that Christ's power may rest on me. That is why, for Christ's sake, I delight in weaknesses, in insults, in hardships, in persecutions, in difficulties. For when I am weak, then I am strong.
How can you be an HSP who has emotional resiliency?
Remember this:
Which means that grit isn't yours to strive for or to give up on.
Grit is yours to receive.
So give thanks for the "little" you've got.
Hand it over to Jesus — unashamed.
And plan to be amazed by what He does … with you.
(* Dr. Angela Duckworth defines grit as "passion and perseverance for long term and meaningful goals")