When Disaster Strikes: Five Ways to Push Pause Rather Than React
Are you ready to lose that overwhelming sense that "something must be wrong with me" and learn, instead, to embrace this HSP gift God's given you? The Sensitive & Strong Community Cafe is open to new members now!
"I'm still at a loss for words. How would YOU caption this photo? (Sarcasm = triple points.)"
When I posted this comment—along with this photo—to my Facebook page, the creative captions came flying in!
Not until that evening did it occur to me:
This entire episode was a good example of how to detach during the "everyday ordinaries" of life.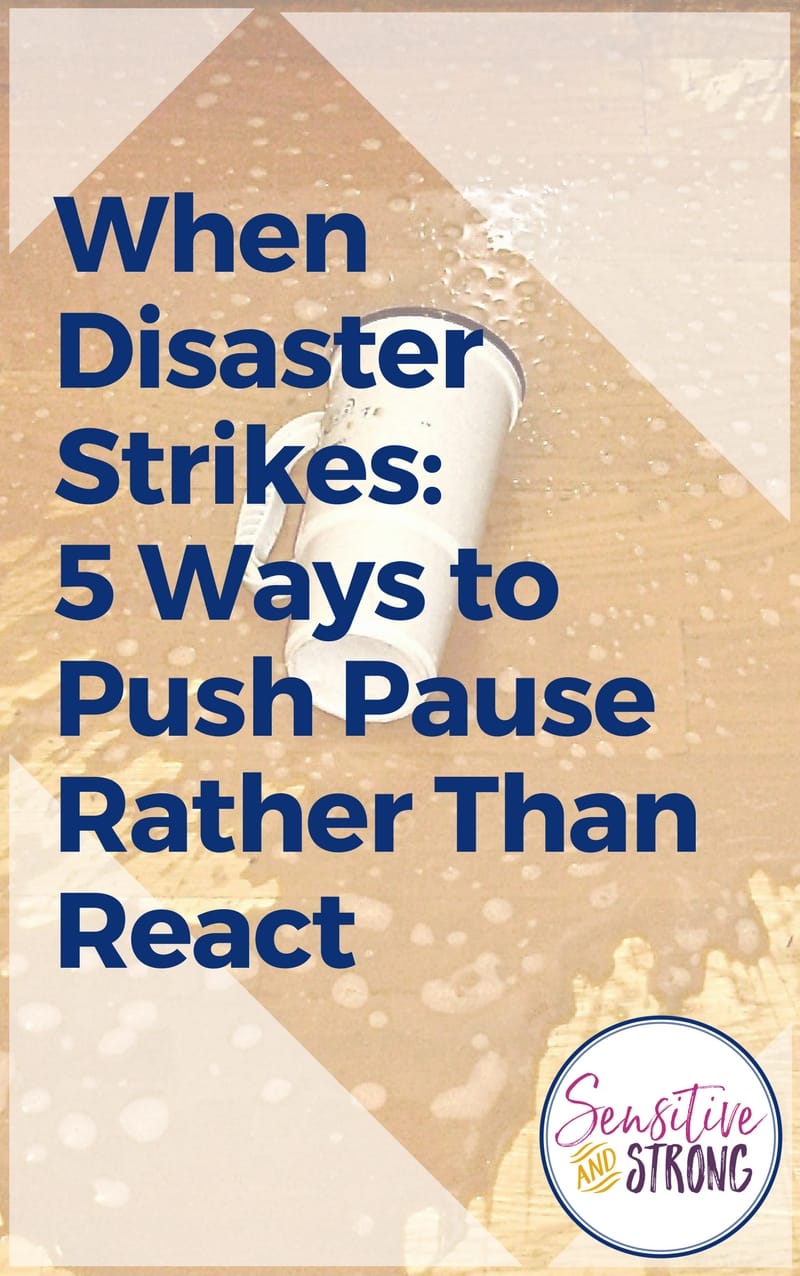 The Set Up
All day Monday, I'd been fighting irritation. You know, the kind that comes with monthly pain and hormones (I know: "TMI, Cheri!") My self-discipline had already gotten a serious workout and was feeling weak from overuse.
I'd also spent the day doing various small home cleaning jobs. I tried to keep a positive attitude about each one, but it was a struggle; I so hate doing tasks that undo themselves so quickly! Two of my final jobs were—can you guess?!?—vacuuming and mopping the kitchen floor.
Right before I knocked the coffee mug off the counter, I'd been thinking to myself, AHhhhh. I've worked so hard today. Now the moment I've earned: I get to sit in my comfy prayer chair by the window and relaaaaaax.
The Trigger
When my elbow hit the cup, I was stunned.
Even as it sailed thru the air, I tried to figure out why. I realized that complying with Daniel's request that I move the hot pot to a different place on the counter meant I'd misjudged my cup's position.
Oh, how I wanted to make it all his fault! (Our family's favorite competitive sport is the Pin-the-Blame, I'm afraid.)
How to Detach: 5 "PUSH PAUSE" Tools
I stood still for a good 15 to 20 seconds before reaching for paper towels. During that time, I used several "PUSH PAUSE" tools. Here they are, with brief descriptions.
1) I interrupted myself.
I started thinking, "You have got to be kidding! I do NOT deSERVE this! I'm supPOSED to be SITting in my PRAYer CHAIR sipping my MOcha right now!" (On a different day, it might have been, "WHAT kind of KLUTZ are YOU? CAN't you Even MAKE a MOcha without MAKing a MESS?")
I interrupted this "in tense" thinking with, "You'll be there soon" as a reassurance that extreme emotion was not necessary.
2) I controlled my breathing.
I took a slow, deep breath; held it for a few seconds; and then exhaled slowly. Several times. This countered the automatic reflex of inhaling sharply when surprised, which the body reads as alarm.
3) I kept my eyes open.
As I breathed in slowly, I widened my eyes and looked around slowly. This countered the automatic reflex of narrowing the field of vision when stressed, which tells the body it's time to fight or run.
4)

I reached for an A.N.C.H.O.R. verse.
Reaching for A.N.C.H.O.R. verses is an excellent strategy when you're caught off guard.
In this case, I recalled 1 Thess. 5:18 — "In everything give thanks." I thought, Well if that had been one of the tall glasses, I'd have shards of glass all over the floor. I'm grateful it was just plastic and liquid.
Even when I don't feel grateful, I'm finding that trying to give thanks distracts my mind during the crucial "adrenaline dump" moments and keeps me in the rational end of the pool.
5)

I laughed.
This was a conscious choice in response to the absurdity of having just cleaned the floor. I wanted to wallow in persecution and injustice. So I laughed at the mess AND my self. (Seriously, now: how ridiculous is it that I wanted to wallow?!?)
The Caveat
None of these worked for me the first time I tried them.
Or the tenth.
Some of them took weeks just to learn and then months to produce results. We'll talk about practice and habit re-formation in future posts.
The Celebration
When I grabbed for my camera to snap a "Can You Believe THIS?!?" photo to post on Facebook, it occurred to me that I was safely on the other side of a pretty big wave.
Prior to 2012, I would have cried me a river over my spilled mocha. For me, this is progress.
So I celebrated with a "Thank you!" prayer as I mopped up my mess.
And then enjoyed a nice hot mocha in my comfy prayer chair.
If you're seeking to learn how to detach rather than overreact, read the whole series: