The First Step to Take After Failure
Are you ready to lose that overwhelming sense that "something must be wrong with me" and learn, instead, to embrace this HSP gift God's given you? The Sensitive & Strong Community Cafe is open to new members now!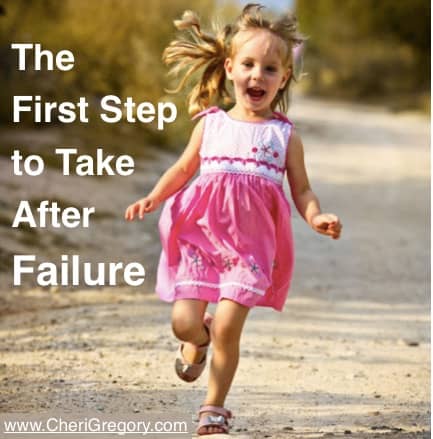 Tuesday was supposed to be the second half of the topic I started Monday morning: I promised you "brain-based & heart-level solutions" for making your brain a bully-free zone.
But then Monday afternoon happened.
And happened.
And HAPPENED.
And KEPT ON HAPPENING.
By bedtime, I'd …
…learned that an event I was expecting to ink on my calendar had fallen through completely.
…received a letter demanding $1,100 for two unlicensed images I'd ignorantly used in 2012 blog posts (and thought I'd removed two years ago.)
…analyzed others' successes in terms of what they mean about me (i.e. "SHE can whip out a book proposal in a weekend! … SHE can make an audience laugh just by exhaling! … SHE brings women to Jesus….").
…peeked at some key numbers and even though they are "fine" became obsessed with why they aren't "fabulous."
…babbled incoherently on two separate occasions when respected writer friends asked me about my current works-in-progress.
…watched an encouraging Mother's Day message but became so fixated on one line ("scared mothers raise scared children") that I burst out in spontaneous crying jags for the rest of the day.
…recognized that I justify major time and energy investments by assuring myself, "As long as ________, it will all be worth it."
…realized that many "as long as"es have never actually happened, making me question the value of investing "all that time and energy."
…felt blindsided by my sudden envy at friends' successes when I'd just been thinking, one day earlier, how grateful I was that God had finally grown me past petty jealousy.
…wished God had called me to write and speak on "cool" topics that are light, fun, easy, and popular.
…added two new trips to my May/June calendar (when all I want to do is STAY HOME and REST.)
…fretted about how we're going to pay all the bills (when just last week I'd been rhapsodizing to a friend about how blessed we are, how God takes such good care of us, and how although we never have much money, we always have "enough.")
And that's my short list.
Your list probably has different specifics but similar emotions: disappointment, regret, discouragement, shame, guilt, fear, and their many cruel cronies.
Feeling Like a Failure
As I tossed and turned at 10:30 PM, I thought:
This is absurd. I'll just get up. Might as well do something productive.
But then I realized:
If I get up, I'll be giving in to Performancism. I need rest.
(No matter how often I make the substitution, work is still not the same thing as rest.)
I felt overwhelmed from being hit with so many BIG feelings and runaway thoughts and sudden events and old issues all at once.
I know I need to deal with all this, but where do I even start?
And then, the answer hit me – from the message I'd delivered just two days prior:
Do what Peter did.
My Favorite Failure Role Model
I've been re-reading John 21 over and over again for a year, now.
It still takes my breath away every single time.
It's a story about Peter, who was an expert at TRYING HARD.
Peter's the one who got out of the boat to walk on water.
Peter's the one who told Christ not to wash his feet but then, when Christ said, "Unless I wash your feet, you won't belong to me," to which Peter replied, "Then wash ALL of me!"
Peter's the one who pulled out his sword and cut off a guard's ear in the Garden of Gethsemane.
Peter knows all about TRYING HARD!
And Peter also knows how badly all our TRYING HARD ultimately fails us.
John 21 tells how Peter and his friends go out in his boat at night, trying to catch fish. It's only been a matter of days since Peter denied Christ.
So his own words must still be echoing in his head and heart:
Peter is like so many of us.
He spent his entire life TRYING HARD.
Yet when it mattered most, he failed the One he loved most.
Now Peter spends this entire night in the boat TRYING HARD to do the one thing he does best — he is a fisherman, for Pete's sake! But he fails to catch even one fish.
Which means it's been a Very Long Night. Long enough to review every mistake he's made in the three years he's spent with Christ.
Peter's failures are fresh in his mind when John digs him with an elbow and says, "Look! It's the Lord!"
Peter's response blows me away.
His immediate reaction?
Get to Jesus as fast as possible.
Peter has failed. Utterly and completely failed.
But there is something about Jesus that causes Peter — in the midst of fail-ing — to get to Jesus as fast as possible.
Me?
I try to hide my failures.
I avoid people I've let down.
I play "pin-the-blame-on-someone-else."
Peter's become my new role model for what to do when I fail:
Get to Jesus as fast as possible!
(Here's a 3-minute clip from Saturday… please forgive the less-than-stellar video quality; hopefully, you can still be blessed by the message!)
(Watch for Part 3 in which we'll discuss (a) what this looks like in the everyday ordinaries of life, and (b) how getting to Jesus as fast as possible makes your brain a bully-free zone.)