5 Ways to Make Failure Your Friend
Are you ready to lose that overwhelming sense that "something must be wrong with me" and learn, instead, to embrace this HSP gift God's given you? The Sensitive & Strong Community Cafe is open to new members now!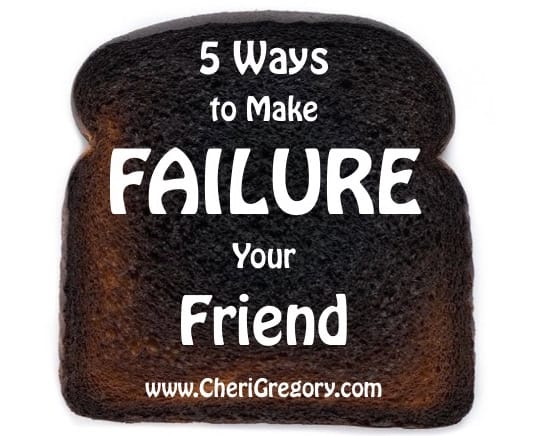 Nothing's worse than making mistakes.

Nothing's worse than failure.
Until three years ago, these were the ruling mantras of my life. For forty-five years, Perfectionism drove my every move, dictated my every "choice."
But when I finally saw Perfectionsim for who he was — a tyrant hell-bent on destroying me — I began rehearsing new beliefs.
Here are five reminders that are helping me embrace Failure as a very valuable friend.
1. "Failure helps me learn."
Daniel and I were both raised in perfectionistic homes. We've lived in unintentional harmony with these two cynical quotes:
"If at first you don't succeed, destroy all evidence that you tried." (Anonymous)
"You tried your best and you failed miserably. The lesson is 'never try'." (The Simpsons)
I wept – from longing and regret – when I first saw the "Thank you, Mom" Commercial.
I couldn't teach my children that "falling only makes us stronger." We can only teach what we know, and when my kids were young, all I "knew" was
Nothing's worse than making mistakes.

Nothing's worse than failure.
I know now that "failure is not a verdict, failure is information. Failure is information about where you need to go next." Dan Coyle, author of The Talent Code
2. "Failure makes me safe."
In "Great Parents Do This Well"
Donald Miller says,
The common denomenator of a really great parent who had healthy kids is that they tell the truth about their own flaws.

They create this environment in their homes where everybody is safe being human.

The families of kids who really had trouble in life … the dad of that family had an image that was 'perfect' and would be enraged if you acused him of being anything but perfect. …basically, the family learned to hide their sins and, thus, hide who they are.
This same principle of safety holds true for all relationships.
The most difficult and destructive are those in which one person is always right and everyone else is always to blame. We feel unsafe, always on the defense. We avoid such people whenever possible.
On the flip side, our favorite friends and family members are those who voluntarily reveal their weaknesses and share their latest crash-and-burn lessons. They invite accountability and are grateful for honest input.
They make it safe for us to be ourselves.
3. "Failure keeps good company."
Before I started hanging around Failure, I thought he only attracted losers and low-lifes. It thought I was "above" Failure and his kind.
But it turns out that Failure has amazing BFFs!
Like Humility. When I avoided Failure, Shame and Blame practically stalked me. But when Humility entered the picture, Shame and Blame skedaddled.
Also, in getting to know Failure better, I've been getting more comfortable with Risk. I used to hate Risk–Control was more "my type".
But you know what keeps happening?
When I choose Risk instead of Control, Love shows up, too!
(Who knew?!?)
4. "Failure is better than Nothing."
My old mantra turns out to be true.
Nothing is worse – far worse – than Failure.
Seth Godin puts it this way:
The tiny cost of failure is dwarfed by the huge cost of not trying.
When I thought Failure was the worst thing in the world, I avoided it at all cost. Looking back, I see "the huge cost": decades of Anxiety and Paralysis and a whole lot of Nothing.
So these days, I'm avoiding Nothing.
5. "Failure makes me grateful for grace."
Grace is only amazing when you know you need it.
Being found is only joyous when you know you're lost.
When I feared Failure, I didn't need nothin' nor nobody. I would find a way or make a way. Or so I told myself, for many foolish years.
Now, Failure reminds me daily that I am neither self-made nor self-saved.
Failure leads me to regularly receive and offer Forgiveness.
And to give thanks for all I've been given.
Which of these beliefs do you find most appealing and/or challenging?
NOTE: By "Failure" I'm referring to mistakes, goofs, blunders, etc. that occur due to ignorance and/or lack of skill and/or immaturity and/or one's upbringing. I am not, in this particular blog post, referring to intentional, repeated, hedonistic immoral choices.