What We Might Notice if We Could Really See Ourselves
Are you ready to lose that overwhelming sense that "something must be wrong with me" and learn, instead, to embrace this HSP gift God's given you? The Sensitive & Strong Community Cafe is now open to new members, and we'd love to have you join us!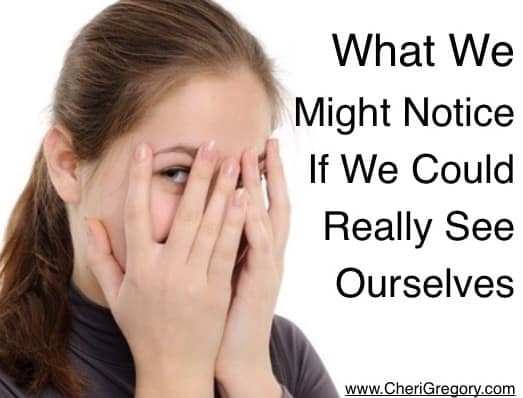 Well that went over like a lead balloon!
The online Bible study group I'm in is gearing up for a new session, and the leader let us know that we'll be welcoming some new members.
Beause most of us have been together for several years, she asked how we felt about doing introductions yet again.
I offered this idea:
How about short video intros? Not required, of course, but invited? I remember people SO much better when I've heard their voice, seen their gestures, seen them in 3D … just an idea.
To say the idea "went nowhere" vastly over-exaggerates both its speed and distance.
"I'll watch other people's videos, but I won't make one."
"I don't even look at photos of myself."
"I stay far behind the camera."
Like I said: lead balloon.
Watching Myself on Video–Ugh!
I get it.
The first time I watched a video of myself was three years ago, when I got the DVD of my first solo performance,"The PERFECT(ionism) Crime." I debated whether to even watch it. After all, I was new to combatting Perfectionism.
What if I spend all 9 minutes hating what I looked and sounded like?
What if my performance is even worse than I suspected?
What if every "little" mistake I know I made is obvious and enormous?
What if I discover mistakes I never noticed while on stage?
But curiosity won out.
Yes, I was terrified to see what I looked and sounded like. But what I wanted to know, more than anything else, was whether or not I'd made my point.
Did I really stand up to the bully?
Did I really tell the truth?
Did I really break a 45-year-old ruler?
During the first minute, I was consumed by shame.
Ugh — my ______ [hair … cheeks … mouth … etc.]
But then, something unexpected happened.
I stopped focusing on my flaws and started noticing features about myself I didn't recognize.
Judgment gave way to discovery.
I felt like I was meeting a stranger I'd known all my life.
And I realized what a difference — often, a vast difference — there is between how I experience being me and how others are actually seeing me.
My High School Girls
Last year, I required my students to do up-front presentations.
They knew I'd videotaped them. What they didn't know is that they'd each be required to view and self-evaluate their own videos.
Oh, the cries of dismay when I passed out the evaluation forms!
The room filled with so much anxiety and tension, I wondered if something — or somebody — might spontaneously combust.
But then, as the students slipped on headphones and pressed "play" on their videos, something fascinating happened with my girls*.
Surprise flickered in their eyes.
Several cocked their heads in curiosity.
As I watched each girl, I couldn't help but wonder:
Is she meeting a stranger she's known her entire life?
After class, I read their self-evaluations. Without exception, each girl said something like this:
"At first, I dreaded seeing myself and how ______ [fat, ugly, etc.] I look. But then I noticed …"
And oh, what my girls noticed!
"I felt totally dumb during the presentation, but I didn't look dumb on video."
"I look way more confident than I felt."
"People always tell me I wave my hands around too much, and I thought I must look stupid. But in reality, I look enthusiastic, even passionate about my topic."
"I actually come across as someone who knows what she's talking about! "
"I sound like someone worth listening to."
Seeing Ourselves & Being Ourselves
I'm not saying that you — or anyone else — ought to drop everything to make and watch a video of yourself.
And I do sense the very real danger of self-absorption inherent in "selfies."
This isn't about seeing ourselves through a video camera lens: it's about trusting One who has a far more authoritative focus. It's about noticing and acknowledging that
When we see ourselves through God's eyes…
we walk, with confidence, our walk – the specific step He gave us.
our hands joyfully make the gestures He custom-crafted just for us.
we speak with our voice – the voice He put in us and calls out of us – knowing that we're worth listening to.
When we see His truth about who we are, we can be our truest selves.
Leave a comment!
What's one God-given quality you like about yourself?
Share a video of yourself!
Anything else on your heart.
(*The majority of the boys had almos the exact opposite experience. Most were stunned to discover that "winging it" doesn't look nearly as impressive as it feels. But that's a different blog post for a different day!)