Why Being Interrupted is a Shock to Your HSP System
Are you ready to lose that overwhelming sense that "something must be wrong with me" and learn, instead, to embrace this HSP gift God's given you? The Sensitive & Strong Community Cafe is open to new members now!


In "What to Do When People Interrupt You — Part 1" I shared some of the responses that flooded my Inbox when I asked subscribers to the Sensitive & Strong Connection, "How do you feel when you're talking and someone interrupts you?"
Many readers expressed surprise and relief at the question itself — most had spent their lives assuming they were alone in their strong reactions to being interrupted mid-breath.
So let me reassure you of something right up front:
It is 100% normal for you, as a Highly Sensitive Person, to feel a sense of shock when someone interrupts you.
Here's why.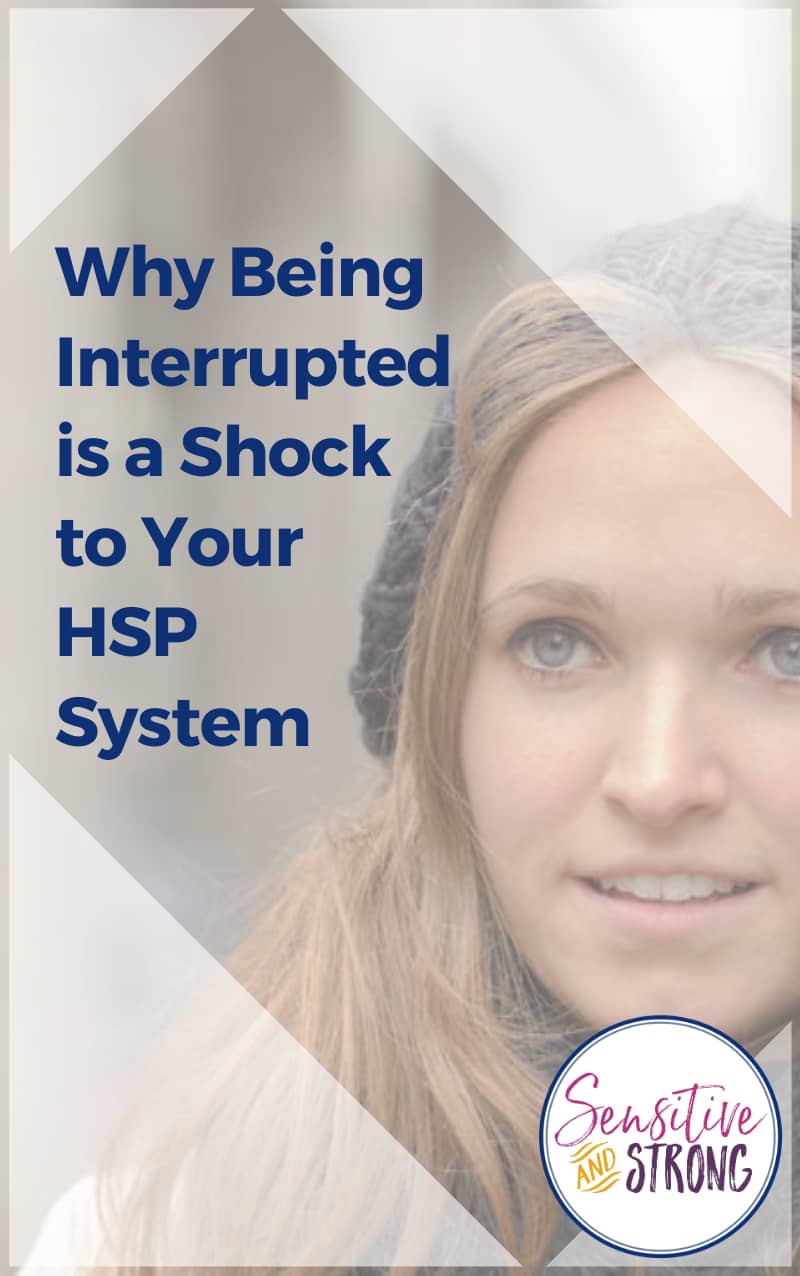 What Happens to Your HSP Brain and Body When Someone Interrupts You
One of the defining qualities of an HSP is that we are reflective thinkers.
For those of us who are external processors, we are taking a "deep dive" into reflective thinking while we are speaking. For those of us who are internal processors, we've already done the "deep dive" and are speaking from that place of depth.
Either way, when we're interrupted, it feels like we're being yanked out of that deep processing place.
It's startling and disorienting.
Sometimes when it happens to me, I feel so bewildered that I have to look around the room to figure out where I am and how I got there.
Being interrupted is a shock to the HSP system in the same way that loud noises, strong scents, bright lights, rough textures, and harsh tastes are shocks to the HSP brain and body.
So it's not that we're "offended" when someone interrupts us.
It's that we're suddenly overstimulated by unexpected sensory input that disrupts our equilibrium.
"What do you do?"
I also asked my readers, "What do you do when you're talking and someone interrupts you?"
Here's a short list of some of the most common reactions — the things that we do out of habit.
(If you'd like to read them in more detail, feel free to check out this Google Doc.)
I no longer feel safe enough to share my thoughts.

Shut down in embarrassment (I am quiet and probably visibly nervous).

I will just withdraw, if not physically, then mentally and emotionally.

I listen to them and pretend I wasn't talking.




I let the conversation go on without me and stew.

Later I replay what I said and how I maybe could have done it differently or what I should have said a million times and have a hard time falling asleep with all the overthinking.

I feel ashamed and hardly speak at all after that, afraid of being interrupted again and feeling more insecure.
Feel stupid.
I've done every one of these at one point or another. And here's what concerns me about all these oh-so-normal ways we HSPs respond to being interrupted:
This list represents a myriad of knee-jerk instinct to protect — and even rescue — the interruptor.
And while the impulse to help another person "save face" is an expression of your HSP empathy, it can prevent you from advocating for your God-given voice.
In Part 3 of this series — "10 Creative Ways to Respond with Confidence to People Who Interrupt You" — we'll explore practical responses we can experiment with and practice.
For now, I'd like to encourage you to do two things:
First, pay attention to your own reactions to being interrupted. Notice what your body does — without judgment. If you feel startled, shocked, disoriented, discombobulated, remind yourself: This is normal for me as an HSP.
Second, plan to take action when you see someone else being interrupted.
The Rest of the Story
In "What to Do When People Interrupt You — Part 1" I started telling a story … and then I interrupted myself. 😉
So here's the whole story:
It happened at a conference many years ago. I was talking with two colleagues, telling a hilarious story. Right before the funniest part, I paused to take a breath — so I could deliver the punchline well.
But before I could finish my story, Colleague A jumped in and started talking, yanking the conversation in a completely different direction.
For a moment, I was confused.
What just happened?
But then I realized my mistake: by pausing to breathe, I'd accidentally signaled that I was done talking.
My bad. I know better. Oh well.
I began the familiar habit of accepting that I'd been cut off in the midst of verbal processing before I was actually done.
And that's when I noticed something completely unexpected.
Colleague B was looking at me. Intently. Knowingly.
Ignoring Colleague A (who was already talking a mile a minute), Colleague B was still listening to me — even though I'd stopped talking.
Colleague B was signaling to me: Go ahead. Pick up where you left off. Finish your story. I want to hear what you have to say. Your voice matters to me.
Although this happened more than twenty years, I still remember how it felt for someone to notice that I'd been interrupted.
I felt seen.
I felt heard.
I felt valued.
I don't remember his name, but I'll never forget what he did.
Although he stayed silent, he let me know that he'd noticed. He created a safe space for me to keep talking. He role-modeled the kind of person I want to be when I see someone else being interrupted.
I want to be the kind of person who says — in actions and perhaps even words:
Go ahead.
Pick up where you left off.
Finish your story.
I want to hear what you have to say.
Your voice matters to me.