What to Do When People Interrupt You — Part 1
Are you ready to lose that overwhelming sense that "something must be wrong with me" and learn, instead, to embrace this HSP gift God's given you? The Sensitive & Strong Community Cafe is open to new members now!
I don't remember his name. But I'll never forget what he did.
It happened at a conference many years ago. I was talking with two colleagues, telling a hilarious story. Right before the funniest part, I paused to take a breath — so I could deliver the punch line well.
But before I could finish my story, Colleague A jumped in and started talking, yanking the conversation in a completely different direction.
For a moment, I was confused.
What just happened?
But then I realized my mistake: by pausing to breathe, I'd accidentally signaled that I was done talking.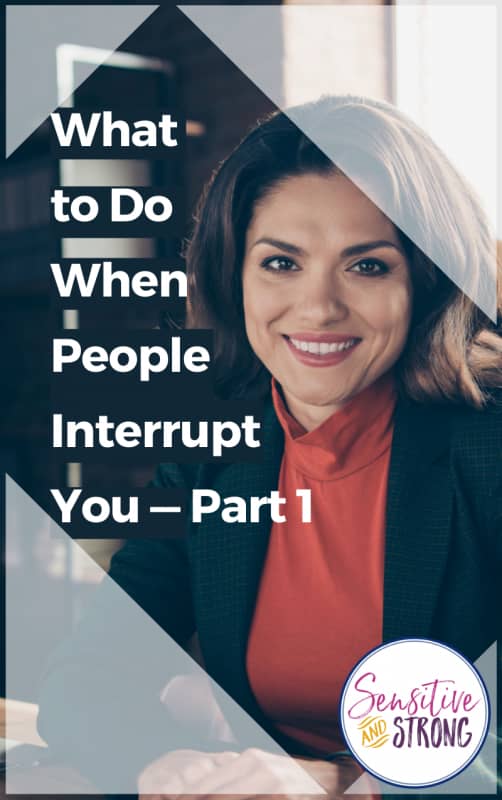 Let me interrupt my own story for a moment to ask:
Does the scene above feel familiar to you?
If so, you're not alone. It turns out that Highly Sensitive Persons get interrupted more often than non-HSPs.
When we pause to gather our thoughts, some less sensitive listeners may incorrectly assume that we're struggling to express ourselves. So they jump in to "rescue" us by taking over the conversation. At some level, they may believe that they've done us a favor.
But what they've actually done, whether by accident or on purpose, is shut us down.
For many of us, this pattern of interruption has been happening for a very long time … and doing very real damage.
When someone interrupts you
Recently, I asked readers of The Sensitive & Strong Connection, "How do you feel when you're talking and someone interrupts you?" My inbox was immediately deluged with responses.
Here's a short list of emotions y'all shared:
unimportant
frustrated
invisible
annoyed
insignificant
devalued
not smart enough
disrespected
boring
unappreciated
hurt
angry
And a sampling of your comments:
I feel hurt and defeated like my words aren't important, translating into false beliefs that I'm not important.
Unheard, unimportant, and likely won't be as apt to express myself later.
I usually feel discouraged, both because I feel like they are not taking the time to listen to me (I don't feel important to them) and because I often lose my train of thought once I'm interrupted.
I feel so frustrated when I get interrupted. It takes me a bit to process my thoughts to respond to things and not everyone around me wants to wait for the process. Very frustrating.
I'm frustrated! They are not listening or their thought is on their tongue, and they can't hold it back!
I feel awful. I feel invisible, and like my thoughts are not important.
It makes me feel really annoyed and angry when I'm not allowed to finish a sentence. I usually have a cohesive and intelligent thought formed that I want to express, so it feels like my effort to communicate clearly isn't valued.
I feel completely disregarded and belittled. Like all I am is a big ear to people and nothing else.
Now, I try to always remember to listen to what my employees have to say in business and in life … I remember how insignificant I was made to feel when I was talked over.
I feel dismissed, rejected and at times "stupid".

I definitely feel disrespected when someone interrupts me… like I am not worthy of being heard. Maybe even that I am a failure somehow due to the fact that I can't formulate my thoughts quickly enough to fit into their time construct.
I feel almost violated.

It's particularly frustrating when I'm the one asking for advice or I initiated a conversation asking for help or to be listened to … and I get interrupted and "told" how I feel (or worse, how I should feel) before I even get out my issue.
I feel like "Why me? What do I do?"
What you need to know
We live in a culture where whoever talks the loudest and the fastest — without pausing to breathe — gets heard.
Which can make an HSP feel like her voice isn't needed.
But here's what you need to know:
Your voice is needed.
Now more than ever.
Your Turn:
How do you feel when you're talking and someone interrupts you?
Which emotion(s) and/or comment(s) resonate most with you?
(Watch for Part 2, where you'll hear "the rest of the story" … and we'll why your HSP brain and body reacts the way it does to being interrupted!)