HSP Part 1: What Does It Mean to be an HSP?
Are you ready to lose that overwhelming sense that "something must be wrong with me" and learn, instead, to embrace this HSP gift God's given you? The Sensitive & Strong Community Cafe is open to new members now!
We've always known that we're a quirky family; we like to think it's part of what makes us so endearing. But until a few years ago, I didn't realize that our seemingly unrelated foibles actually fall under the same umbrella.
Each of us becomes easily over-stimulated.
I get a splitting headache if someone is smoking anywhere near me.
Daniel can't make it through the day without taking an afternoon nap
One of our kids won't eat crunchy peanut butter (or nuts, for that matter.)
The other won't wear clothes until the itchy sewn-in labels are all cut off.
According to Elaine Aron, author of The Highly Sensitive Person, "Most of us feel overstimulated every once in a while, but for the highly sensitive person, it's a way of life."
When I was reading the book last year, I had Daniel, Jonathon, and Annemarie each take a self-assessment. I read the questions aloud and tabulated the responses for each member of our family.
(Wondering if you might be an HSP? You can take the "Am I a Highly Sensitive Person?" Self-Quiz right here.)
Turns out that each one of us is, by Aron's definition, a "highly sensitive person." Each one of us is an HSP ' meaning that we all become easily over-stimulated. But each of us has a unique combination of over-stimulants.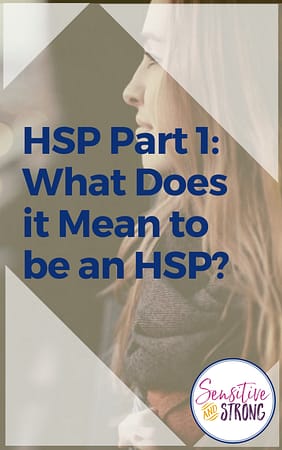 Suddenly, our intense family loyalty — and hair-trigger ability to get on each other's nerves! — made all sorts of sense.
I've shared what I'm learning about being a "Highly Sensitive Person" with every friend who will stand still long enough to listen. And their feedback sounds like:
"My family told me I was imagining things when I got headaches from being in noisy crowds."

"Everyone tells me I am an extrovert, but I thought I was a 'failed extrovert' because I get to a point when I just have to leave, no matter how much fun the party is."
"I've always thought I was defective because I cry so easily."
"I don't like being touched by strangers, which earned me the label 'aloof' from church members when I avoided the welcome hugs."
"My entire life makes sense now."
None of my friends, or the women I've talked with at MOPS groups and women's retreats, were ever taught that being a Highly Sensitive Person is even a thing, let alone how to work with her own unique mix of sensitivities.
Just the word "sensitive" has very different connotations to different people. When I asked survey participants to classify sensitive as positive, neutral, or negative when applied to a woman (as in "She is a sensitive woman"), ⅓ considered it positive, ⅓ saw it as neutral, and ⅓ felt it was negative.
In contrast, words like "perceptive," "responsive," and "tenderhearted" came in at 95%+ positive.
During the last five years that I've known I'm an HSP, I've found that women have one of two reactions to learning that they're an HSP:
Relief — Yay! There's a name for this! I'm not crazy!
Rejection — No way. Not me. I will not be an HSP!
Your Turn
How do you perceive the word "sensitive"? How do you feel about being an HSP?
HSP Part 1: What Does It Mean to be an HSP?
HSP Part 2: When You've Heard "Just Get Over It"
HSP Part 3: It's "Just So Hard Being Me"
HSP Part 4: Why Self-Care is Anything But Self-ish