HSP Part 4: Why Self-Care is Anything But Selfish
Are you ready to lose that overwhelming sense that "something must be wrong with me" and learn, instead, to embrace this HSP gift God's given you? The Sensitive & Strong Community Cafe is open to new members now!
I ended HSP Part 3 by promising: 

More about the more-sensitive-than-most woman's relationship to self-care, Christ, and community tomorrow!
I then launched an in-depth personal "research project"…otherwise known as a 1,000 mile road trip with two parents and two college kids in one vehicle!
We got home late Saturday night, and for the last few days, I've been wandering around the house saying, "I'm so glad to be in my own home…with my own bed…with my cats…and my prayer chair in the morning…"
I've created a home environment that's conducive to self-care. When I'm on the road, it's not impossible to meet my HSP needs. It's just more difficult and requires much greater intentionality.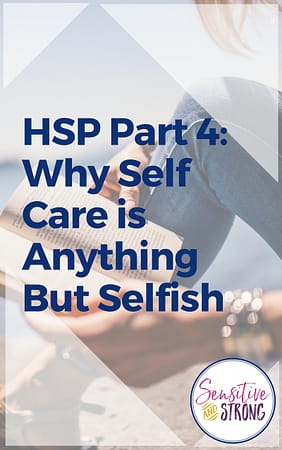 Lack of Self-Care Triggers Weakness
Before I learned about being a "highly sensitive person," I was stuck in a no-win paradox:
I hated my neediness.
And I hated the thoughts, feelings, and behaviors that resulted from having so many unmet needs.
I blamed others for not taking better care of me…even as I rebuffed all offers of help.
My friends and family had little choice but to "walk on eggshells" around me. I knew it and hated it and them and myself all at the same time.
What a mess!
Self-Care is Our "Jam Jar"
Back to the food sensitivity analogy: when Bobby spent time with our family, he brought his own jam jar.
He didn't try to use our jam jar, as he knew it was contaminated with peanut butter. And he didn't expect us to have an unopened jar of jam just waiting for him to use exclusively.
Bobby brought his own jam jar and put a "Keep Out!" label on it to remind all peanut butter knife-wielders to stay away.
For those of us who are more-sensitive-than-most, self-care is our "jam jar."
Self-Care Empowers
When we practice self-care, we reject
manipulative mind games (i.e. "If they really loved me they'd know my needs!)
blame (i.e. "It's your fault that you're so needy.")
shame (i.e. "You don't deserve to have your needs met.")
When we practice self-care, we take responsibility for
knowing our needs,
meeting our needs, and
educating others about our needs.
What Self-Care Looks Like for Me
I'm working on a comprehensive, customizable assessment for those who are more-sensitive-than-most that will help them (a) determine their areas of highest sensitivity and (b) develop personalize plans for self-care.
For now, here are some examples of self-care measures I've taken in the last couple of weeks while I've been on the road:
A water bottle. I kept re-filling at water fountains. The more hydrated I am, the more alert I feel! Conversely, when I get dehydrated, I start feeling "out of it" but usually can't figure out why.
Ear plugs. When I stay overnight in a new environment, all the new sounds keep me jumpy and rob me of sleep. I've learned that I can hear my alarm just fine through the earplugs, but they help me create a much more peaceful private "bubble" for rest.
Power Bars. No, they aren't the tastiest things ever invented. But when my blood sugar starts to crash, having a quick source of protein is better than waiting hours until the next meal. (And far better than relying on whatever sugar-and-fat-filled items are in the vending machine!)
Permission to retreat. My natural drive is to arrive at events early and attend every possible session, break-out, late-night, early-morning, you-name-it workshop available. I've learned to order the mp3 files of the entire conference, which guarantees that I'll eventually get all the content, and then let my energy be my guide. It's usually wisest for me to skip at least one major session per day so I can head back to my room to put up my feet, use my Thermaphore on my back and shoulders, sip some water, eat an apple, and close my eyes for 10-15 minutes.
Writing in a journal. When I journal regularly, I feel like my thoughts and feelings and observations and questions have a safe place to go. When I don't, I feel like they're building and building and building…or, worse yet, they're getting lost. When I write down a problem I want to tackle later, it no longer has the power to keep me mulling and stewing about it in the moment. I control my thoughts rather than allowing them to control me.
Quiet Time to start my day. When I start in a frantic rush, or by logging into Facebook, I become increasingly overwhelmed as the day progresses, allowing myself to be pulled in a million different directions. When I start by immersing myself in God's word and taking the time–calm, quiet, uninterrupted time–to hear from Him, I am much more present and response-able (vs. knee-jerk reactive) throughout the day.
In Part 5, we'll talk about the power (and pitfalls!) of community.
Your Turn
What are your favorite forms of self-care?
HSP Part 1: What Does It Mean to be an HSP?
HSP Part 2: When You've Heard "Just Get Over It"
HSP Part 3: It's "Just So Hard Being Me"
HSP Part 4: Why Self-Care is Anything But Self-ish
HSP Part 5: Why HSPs Need Community