The Two Sneaky Fear Responses You Need to Know
Are you ready to lose that overwhelming sense that "something must be wrong with me" and learn, instead, to embrace this HSP gift God's given you? The Sensitive & Strong Community Cafe is open to new members now!
---
He think it's funny.
To sneak into my classroom.
Tip-toe silently up behind me as I sit, engrossed in grading.
And yell, "BOO!" so he can watch my reaction.
First, there's the seizure-like startle.
Next, the gasps for breath.
Followed by the crescendoing ringing in both ears.
I whirl around to face the prankster who gets a kick from watching me jump out of my skin.
That's when knots tighten in my stomach, my temples pound, and my eyes sting as I focus all my energy toward a single goal:
Don't cry.
Hold it in.
Don't embarrass yourself.
Laugh it off.
Don't make him feel bad.
Whatever you do, don't cry.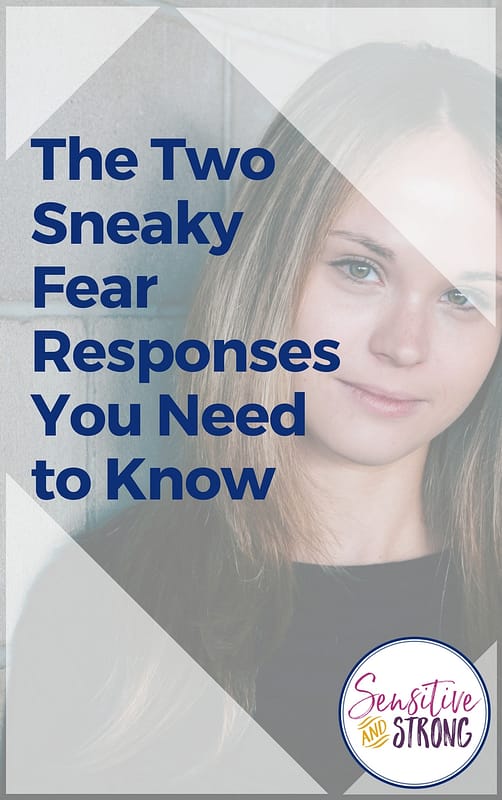 The Famous Twins of Emotional Reactivity
"Fight or flight."
It's the answer we learned, years ago in science class, to the question, "What are the primary fear reactions?"
also known as
stress reactions
adrenaline reactions
threat reactions
anxiety reactions
overwhelmed reactions
Whatever you call them, Fight and Flight are the obvious — and infamous — twins of emotional reactivity.
They are opposites: Fight engages, while Flight escapes.
But they aren't the only siblings in the family.
They're just the most outgoing.
The Quiet Twins of Emotional Reactivity
Fight and Flight have two siblings that are far more reticent: Freeze and Fawn.
Freeze stops you dead in your tracks.
Which is not necessarily a bad thing: pausing to assess a situation before reacting can be your wisest option.
Freeze becomes a problem when, instead of intentionally choosing an active response, you continue to "play dead."
Fawn is fear dressed up as extreme niceness.
When you're mid-Fawn, you say things like, "Oh, it's no problem!" and "Of course, I understand!" Externally, Fawn may look like love. But internally, you feel the difference. Love invites candor; you tell the truth and hear the truth.
Fawn is all about being conciliatory, no matter how many little white lies you have to tell.
Recognizing Freeze and Fawn
I asked members of the Sensitive and Strong Community Cafe to share their experiences with the four fear/stress/threat/anxiety "siblings," especially Freeze and Fawn, and here's what several had to say:
"Freeze" is definitely a common response to overwhelm for me. It's like I go completely blank and become unable to process further input. (HB)
Wow this is very eye opening! … I see them all in myself, but more often I'd say frozen and fawning for sure! I'm definitely VERY non-confrontational & people-pleasing! (JKL)
Freeze, yes that would describe me in fearful or overwhelming situations. I have a very angry and aggressive family member who I can't escape from, so often I shut down in her presence. That's how I think of it, but that must be the freeze. She accuses me of not remembering what she says, but I think it's because my tendency is to shut down with her as protection or to deflect her angry and often harshly judgmental words. How enlightening to learn this isn't just me, but one of four classic responses to fear. (SR)
I'm a fighter with my words. I flee emotionally. I freeze in my perceived shame. I fawn in getting my needs met in the aftershocks of an argument. (DR)
For me, Freeze showed up as severe performance anxiety during piano recitals when I was a child.
Throughout my life, Fawn has manifested as people-pleasing, especially when I feel criticized.
Or when a "prankster" scares me out of my wits.
5 Steps to Move Beyond Freeze and Fawn
In "4 Things You Need to Know About Hypervigilance," I wrote
"Because of our specific genetics and brain wiring, HSPs are prone to hypervigilance.
That's the bad news.
The good news is that you can learn to recognize when you're in a state of hypervigilance.
And you can learn to make healthier choices for yourself and those around you."

Here are five steps to help you move beyond your initial Freeze and Fawn reactions:
1 — NOTICE.
Hopefully, you've been asking yourself these questions, and jotting down your answers in a prayer journal.
What situations and/or people trigger my In-Your-Face (Over) Reaction?
What situations and/or people trigger my Disappearing Act?
What situations and/or people trigger my Deer-in-the-Headlights Paralysis?
What situations and/or people trigger my People-Pleaser Persona?
If not, start now.
2 — NAME.
Instead of
I felt so stupid, standing there with my mouth open like an idiot!
you can start thinking
Hmmm. I went into a Freeze reaction.
Rather than
Why am I so spineless? I promised to take care of everything even though it wasn't really my fault. I'm such a push-over!
you can start telling yourself
Hmmm. I went into a Fawn reaction.
The Hmmm part is vital.
There's no judgment in this step.
Just notice and name … notice and name.
3 — NORMALIZE.
In re-reading the gospels recently, I recognized something I hadn't noticed before.
Jesus' reprimands were not typically directed at people for their instinctive reactions; they were usually directed at people's intentional thoughts and calculated actions.
For example:
While holding a child, Jesus said to the crowd of adults, "If anyone causes one of these little ones—those who believe in me—to stumble, it would be better for them to have a large millstone hung around their neck and to be drowned in the depths of the sea." Matthew 18:6 (NIV)
Speaking to a Pharisee who became concerned when Jesus failed to wash before the meal, Jesus said, "'Now then, you Pharisees clean the outside of the cup and dish, but inside you are full of greed and wickedness." Luke 11:39 (NIV)
While clearing the temple courts, Jesus said, "Get these out of here! Stop turning my Father's house into a market!" John 2:16 (NIV)
If Jesus didn't call people on the carpet for their instinctive reactions, why are we so hard on ourselves?
Remind yourself that these instinctive reactions are normal for all humans.
And especially normal for you as someone with a finely-tuned nervous system that's pre-set to high alert.
Normalize your own reactions with thoughts like
Of course.
This makes sense.
Oh, I see what's happening.
Avoid comparing yourself to others or trying to make their normal your normal.
Focus on what's normal for you.
4 — NEUTRALIZE.
If you're like me, you have decades of old tapes that play on autorepeat:
"Why do you take everything SO personally?"
"Why are you such a(n) __________?" (drama queen, attention-seeker, cry-baby, etc.)
"You're just too sensitive."
In the Neutralize step, you remove the power from all accusations by practicing self-compassion.
For me, it might sound something like this:
It's not my fault that I'm having this Freeze/Fawn reaction. I am not to blame. I am responsible for how I process it.
Emotional reactivity is part of my normal. But the fact that I sometimes Freeze and Fawn does NOT prove any of my shamers or bullies right. I will not spend my life trying to prove them wrong. I will invest my life proving God right for creating me the way he did, on purpose — for His purpose.
Yes, I am having a Freeze/Fawn reaction right now. So I now need to take responsibility by pray-cessing the fear, stress, threat, anxiety, and/or overwhelm that I'm experiencing.
5 — Do something NEW.
When you find yourself in a Freeze reaction, your goal is to get moving again. Some practical new steps might include:
taking slow deep breaths
recite scripture aloud
pause to pray-cess the situation
When you find yourself in a Fawn reaction, your goal is to stop people-pleasing. Some practical new steps might include:
pray-cessing conflict in a prayer journal
circling back around to a previous conversation with more candor this time
reminding yourself to focus on what you will and won't do — rather than trying to anticipate and/or change what others do or don't do
Telling the Truth Instead
Sitting in my classroom, my heart pounding, I recognize what a rare opportunity I have. For the first time, this prankster bully has come after me when my room is empty. So I don't need to "fake fine" to keep up appearances for my students.
I NOTICE and NAME:
Startling was Flight.Right now, I'm in Freeze.
If I do what I've always done, I'll Fawn.
---
I NORMALIZE:
I have always startled easily. This is normal for me.
---
I NEUTRALIZE:
I have nothing to be embarrassed of right now. If anyone should be ashamed, it's this grown adult who thinks scaring me is funny.
---
I do something NEW:
I let my tears flow. I don't lose control. But I make vital new choices:
I'm not going to protect him from the consequences of his choices.
I am taking care of myself today.
I'm saying "no" to an all-day stomach ache. I'm saying "no" to a headache that morphs into a migraine.
I am telling the truth, regardless of how he responds.
---
I stand and say what I've never said before:
"I don't like it when you do that."
---
I swallow, inhale, and continue: