4 Things You Need to Know About Hypervigilance as an HSP
Are you ready to lose that overwhelming sense that "something must be wrong with me" and learn, instead, to embrace this HSP gift God's given you? The Sensitive & Strong Community Cafe is open to new members now!
One week.
Four scenes.
Same Highly Sensitive Person.
Scene 1: The In-Your-Face (Over) Reaction
I am beyond irritated.
Both brand-new backpacks I purchased for my kids—to last the entire school year—broke within the first week of school.
I've brought them back to the store to get my money back as soon as possible: Christmas vacation.
I have the defective merchandise, and I have my receipt. I expect an apology and a refund..
So when the cashier says, "It's been more than 30 days. I don't know if I can accept this return…" my response is swift.
"Oh," I say (in a voice my children will later describe as menacing), "I'm sure you can."
The cashier blanches and disappears. A manager comes out, gives me my money back, and I leave.
Satisfied.
My children spend the entire drive home chastising me for acting like Ursula the Sea Witch and embarrassing them to death.
Scene 2: The Disappearing Act
I make a fashionably late appearance at a family gathering.
Secretly, I'm hoping someone will notice my new haircut.
I was daring and went short. Really short. And kinda spikey.
Someone notices all right: my loudest cousin.
"Hey Cheri!" he yells across the crowded room. "Did you grow HORNS?!?"
Normally, I can take a joke.
But today, I am taken aback by the volume of so many people erupting in laughter all at once. Heat rises in my cheeks, my ears begin to buzz, and my eyes begin to sting.
I feign a light-hearted "excuse me" to the restroom.
Where I stay.
Scene 3: The Deer-in-the-Headlights Paralysis
A friend and I are recording an interview.
We discussed ahead of time who should answer which questions. And so far, I'm successfully battling my perfectionistic need to have a detailed script to make sure I say everything just right.
Suddenly, I'm blindsided:
My friend answers what was supposed to be my question. Panic rises quickly within me, while everything around me goes into slow motion.
One of the hosts asks me a question that I know—even before I hear his words—I can not answer.
I blink and breathe.
Everyone is staring at me expectantly: my friend, the two co-hosts, the audience, the tech crew.
But all I can do is blink and breathe.
My voice is gone.
Scene 4: The People-Pleaser Persona
I've got that sick feeling in the pit of my stomach.
Again.
Today was supposed to be such fun: getting together with friends, going to brunch, doing some shopping, hanging out, talking.
Connecting.
The one thing that matters most to me.
But communication wires got crossed, and now everyone is saying things like "I thought we were supposed to … " and "I wouldn't have said yes if I'd known that …" and "I went out of my way because I expected…"
So I start apologizing.
Within minutes, everyone seems happy with the new plan.
As always, I ignore the fact that I just said a bunch of things I don't really believe ("This is all my fault! I'm sure I'm the one who messed up!) and our new plans involve nothing I actually want to do.
All that matters is that everyone is happy.
Everyone else, of course.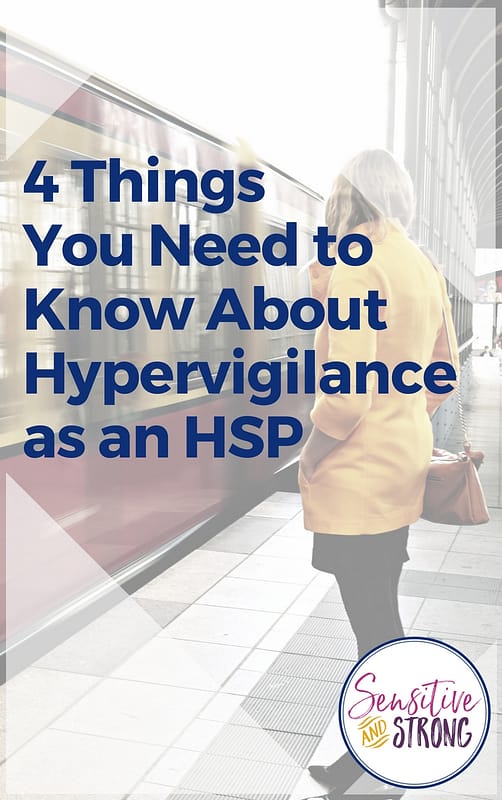 What is Hypervigilance?
Four very different scenarios.
Four very different reactions.
So different, I used to wonder, What's with all the Dr. Jekyll and Mr. Hyde? Do I have a split personality?
Turns out, it was simply the same Highly Sensitive Person—moi—demonstrating a different type of hypervigilance depending on the circumstance.
So, exactly what is hypervigilance?
In "Hypervigilance and Highly Sensitive People" the author describes hypervigilance as
an enhanced state of sensory sensitivity accompanied by an exaggerated intensity of behaviors whose purpose is to detect threats.
According to dictionary.com, we can break down the fancy term hypervigilant into more familiar words like this:
hyper = extra … super … over … excessive
vigilant = awake … alert … attentive … concerned
Hypervigilance may also include:
a state of increased anxiety which can cause exhaustion.
abnormally increased arousal, a high responsiveness to stimuli
a constant scanning of the environment for threats.
Comparing the characteristics of hypervigilance with the defining qualities of a Highly Sensitive Person, you can see areas of definite overlap:
Depth of Processing
Overstimulation
Emotional Reactivity and also Empathy
Sensing the Subtle
Because of our specific genetics and brain wiring, HSPs are prone to hypervigilance.
That's the bad news.
The good news is that you can learn to recognize when you're in a state of hypervigilance.
And you can learn to make healthier choices for yourself and those around you.
4 Classic Hypervigilance Reactions
Hypervigilance is all about threat detection.
And humans have four basic fear responses when we feel threatened.
Fight is characterized by anger and grasping for control.
Flight may involve disappearing or staying perpetually busy (present but unavailable).
Freeze is the result of overwhelm, either sudden or cumulative.
Fawn is the least familiar fear response, and I suspect it's the most prevalent among HSPs. Fawning means making nice, backing down, smoothing things over.
The 4 Things You Need to Know
I'll be writing further blog posts about the four fear reactions: fight, flight, freeze, and especially fawn.
But the four things you need to know about hypervigilance aren't going to come from me; they're going to come from you.
In the days to come, ask yourself these questions, and jot down your answers, perhaps in a prayer journal.
What situations and/or people trigger my In-Your-Face (Over) Reaction?
What situations and/or people trigger my Disappearing Act?
What situations and/or people trigger my Deer-in-the-Headlights Paralysis?
What situations and/or people trigger my People-Pleaser Persona?
Gather A.N.C.H.O.R. verses for specific situations in which you tend to be especially hypervigilant.
And take to heart this eternal promise:
…the peace of God, which transcends all understanding, will guard your hearts and your minds in Christ Jesus.