What We Miss When We Only See Our Weaknesses
Are you ready to lose that overwhelming sense that "something must be wrong with me" and learn, instead, to embrace this HSP gift God's given you? The Sensitive & Strong Community Cafe is now open to new members, and we'd love to have you join us!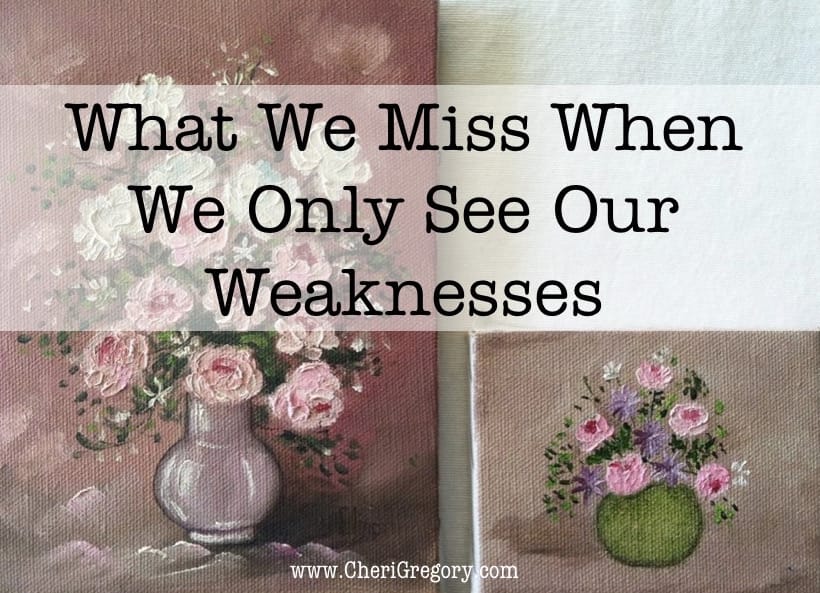 This will give everyone a good laugh!
I'm posting a photo of two oil paintings to Facebook.
The one on the left was painted by my mother, the one on the right by me.
I've always hated mine.
Even as an eight year old, sitting at the family room table next to Mother, I hated the way my brush refused to do what hers did so effortlessly.
Her roses were so perfect!
Mine, so pathetic.
Her vase looked round and shiny.
Mine, like a green blob.
Hers was the work of an artist.
Mine, the work of a wanna be.
But since I can't bring myself to throw either of them away, I might as well use them as props for comedy.
I post the photo to Facebook and wait for the laughs to roll in.
What Everyone but Me Can See
"Very nice!" says the first comment.
Not the response I was after.
"Wow, you're gifted with many talents!" comes from a friend.
She must think I did the one on the left. Let me clarify.
"Mine's the one on the right. I never touched a brush again!"
That should do it. Now they'll know that they're supposed to laugh at the little one.
But the next commenter responds, "Should have. It's beautiful."
The unexpected comments continue.
"Great use of light and shadow."
Why am I getting compliments on a painting I've always hated?
Every time I've laid eyes on it, the same thoughts have run through my mind:
No matter how hard I tried, my painting didn't turn out right.
It doesn't look like Mother's.
What I Missed
My astonishingly talented artist friend, Sarah, chimes in, "They are both truly lovely."
What on earth…?!?
A suspicion grows.
"Don't tell me this is another case of 'What if you're better than you thought'?!?"
Sarah straight shoots back,
"What if I showed it to you as something I painted? See with new eyes. I zoomed in and everything. It is so very pretty. Truly."
"I am speechless," I respond.
"I posted the pic for a laugh!"
What I See Now
A laugh does come from a long-time mentor:
We are laughing at the fact you don't give yourself credit that you deserve. I would totally find a way to display these. What a special Mom you had to give you your very own canvas and supplies. The result should be enjoyed somewhere on a wall or easel.
And from a friend who has known me since my teen years,
You know what I noticed? That yours has more color and vibrancy. Not to put the other one down. I see your sparkling personality showing through.
I look back at the oil paintings.
It's true.
Eight-year-old Sanguine/Expressive me chose bright green and lavender and purple.
The truth about my painting dawns on me:
It's okay that my painting doesn't look like my mother's.
It looks like mine.