It Terrifies Me to Ask for What I Want
Are you ready to lose that overwhelming sense that "something must be wrong with me" and learn, instead, to embrace this HSP gift God's given you? The Sensitive & Strong Community Cafe is now open to new members, and we'd love to have you join us!
In Episode #14 of Grit 'n' Grace, Sheila Wray Gregoire says that instead of attacking others for being "wrong" and insisting that we are "right," we need to
identify how we feel
identify what we want
ask for what we want
This is all very problematic for me, on so many levels.
I've Spent My Life Trying NOT to Feel
First problem: Putting an actual name to how I feel is incredibly hard.
Yes, I'm an NF. Yes, I'm an HSP.
Which means I've been on the receiving end of a lot of "you feel too much" and "you're just so sensitive" shaming.
As a result, I've spent my life trying super-duper hard NOT TO FEEL.
The primary thing I feel at any given moment is anxiety which isn't even an emotion — it's a physical state.
I'm the girl who went to see Inside Out in the theaters seven times — SEVEN TIMES! — because the whole idea of naming and befriending my emotions was both so foreign and exciting!
It's embarrassing to be almost 50 and pulling out a "How Do I Feel Today" chart. (And what I really need is a "How do I Feel This Moment" chart…!!!)
Admit to Having Wants?!?
Second problem: Figuring out what I want.
Hello.
I am an expert at denying that I even have needs.
Just the word "want" gives me the heebajeebees.
Might as well install a flashing neon sign above my head: "I'm SELFISH! I'm SELFISH! I'm SELFISH!"
Figuring out what I want?
As. If.
What if I Share, but … ?
Third problem: If I ever do figure out what I w- … w- … want <gasp>, do you have any idea the risk of telling someone else?
What if they say, "My, my, someone's gettin' big for her britches, now, isn't she!" ?!?
What if they say, "In a world full of people who lack basic needs, you have the audacity to talk about your wants?"
Worst of all, what if they say, "No"?!?
My Safer Strategy
Here's my strategy. It's soooooooo much safer.
1. I ignore my feelings.
2. I ignore my needs and my wants.
3. Since anger is a natural response to unmet needs, I am angry pretty much all the time. Which means I have to repeat #1. A lot.
4. When #1 works, all I have to deal with are headaches, back pains, and a whole host of "taking the edge off" socially-acceptable addictions (i.e. eating, shopping, scrolling, etc.)
5. When #1 doesn't work, I lash out in anger at the people closest to me because they aren't meeting my needs and responding to my wants.
Of course, I can't say that's what I'm doing because
(a) I don't know that's what I'm doing, and
(b) I don't even know my needs and wants, remember?
No, the way I lash out at them is by going head-to-head, vehamently arguing over matters of right and wrong — my way always being conveniently right and their way being ever-wrong. (Not my fault that they are always wrong. You'd think they'd have learned by now, but no … they never seem to learn!)
My strategy is not just safe; it's proven.
Over the last five decades, its failure rate has been 100%.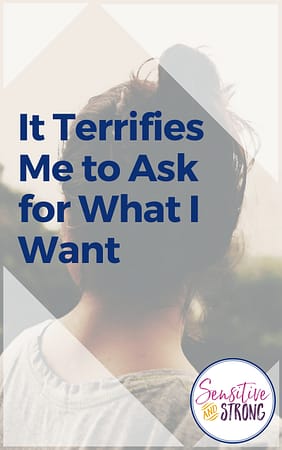 My Strategy Isn't Working
If you apply my strategy for long enough, you just might wake up one day — perhaps a day within the year after your mother's funeral, perhaps the month after your dog's death, perhaps the week after your father's re-marriage — and wonder, "What if I actually tried Sheila's way? What if I learned to identify my emotions?"
BAM! Right off the bat, you'll identify an emotion:
FEAR.
Honestly, not what you were hoping for.
Then BAM!
SADNESS. DEEP sadness.
And you'll start re-thinking this whole "identifying my emotions" concept.
But it'll be too late. Fear and Sadness will have already walked you up to Step 2 and will be encouring you: Figure out what you need and want.
But you won't be able to go there.
Because you're so used to self-protection. To assuming the worst. To being certain that you know what will happen before it even happens and basing your actions on that prediction.
It's easier, you'll tell yourself, to fail because I didn't try, rather than to try and actually fail.
What if I Try, and … ?
But suddenly it hits you:
If I tell the people I love what I need and what I want, they may do nothing.
Which will be disappointing.
In fact, if someone I love repeatedly ignores my needs and my wants, I will need to do something about it. I will need to find a way to hold them accountable.
But I can't hold someone accountable for failing to meet needs they know nothing about because I've been too afraid to tell them.
You have to sit and catch your breath as that last realization replays inside your head and heart.
I can't hold someone accountable for failing to meet needs they know nothing about because I've been too afraid to tell them.
What If They Do Listen?!
I've been angry for decades at people for ignoring my needs and wants.
But I'm starting to suspect that they haven't been actively ignoring so much as they've been accidentally ignorant.
After all, I've simultaneously insisted that my needs and wants do not exist and become furious when people believed me.
I'm starting to ask some powerful, What if… questions:
What if I can learn to identify my emotions and express my needs and wants?
What if the people who love me are actually willing to listen?
What if they actually attempt what I ask?
They won't do it perfectly.
There are sure to be be moments of disappointment, even hurt.
But I'm ready to try and actually fail … rather than automatically fail for lack of trying.
I'm ready to ask myself,
How am I feeling right now?
What do I want right now?
I'm ready to ask for what I want.
and
I'm ready to take care of myself if nobody responds.
and
I'm ready to do it all again, over and over.
Because sometimes, someone will say, "Yes!"
And that will be worth the risk.