Why "Good Enough" Has Been a Hard Lesson to Learn
Are you ready to lose that overwhelming sense that "something must be wrong with me" and learn, instead, to embrace this HSP gift God's given you? The Sensitive & Strong Community Cafe will be opening to new members soon, and you can get on the wait list right here.
"Good Enough."
It sounds so good in theory.
For decades, I've wanted to make it a reality. But when you're a recovering perfectionist, where do you even start? (Or, for over-attempters, where do you stop?)
So you can imagine my delight when, a few weeks ago, I discovered what Good Enough means, quite by accident.
I was editing an episode of Grit 'n' Grace, the podcast Amy Carroll and I co-host. We'd recorded it late in the day, when we were both tired and you could totally tell—our voices had zero enthusiasm.
"It's not too bad," I kept assuring myself.
I desperately wanted to be done. The last thing I wanted to do was re-record the episode. But an hour later, I was still trying to convince myself, "It's not too bad."
Suddenly, it occurred to me: "not too bad" is the lower boundary of the Good Enough meaning!
Anxious for a rule to follow (!), I grabbed pen and paper to sketch out what the full range from Perfect to Good Enough to Not That Bad (and below) might look like.
But right away, I got stuck.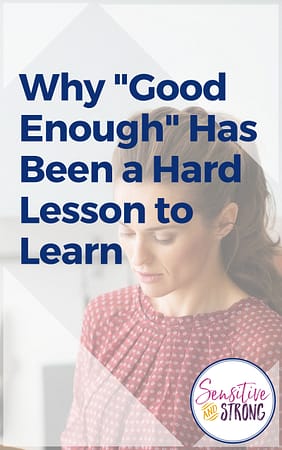 Good Enough Meaning What, Exactly?
For podcast editing, my sketch looked like this: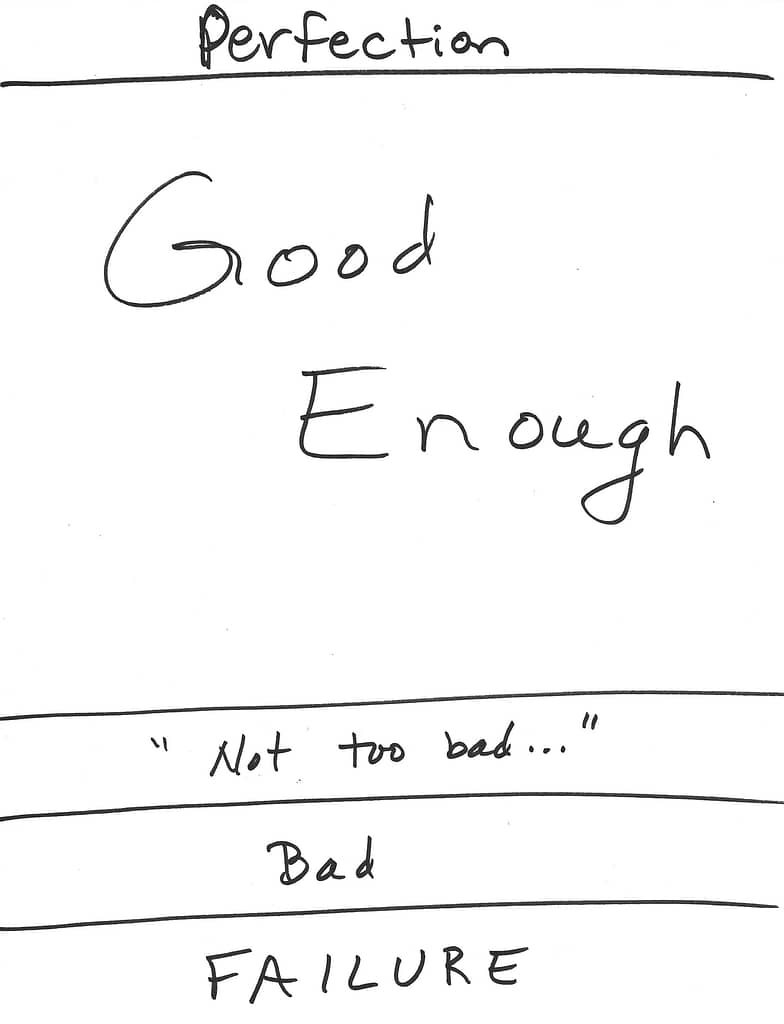 Then I remembered my father's quadruple by-pass surgery fifteen years ago. For that situation, the range of Good Enough looked more like this: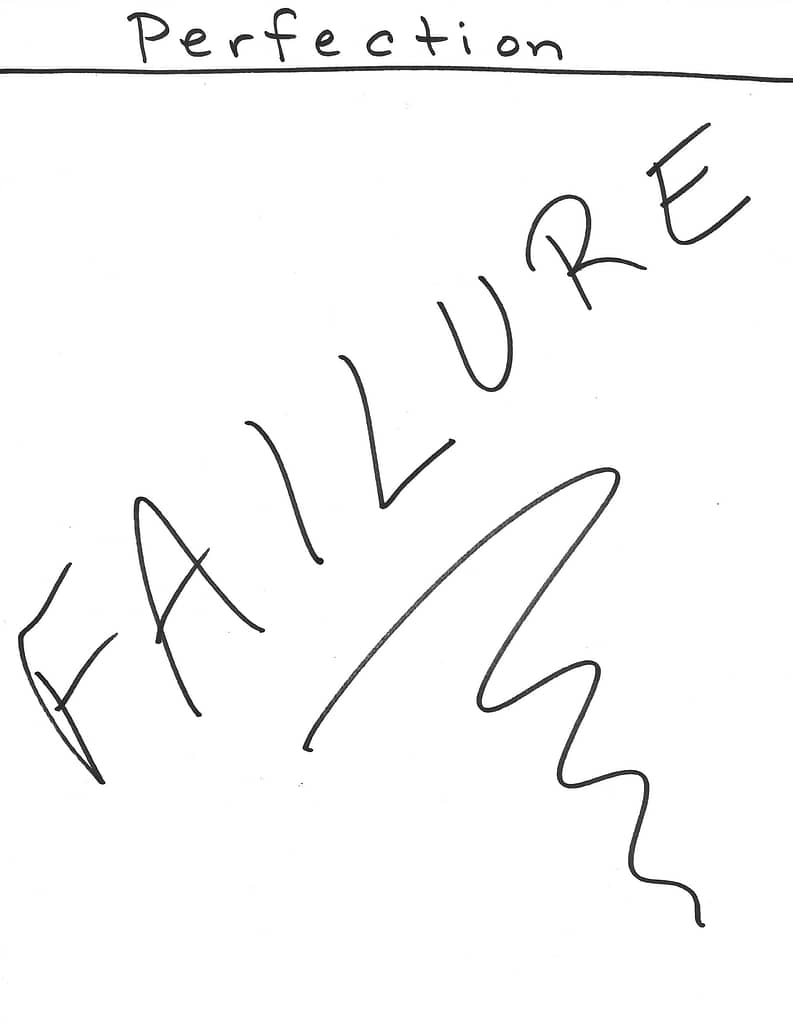 There is no one-size-fits-all rule, because the range of Good Enough meaning differs according to context. In some situations, the scope of Good Enough meaning is broad; in others, incredibly narrow.
On the one hand, this realization felt so very freeing.
I'll bet the range of Good Enough for loading a dishwasher is HUGE!
On the other hand, it left me perplexed.
Why am I just now figuring out that in many circumstances, Good Enough is a vast and forgiving space?
Why have I spent my life believing that in all situations, the range of Good Enough is narrow to non-existant?
Why have I only seen Perfection and Failure while so many people see so much Good Enough?
As I thought back to my father's surgery, the answer came to me.
I grew up in a medical family. And I married someone who did, too.
When There's No Such Thing as "Good Enough"
My father is an infectious disease specialist. The wrong diagnosis can mean death.
During high school, I worked in a hospital clinical lab, hand-posting lab reports to patient charts. I was keenly aware that one mistake — putting a report in the wrong chart — could mean death.
I spent my college summers as a legal secretary at a medical malpractice defense firm. I devoted hours a day to transcribing depositions. In case after case, one mistake caused death.
My husband recalls sitting in his father's lab, hours at a time, watching him make meticulous measurements. After all, one mistake could lead to someone's death.
So the two of us entered marriage and parenthood with the unspoken belief Mistakes lead to death! etched into our very souls.
This belief was so deep, so assumed, we never questioned it.
It never occurred to us to ask, "Is that 'All mistakes lead to death' or just 'Some mistakes lead to death' or even 'Certain kinds of mistakes lead to death'?"
Not Every Mistake is a Matter of Life and Death
You may not come from a medical family, but perhaps you resonate with this truth in your own way:
When every mistake is a matter of life and death, everyone is miserable.
Looking back, I feel so sorry for my younger self, running so scared from failure, striving so hard for perfection. And I feel sorry for all the people who had to live and work with me.
At last week's Global Leadership Summit, Bill Hybels noted, "There are no do-overs in life. But there are make-overs!"
We can't go back and change the past, but we can learn to make new choices today.
As I'm making over my beliefs about mistakes, here's what I'm learning:
In matters that aren't life and death, the range of Good Enough options is likely to be large.
There are, in fact, many Good Enough ways to load a dishwasher.
Set a table.
Drive a car.
Paint a picture.
Support a friend.
Love a child.
There's a wide range of Good Enough ways to do what matters most in life.
And the more we recognize the spectrum of "Good Enough" choices, the more we embrace — and share — God's grace.