Why I've Seen Inside Out So Many Times
Are you ready to lose that overwhelming sense that "something must be wrong with me" and learn, instead, to embrace this HSP gift God's given you? The Sensitive & Strong Community Cafe is open to new members now!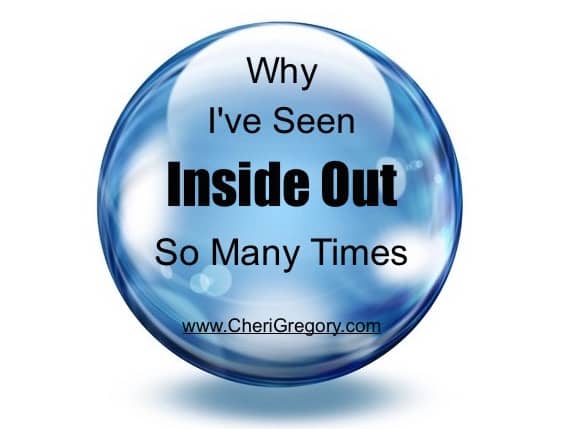 I've seen Inside Out five times.
And I have plans to see it again this week.
And next week.
And the week after.
And if my brother hasn't taken my dad to see it by early August, I'll see it again then.
And you can bet I'll be buying the DVD.
And right about now, you're probably wondering:
"Why?!?"
It's a fair question.
One I keep trying to answer…
…by going back to see Inside Out yet again.
Discussion in the Kitchen
Our family increased the average age in the theater by about ten years when we saw Inside Out together on June 18.
In case you haven't seen it yet, I'll try to avoid spoilers. Let's just say that:
Annemarie and I didn't think to bring Kleenex, so we both soaked our sweaters.
Jonathon choked on his own laughter at the "Girl! Girl! Girl!" scene.
Daniel and I busted up so hard at the teacher's inner world, we scared all the small children. In all of Santa Cruz county.
The cat had us all crying "Uncle!"
Once we got home, Daniel (INTP) sequestered himself in his music studio, watching YouTube videos of things blowing up to detox from all the emotion.
The NFs of the family – Annemarie (ENFJ), Jonathon (INFP/J), and me (E/INFJ) – ended up having a three-hour discussion in the kitchen.
My 6-foot tall bearded boy perched precariously on the counter and asked questions like:
#1) "Who is at the head of your console?"
#2) "Which of your emotions do you consider most dangerous?"
Jonathon felt Fear is at the head of his console: a protectiveness that constantly looks out for the well-being of others.
Annemarie felt Anger takes the lead among her emotions, in terms of passion and justice.
I felt that for me it should be Joy … but it's been Fear for so many long years. (See Frozen.)
Annemarie's initial response to #2 caused them to split it into:
#2a) "Which of your emotions do you consider most dangerous to yourself?"
#2b) "Which of your emotions do you consider most dangerous to others?"
As I pondered both of these questions, I realized:
I consider Anger the most dangerous emotion of all.
And I experience all Anger – mine and others' – as pain.
My Circle of Sadness
Over the last few weeks, I've been making more poor food choices than usual.
I've been disappointed to find myself reaching for old tools, slipping back into old patterns.
So this morning I started to give myself a stern pep talk:
It's Monday–a fresh start.
Don't ruin everything again!
Stay. Out. Of. The. Kitchen.
Then I recalled the Inside Out scene in which Joy tries to contain Sadness. She draws a chalk circle on the floor with Sadness standing in the middle. Dubbing it "The Circle of Sadness," Joy tasks Sadness with staying inside the circle. So she won't ruin everything again.
And I realized:
The kitchen is my Circle of Sadness.
My Circle of Fear.
My Circle of Disgust.
And my Circle of Anger.
Especially my Circle of Anger.
Why I Keep Going Back
Inside Out has so many small scenes that are huge for me.
Scenes that make me realize, "Oh, is this how it's supposed to work?"
That make me think, "Dang, I wish I'd known this a few decades ago!"
That make me long for a healthy, Spirit-lead, collaborative relationship between my own emotions.
I keep going back because by the end, I feel bold enough to stand up and say:
"Nobody puts Sadness in the Circle!"
And I have renewed hope:
It's not too late for me to learn to live this way.