How To Choose Who You Listen To
Are you ready to lose that overwhelming sense that "something must be wrong with me" and learn, instead, to embrace this HSP gift God's given you? The Sensitive & Strong Community Cafe is now open to new members, and we'd love to have you join us!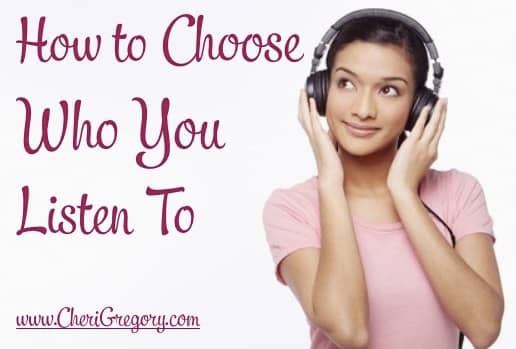 I used to be scared of criticism.
More like terrified.
My only measure of success when I finished a class or project or meeting:
No criticism?
Whew!
Criticism?
Cue end of the world.
To me, the only "good" criticism was no criticism.
Discovering the "Good" Kind of Criticism
When I took my first monologue class, I almost quit after the second session. My knee-jerk reaction to classmates' critiques of my in-process script was utter devastation.
In my mind:
They don't like what I've done = They don't like who I am
Upon reflection, I recognized that nobody had said, "Cheri, I hate how you _____." Everyone had said, "Cheri, I love ____, but I don't quite understand _____."
As I worked on clarifying the confusing parts, my script got so much better!
I started wondering: Maybe there's such a thing as "good criticism" after all!
Two Types of Criticism
I'm finding that most criticism falls into one of two categories: (1) Injurious Criticism and (2) Informed Critique.
(1) Injurious Criticism comes from a hurting person who is trying to get rid of their pain by giving it to you.
(2) Informed Critique comes from a healthy person who is trying to protect you from a lot of pain later by inflicting a little pain now.
All my life, I've reacted to them backwards!
I've run from Informed Critique and clung to Injurious Criticism.
I ignored the voices of teachers, friends, and family who were genuinely trying to help me. And I endless replayed the hurtful words of those who cared only for themselves.
Choose Who You Listen To
My approach to criticism is changing. Before listening to negative feedback, I've been answering one big question
Have you earned the right speak into my life?
by asking three specifics:
Do you know me?
Have you invested in my life?
Do you care about who I am becoming?
These questions separate Injurious Criticism from Informed Critique. Here's what it sounds like in actual practice:
Someone leaves a Critical Facebook comment.
Does the commenter know me? No.
Has he earned the right to speak into my life? No.
I choose to let it go.
A close friend or family member expresses some concerns.
Does she know me? Yes.
Has she invested in my life? Yes.
Does she care about who I'm becoming? Yes.
Has she earned the right to speak into my life? Yes.
I choose to listen, pray, and ponder their input.
Listen to What Is True
It used to be so common for one negative comment to ruin my entire day … week … month …
But I'm learning to limit the power I grant to other people's voices.
The more I intentionally choose who to listen to, the more I realize there's only One for whom I can answer an unreserved "Yes" to every question.
Only One truly knows me.
Only One is 100% invested in my life.
Only One cares about every detail of who I am becoming.
Thus, only One has full authority to speak into my life. If what others say measures up to Truth, I listen. If not, I don't.
Two Simple Questions
Sure, this is all easier in theory than in practice. But early results are encouraging. Well worth the effort.
If like me, you instinctively shrink from criticism, try asking two simple questions the next time someone offers you a critique:
1) Why listen to you?

2) Is this true?
Then choose who you listen to.
And listen to what is true.