How to Gently Make Your Way into Safe Community as an HSP
Are you ready to lose that overwhelming sense that "something must be wrong with me" and learn, instead, to embrace this HSP gift God's given you? The Sensitive & Strong Community Cafe is open to new members now!
Although her email was just two quick sentences, it still packed a punch:
I have a hard time feeling like I belong in most groups. Do you have any words of wisdom for me regarding how I can gently move forward?
I love her honesty.
She's spot-on, isn't she?
Due to our God-given empathy, HSPs feel a deep longing for belonging.
It's such a core need that it can feel like an ache, an emptiness, and a loss all rolled into one.
God created us for connection.
With Himself, first and foremost. And with others in the body of Christ.
But when we've felt like "outsiders" for so long, it can be hard to believe we'll ever belong.
I also love her question.
Answering it well was not a one-woman job, so I crowd-sourced input from all of our Sensitive & Strong sisters via this question:
What has helped you gently move forward — as an HSP — into community?
Here's what y'all had to say.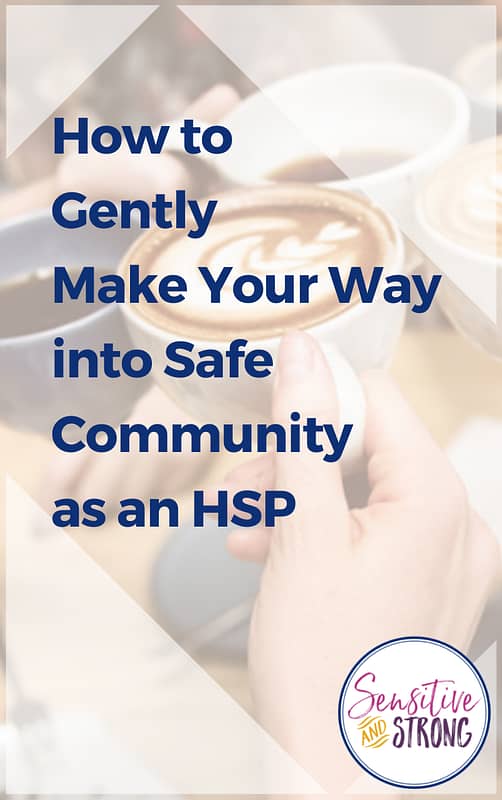 1 — Begin from a secure Home Base
Everything about who we are and what we do starts in our relationship with God.
Here's how one Sensitive & Strong sister expresses the foundational nature of her relationship with God:
This truly is an issue HSPs face. In my late 20s (I'm nearly 70 now) after attending a ladies Bible study I came home with those dreadful feelings of having not really fit in … again. But I realized how wonderful and safe I felt being back in my own home with just Jesus as my companion. Right then and there I realized that was my sweet spot: being alone, loved, accepted, and understood with Jesus. And it was far superior to fitting in with any other group.

I still feel "different" following most group settings and can wander into I wish I hadn't said or done that moments afterwards. But I remember my 20-something wisdom and calm down. I also believe knowing that truth about me and Jesus causes me to be more at ease with others, which has led to less angst about fitting in. Perhaps in part because I know I'll be able to get back home and alone with God again. 😉
2 — Accept and embrace your God-given wiring
Learning that I belong to this amazing population of people known as "Highly Sensitive Persons" has been transformational for me. Of course, being an HSP is not the most important part of my identity. But it wasn't until I learned that God had created me this way on purpose for His purpose that I finally felt the sense of belonging I'd been seeking all my life.
Here's how another Sensitive & Strong sister puts it:
Discovering, learning about HSP — and accepting that this is how God has wired me — has enabled me to move forward. God does not create things without a good purpose in mind. It's up to me to believe, and God to empower.
3 — Be Yourself
This can include understanding what it means to be a Highly Sensitive Person, both in theory and in the nitty-gritty of your everyday life as well as being understood by others. And then, based on increased understanding, growing ever more into the person God created you to be.
Another Sensitive & Strong sister describes it this way:
I'm learning to grow into who God created me, uniquely, to be—which helps me to feel like I belong. Being welcomed, understood, accepted, and valued for who I am gives me the sense that I am rightly placed in a group. Also important is if there is a healthy balance (over time) of contributing to the group and benefiting from the group.
4 — Pre-define "success"
Too often, my imagination creates unrealistic expectations: I'll find a new BFF! We'll go out to Starbucks together! We'll talk and talk and bond and bond! But this kind of thinking is a set-up for disappointment.
I appreciate the far more realistic and generous perspective offered by this Sensitive & Strong sister:
I did a group study in which the author suggested instead of looking for someone to invite you "in" (draw you in to conversation), to be the one looking for who you can:

ask a question to

make a comment to

ask their opinion

make a connection of commonality with

Having that shift of perspective was life-changing. When I walk into a new group or a setting where I don't know everyone, I do so nervously. But I look to see who's quiet, shy, sitting a bit off to the side and see how I can break the ice or bring her in to the conversation.
5 — Beware of sharing "too much, too soon"
When I'm in a new situation, my inner twins "Over" and "Eager" sometimes show up out of the blue and take over the whole show.
Here's how one Sensitive & Strong sister has learned to prevent Over-Sharer's Regret:
I have often felt like I needed new friends or people to know EVERYTHING about me before I could feel seen or loved. Oversharer? Maybe I just wanted to be seen and loved 🤷🏻‍♀️ In the last couple of years my spiritual director gave me the freedom that not everyone needs to know everything of my story or life in order to love me. I think I felt like I needed to hand people my biography before being accepted or something.

I don't know if that's an HSP thing but I'm slowly learning that

(a) I can choose and curate who I share to, and that doesn't need to be everyone.

(b) I can still enjoy community and contribute even if people don't know, understand or love everything about me.

(c) Jesus knows eeeverythiiiing about me and loves me and pursues me and will never leave me.

So if I can anchor to (c) the other two seem to help me do better around people/community!
6 — Start small … and keep trying
Many Highly Sensitive Persons lean toward all-or-nothing thinking … and behavior. We take the expression "Go big or go home!" far too literally.
One Sensitive & Strong sister shares this far more HSP-friendly advice:
Start by feeling comfortable with one person or a few people. Don't put the pressure on yourself to suddenly feel like you fit in any groups! It's a process.
7 — De-personalize the "results"
This is the flip-side of #4. Put yourself out there, and then remind yourself that 99.9% of any "negative" results probably have absolutely nothing to do with you. And then return to #1.
This Sensitive & Strong sister summarizes it so well:
I had a counselor tell me that it's good that I want deep friendships, but that most people are too busy for that. He helped me not take it personally. I'm beginning to wonder if this is part of being in a world that never satisfies, which makes me turn to my friendship in Jesus that does.
If you've enjoyed hearing from some of your Sensitive & Strong Sisters in Christ in this blog post, you'd love being a member of the Sensitive & Strong Community Cafe!
I am grateful for this community because here we can talk, learn from each other, encourage each other, and grow together.
~ Cafe Member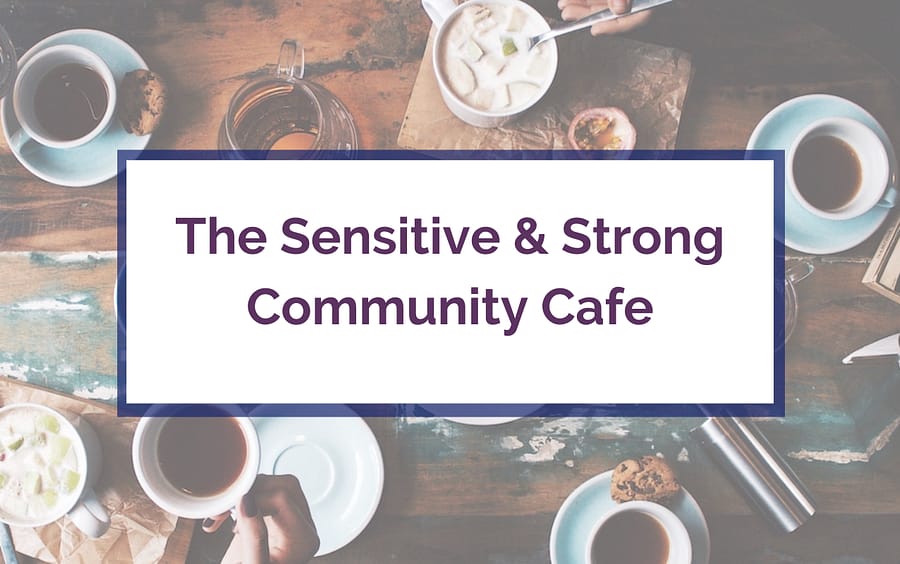 Being a part of this community has been very helpful. I don't ever feel alone and if I don't want to interact for awhile it's okay and there is no judgment! I love that! I feel blessed to have this community and be heard and feel appreciated and valued. Thank you for this.
~ Cafe Member