3 Ways to Give Yourself Permission to Feel Your Emotions
Are you ready to lose that overwhelming sense that "something must be wrong with me" and learn, instead, to embrace this HSP gift God's given you? The Sensitive & Strong Community Cafe is open to new members now!
For so much of my life, emotions have been unwelcome … even forbidden. How do I go from blocking my emotions to feeling like it's okay to feel? How do I give myself permission to experience this aspect of being an HSP?
We've started a new weekly feature called "Ask Your Coaches" in the Sensitive & Strong Community Cafe.
The question above resonated so deeply and is generating such a rich conversation that I just had to share it with you.
Below you'll find three unique responses from three of the Cafe's coaches: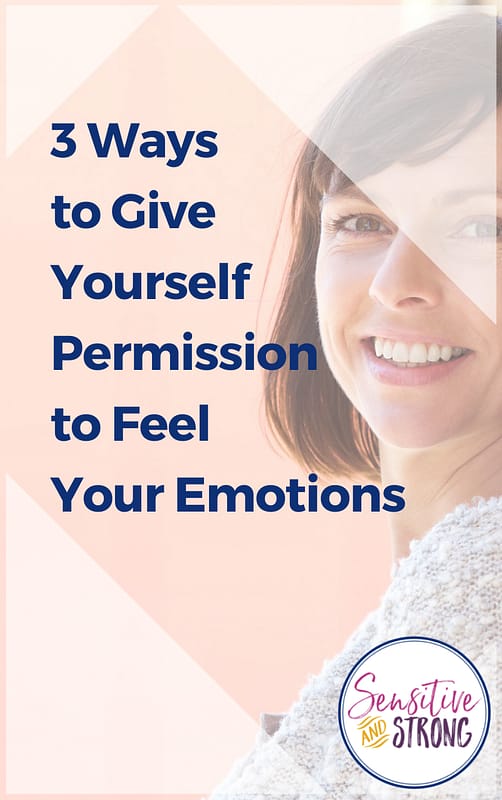 From Cheri Gregory — your HSP Growth Coach
I grew up in a home/church culture that deified reason and demonized emotion. Until my mid-40's, I believed that my emotions could never ever be trusted.
But when I started to make my break from Perfectionism 10 years ago, I discovered that my emotions hold the key to my creativity. As I began writing and performing monologues, I found — to my amazement and joy — that my emotional vulnerability and authenticity actually touched the hearts of the people in the audience.
The more I wrote, the more I recognized that the Holy Spirit was leading me to powerfully experience and express specific emotions during the rough drafting process. Breaking down into the "ugly cry" meant I'd had a really good writing session … one in which I'd gone deeper than before, experienced a break-through, and/or received a new word from God.
I've come to see "reason vs. emotion" as a false dichotomy. We HSPs are wired as complex individuals who have access to both our God-given reason and our God-given emotions. Being "rational" doesn't mean suppressing all emotion, nor does experiencing our emotions mean our reason has gone off-line.
During the last decade, I've been s-l-o-w-l-y learning to
invite

my emotions to the surface

"

pray-cess

" my emotions — asking the Holy Spirit to reveal what my they are trying to tell me

surrender

my emotions to God
In His Delight,
Cheri Gregory
aka "Gentle Person"
From Sarah Marie Sonoda — your Well-Being "Systems Check" Coach
Emotional reactivity was seen as a weakness in my upbringing. Learning and studying up on Emotional Intelligence while working with a third party (counselor or coach) gave me permission to verbally process my feelings more regularly.
I found out what emotions surfaced as a warning that I may be overstimulated. When I feel a way that I KNOW isn't a natural "me" way, I pause. I have learned to do a "system check" and bring all the things to God for a quick evaluation.
Learning boundaries (what is ME and NOT ME) has truly calmed my reactivity. The pause comes a lot easier now. The cafe Zoom calls help affirm my HSP heart, I feel seen and understood, such a gift!
Big hugs, you are not alone! Those hesitant first steps into truth can look/feel daunting. Your HSPrecious Sisters are here in the Cafe to say "US TOO!"
In His Care, Always,
Sarah Marie
From Leslie Newman — your Better Boundaries Coach
When I was in coaching school, I took a class about emotional intelligence. The first day, our instructor read us this quote:
The gospel writers paint their portraits of Jesus using a kaleidoscope of brilliant "emotional" colors. Jesus felt compassion; he was angry, indignant, and consumed with zeal; he was troubled, greatly distressed, very sorrowful, depressed, deeply moved, and grieved; he sighed; he wept and sobbed; he groaned; he was in agony; he was surprised and amazed; he rejoiced very greatly and was full of joy; he greatly desired, and he loved. – Feb 3, 1997 Christianity Today
As I listened to her read this, I was astounded.
I thought to myself, "Why do I feel bad about the emotions I have if Jesus had them, too?"
In that impacting moment, I finally realized that I could let go of the guilt I had about some of the emotions I felt. If Jesus had those feelings, I could give myself permission to have them, too.
Being out of touch with our feelings doesn't mean they are not there. Feelings and emotions are a natural part of being human. We have them whether we recognize it or not. But if we are ignoring them or stuffing them away, we are actually doing ourselves a disservice — especially as HSPs because God created us with the capacity to feel our emotions deeply and vividly.
Taking time to pay attention to our feelings can help us understand ourselves and others more fully. Emotions give us valuable information that will help us have discernment for navigating our life and relationships.
A helpful resource is the feelings wheel. I used this daily in the beginning of my journey of becoming more aware of my emotions. I still use it often when I'm not exactly sure what I'm feeling.
Blessings,
Leslie Newman
If you've enjoyed this "Ask Your Coaches" blog post, you'd love being a member of the Sensitive & Strong Community Cafe!
I am grateful for this community because here we can talk, learn from each other, encourage each other, and grow together.
~ Cafe Member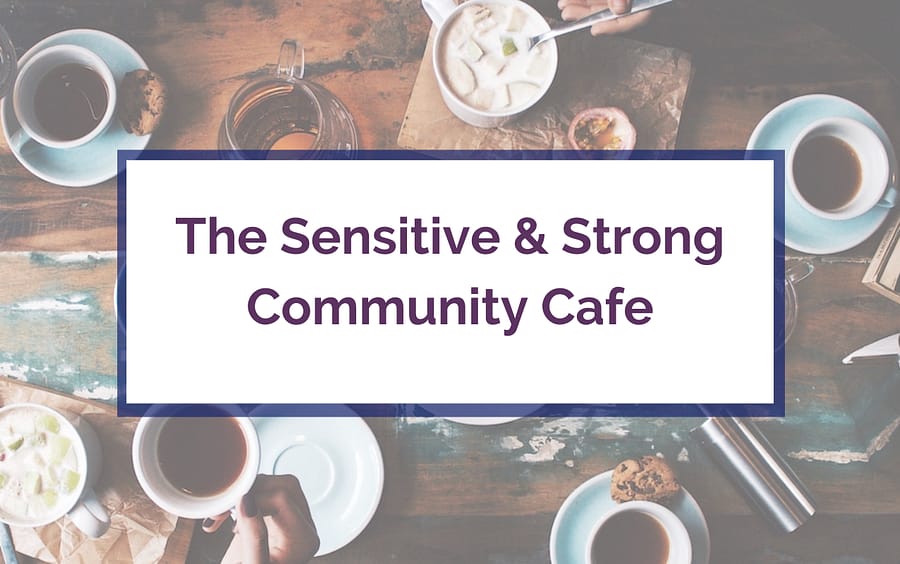 Being a part of this community has been very helpful. I don't ever feel alone and if I don't want to interact for awhile it's okay and there is no judgment! I love that! I feel blessed to have this community and be heard and feel appreciated and valued. Thank you for this.
~ Cafe Member