Accusing Perfectionism as the Bully It Is
Are you ready to lose that overwhelming sense that "something must be wrong with me" and learn, instead, to embrace this HSP gift God's given you? The Sensitive & Strong Community Cafe is now open to new members, and we'd love to have you join us!
"It sounds like Perfectionism is like this street bully who's been beating the @)!*# out of you your entire life!"
It has!
"It sounds like Perfectionism is the devil himself with a death grip that won't let you live your own life!"
It won't!
In April and May of 2012, I took a monologue-writing class. As we wrote our scripts, I decided to put "Perfectionism" on trial for the crimes it's committed against the women in my family.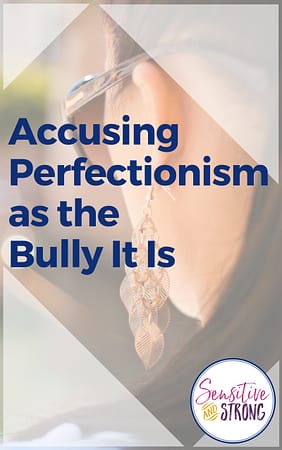 As I received the feedback quoted above from my classmates, I was taken aback by the intensity they reflected.
Street bully?
Devil himself?
Aren't you being a bit over-dramatic, Cheri?
But the more I thought about all the the years of fears–decade after decade of nothing–I realized they were hearing me right.
Although my performance was far from "perfect," it was an powerful experience to stand up and publicly accuse Perfectionism of being the bully, the tyrant, the criminal that it is.
(Can't view the video? Click here to access The Perfect(ionism) Crime directly!)
I'm not the only woman Perfectionism's beaten up.
Here are just a few comments from the 200+ women who took the "Women Trying to Measure Up" survey:
"Perfectionism steals the spontaneous joys of life."
"Perfectionism causes hesitation to begin tasks, anxiety around uncertainty, and fear of risk-taking."
"Perfectionism has robbed me of time and peace."
"Perfection can become a personal 'ball and chain' where the desire to be perfect puts a woman in her own personal prison cell. No joy can be found in this life of self-bondage."
What a relief I find in the contrast between Perfectionism and perfection in Christ!
In a word, what I'm saying is,
Live out your God-created identity.
Live generously and graciously toward others,
the way God lives toward you.
Your Turn
How has Perfectionism bullied you?