When You Do Everything Right But Things Still Go All Wrong
Are you ready to lose that overwhelming sense that "something must be wrong with me" and learn, instead, to embrace this HSP gift God's given you? The Sensitive & Strong Community Cafe is now open to new members, and we'd love to have you join us!
This isn't fair.
We did everything right!
Things should not have gone all wrong.
Daniel and I arrived at the airport three hours ago: a full two-and-a-half hours before our flight.
Yet here we stand, staring at each other in shock.
We didn't know about the gate change.
Our plane left without us.
The airport has no Wi-Fi, and our cell phones don't work internationally. Our tickets were booked by the person who invited us to speak at their conference.
We are stranded in Serbia.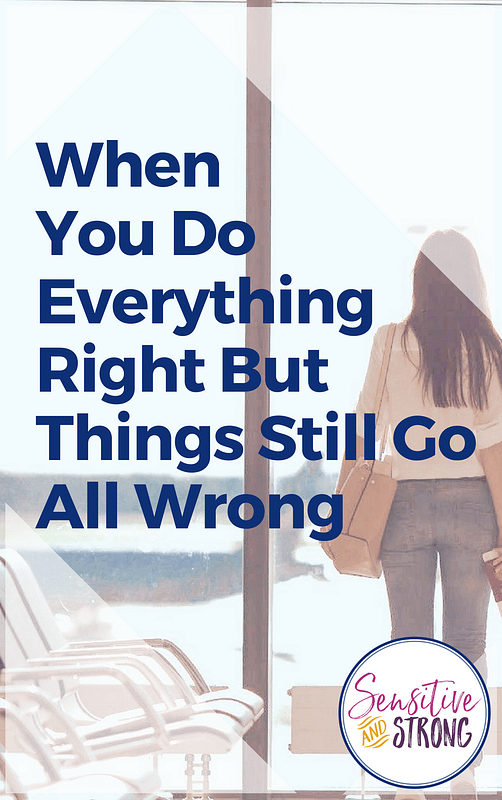 Plan B
After an hour of negotiating with airlines, and paying a stunning sum of money, we are rebooked to leave tomorrow.
A kindly woman at the Information desk scribbles the name of a local hotel.
The cab driver stops to ask passers-by for directions five times. We wonder what kind of hotel we're going to, if even the cabbie doest know about it.
We are relieved when he deposits us in front of a lovely hotel with a welcome "Free WiFi" sign.
The owner takes one look at our faces and readily grants us early check-in. We gratefully crawl between clean sheets and sleep for hours.
We wake up hungry and head to the adjoining restaurant, only to find the menus written entirely in Serbian.
And we have too many dietary restrictions to risk playing point-and-pray roulette.
Dinner in Serbia
An idea pops to mind, and I run to the room to grab my laptop. We spend the next thirty minutes watching the wonders of Google translate at work.
At one point, while Google is mid-translation, the words angry peppers appear on screen.
Trying to interpret for the computer, Daniel and I look at each other in bafflement.
Angry peppers?
Then Google corrects itself: cayenne pepper.
We laugh uproariously, partly at angry peppers and partly in relief.
"You know," I say as a new realization dawns on me. "This is what our ESL students experience every single day, all year long. They have electronic translators, but they're not very good. If today has been hard on us as adults, what must it be like for teenagers to live where they don't know the language?"
We sit in thoughtful silence until our food comes.
Bowls of the best cucumber salad I've ever eaten (sorry, Grandma!) and juicy sweet chunks of fresh tomato.
Spaghetti with maranara sauce.
We relish every bite.
For desert, we order baklava.
And thanks to Google translate, it arrives "with vanilla ice cream."
Home at Last
Two days later, I barely resist the urge to kneel down and kiss the tarmac at SJC.
We file a claim with the airline, but it's denied. So we're out a large chunk of change.
But our trip isn't a complete loss.
We have fond memories of our dinner-for-two in Serbia.
And our family now has a new name for cayenne pepper:
Angry peppers!
Putting Emotional Detachment Techniques into Practice
I struggled that morning in the Belgrade airport. I'd done everything right, but then things still went all wrong.
Perhaps you feel this way, too, about some aspect of your life.
If so, it's vital to know that you have choices available to you.
I made several intentional choices that morning. Because I'd been learning how to take better care of myself – my HSP self – I didn't over-react.
Instead, I practiced emotional detachment techniques:
1) I acknowledged my emotions and their intensity. I felt devastated in the moment. I didn't act devastated or drag Daniel down with me. But I was honest with myself. I was experiencing shock, fury, and terror–all at the same time!
2) I respected my idealistic heart. My Daddy told me growing up, "Sunshine, you were created for heaven, but your current address is earth." So yes, it was natural for my God-given heart to expect my airline to find me rather than abandon me. And yes, on this earth, is is normal for things to go wrong. It's a paradox that comes part-and-parcel with dual citizenship.
3) I looked for SOMEthing good. Gratitude has become a habit that serves me well in times of crisis. As we walked through the airport to pick up our luggage, I told myself, We're so fortunate to have our suitcases! and We're fortunate to be in a safe location with a roof over our head during this storm!
One more thing happened during my extra day in Belgrade, but it wasn't intentional; it was miraculous:
4) I saw beyond myself. My sudden flash of empathy for my ESL students did not come from within me. It was clear conviction from the Holy Spirit. I am not capable of selfless insight on my own. But my intentional choices did make me open to receiving.
When You Can't Choose the Outcome…
It's so easy to expect that when we do our part right, everything will turn out right.
But life doesn't always work that way.
We follow the recipe to a "T," but the cake still flops.
We pour time and energy into a project; then our technology fails us at the worst possible moment.
We trust someone only to have them betray our confidence.
It's disappointing and feels downright unfair.
Sometimes, we don't get to choose the outcome.
We can learn to chose our response.
Yes, even our emotional response.