What a Bout of Self-Sabotage Can Teach You About Yourself
Are you ready to lose that overwhelming sense that "something must be wrong with me" and learn, instead, to embrace this HSP gift God's given you? The Sensitive & Strong Community Cafe is now open to new members, and we'd love to have you join us!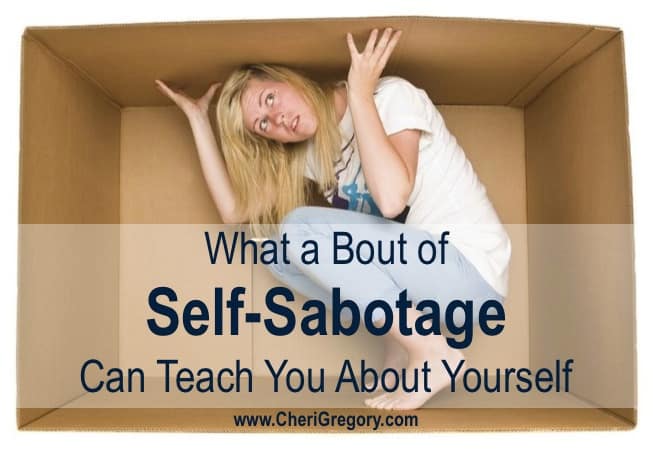 "Weigh yourself."
It's my third morning in the hotel exercise room. My two-day workshop ended yesterday, and today I drive from Franklin to Nashville to spend the morning with my writing coach.
Weigh myself? Why?
I didn't weigh in the day I arrived. So I have no basis for comparison. And I know I've been eating more than usual. So the number on the scale is guaranteed to be a "bad" one.
I choose to focus on a different number: 30 minutes on the ellipcital. But the entire time, I'm hounded with the suggestion:
"Weigh yourself."
I shower and head to breakfast. All week, I've had a simple but solid start to my day: Raisin Bran and scrambled eggs.
Today, however, I hear:
"Grab a warm cinnamon roll."
They've been dallopped with extra cream cheese frosting (my favorite thing!) that's melting into their concentric rings.
But I'm meeting Allison at a coffee shop where I'll order a mocha and a slab of coffee cake. I don't need a Costco cinnamon roll right now, no matter how adorable it looks or fabulous it smells.
I have to take my cereal to my room to get away from the relentless demand:
"Grab a warm cinnamon roll."
No sooner does my door shut than a new idea assults me:
"Stop by a Starbucks along the way for a mocha and Michigan cherry oat bar."
I check the time.
I'm running later than I'd like, but if I hurry and traffic cooperates…
No!
I'm meeting Allision at a coffee shop! I don't need to make an extra stop.
But even as I pack, the idea woodpeckers my brain:
"Stop by a Starbucks along the way…"
"Stop by a Starbucks along the way…"
"Stop by a Starbucks along the way…"
Why So Much Self-Sabotage?
As I drive to Nashville — having not weighed myself, not grabbed a warm cinnamon roll, and not stopped by a Starbucks — I wonder:
What is wrong with me?
Oops — wrong question.
I try a new skill* and ask:
What is going on with me today?
It's as if some part of me wants to make me feel bad.
To see an awful number on the scale so I feel bad.
To fill my stomach with sugar so I feel bad.
To make an extra stop so I run late and feel bad.
What is going on?
Why do I need to feel bad?
Why Would Good Trigger Bad?
This has been an amazing trip.
Joanne Kraft graciously toured me through Franklin on Sunday afternoon. We talked books and speaking and parenting and toured the Lotz House.
I spent Monday and Tuesday at the StoryBrand workshop with Donald Miller, learning a ton and having some inspired "ah-HA!" moments.
On Monday my cousin Steve took me to lunch and invited me for supper at his home with his family.
Tuesday, Ilonka and I spent the lunch hour catching up.
After months of Skyping, I'm about to meet Allison Vesterfelt f-2-f and finish up a brand new book proposal we've been working on together.
Why – after all this good – do I need to feel bad?
The answer comes quick and quiet:
Feeling bad is the only way I get to rest.
The only two valid reasons for rest in my life?
Otherwise, rest is for wimps.
At least, that's how I've lived most of my life.
Re-View
I reflect on my trip:
Constant interaction with people with little "down" time
Non-stop input of new ideas with no time to process
Lots of trial and tons of error while putting new ideas into practice
A new "Ah-HA!" that keeps hitting me in the gut as it goes deeper **
And I realize:
I'm tired.
Just plain tired.
Do Something New
I spend a great morning with Allison. We make stellar progress on my proposal. By 1:00 PM, as I head to my hotel, I'm more excited about it than I've ever been.
I'll see if I can get an early check-in and keep working. With any luck, I can be DONE with it by …
Then, I remember:
I'm tired.
So I go to my room. Change into yoga pants and a comfy top. Set my iPod to quiet piano hymns by David Baroni.
And I do the one thing I need most.
As I rest, all thoughts of weighing in and grabbing warm cinnamon rolls and stopping by Starbucks all fade.
To silence.
Later, I'll wonder: Is this why I self-sabotage? To make myself feel bad so I'm forced to rest?
For now, I just rest.
And enjoy feeling good.
How do you recognize when you need rest?
(* I'll be writing about this new skill next week!)
(** I'll be writing about this new ah-HA! next week!)