Win Every Food Battle Right Here
Are you ready to lose that overwhelming sense that "something must be wrong with me" and learn, instead, to embrace this HSP gift God's given you? The Sensitive & Strong Community Cafe will be opening to new members soon, and you can get on the wait list right here.
(Continued from "Two Questions to Help You Win Your Food Battle")
Asking "Why the food?" and "What's the Feeling?" only got me so far.
Eventually, a new question arose:
"Where's the freedom?"
Yeah, I know it's awkward and could even sound accusatory.
But for me, it's simply asking, "Where am I really going to find freedom? In food? In feelings? Or how about in faith?"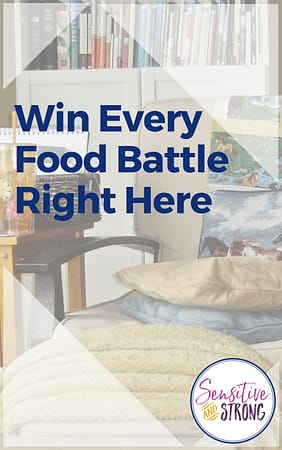 When a Food Battle Begins, Beat a Hasty RETREAT!
Asking this third WTF? — "Where's the freedom?" — propels me out of the kitchen.
'cause the kitchen is enemy ground.
Not all the time, of course. The kitchen's the right place to be when I'm reaching for food to resolve hunger and nourish my body.
But during a Food Battle — when I'm reaching for food to resolve feelings — staying in the kitchen is lingering in hostile territory.
I retreat, as fast as I can, to my Prayer Chair.
Where the Food Battle is Won
In my Prayer Chair, I process my messy feelings with Jesus, sitting with them and Him.
Literally.
The photo above shows my actual Prayer Chair. This is where I'm learning to go when I need to flee the kitchen.
Sometimes I open my Bible and read. Sometimes I pull out a devotional. Sometimes I journal. Sometimes I put on favorite praise music. Sometimes I just listen.
Often I ask, "How did I get here?" as a prayer, inviting the Holy Spirit to reveal
what triggered the most recent Food Battle.
what emotions I need to recognize and metabolize.
what message I need to hear and take to heart from God.
I stay in my prayer chair until I'm okay.
I may still have the feelings, but the feelings no longer have me.
Right Here
I start every day in my Prayer Chair.
And it's becoming more and more natural for me to ask, at the start of a Food Battle, "Why the food?" and "What's the feeling?" and "Where's the freedom?" and make a bee-line to my Prayer Chair.
But "Right here" goes far beyond a physical Prayer Chair.
Ultimately, we each need a Prayer Chair in our hearts.
When you're at the grocery store and start hearing "Pick me! Pick me!" from every package along the cookie isle, you need to seek solace in God right then and there!
A physical Prayer Chair is a great tool when you have access to it. But what's important isn't the chair; it's the habit of beating a hasty retreat to God the moment a Food Battle starts.
'cause the Food Battle — like every battle you face — belongs to the Lord. (1 Samuel 17:47)
(I'm already at 500 words, so be sure to read How to Prepare Your Prayer Chair!)
Your Turn
Do you have a "Prayer Chair"? Where is it and what's it like?