It's a Lie: When Bullying Feels Like Love
Are you ready to lose that overwhelming sense that "something must be wrong with me" and learn, instead, to embrace this HSP gift God's given you? The Sensitive & Strong Community Cafe is open to new members now!
"Oh, but I know they love me!" Rachel* assures me.
I've been trying to hide my growing dismay, but she can read me like a book.
More-sensitive-than-most girls are good at that. They absorb others' emotions like a chamois draws in 10x its weight in water.
Rachel, a high school senior in my girls' Bible study group, has just learned that she's a Highly Sensitive Person; she checked "yes" to 75% of the questions on the HSP self-assessment.
Many things in her life now make so much sense, to her and to those of us who love her.
But the story she's just told us about her summer leaves me speechless.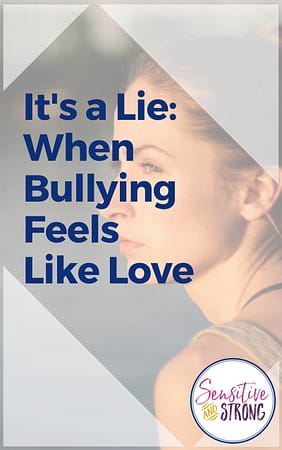 Three Months of Daily "Teasing"
Rachel was a kitchen crew worker at a Christian summer camp. As soon as her co-workers discovered how "jumpy" she was, they made a point of dropping metal pans behind her. Coming up and tapping her unexpectedly on the shoulder. Rushing at her face out of nowhere.
"They couldn't believe that I still reacted as much at the end of the summer as I had at the beginning!" she told us with a giggle.
The "crowning glory" of all their teasing — and the reason my mouth is now agape — was to lure Rachel into a storage closet under false pretense, shut out the lights, and lock the door on her. When they finally turned the lights back on, someone dressed in a bear costume was standing right in front of her. As she screamed, they high-fived each other for such a stunning success.
My face must be registering abject horror, for Rachel reassures me, once again:
"I know they love me."
Love Does Not…
Love?
This was not love.
Rachel spent her summer coping with a body and brain flooded unnecessarily with the fight-freeze-or-flight stress hormone adrenaline. On the flip side, each time they "teased" her, their brains received shots of pleasurable endorphins.
This was not love.
This was bullying: the stronger ganging up on the weaker for their own enjoyment.
But here's the truly diabolical part: Rachel is a Sanguine/Expressive personality. Her two greatest needs are attention and approval. All the "pranks" played on her did, in fact, provide her with a great deal of attention. And if she put on a brave face–if she smiled and didn't complain — she received approval.
And so the vicious cycle continued.
Another sensitive young woman using the name "love" for something far closer to abuse.
A host of young people gaining pleasure from another's pain and calling it "fun."
Love does not delight in evil but rejoices with the truth.
It always protects, always trusts, always hopes, always perseveres.
Your Turn
What behaviors have you initially received as "love" but later recognized as less-than-love?
(*Not her real name.)