Where We Learn That Bullying Isn't Love
Are you ready to lose that overwhelming sense that "something must be wrong with me" and learn, instead, to embrace this HSP gift God's given you? The Sensitive & Strong Community Cafe will be opening to new members soon, and you can get on the wait list right here.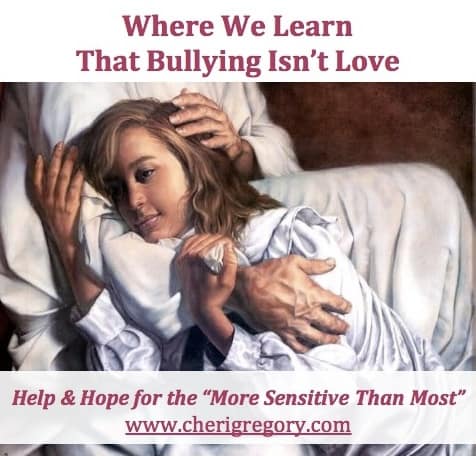 Bullying — of any type and any intensity — produces shame.
Bullying says that "love" and "belonging" are conditional on the victim's silent tolerance of intolerable treatment.
In the closing message of last weekend's retreat, I talked about shame, repeating this refrain:
"Sometimes we don't know that we're listening to a liar; and when we're listening to a liar, nothing seems louder than lies."
Bullies are liars.
Their behavior says,
"You deserve this treatment."
"You asked for it."
"Nobody likes you."
"Nobody will defend you."
"You are alone."
In future posts, I'll talk about practical things we can do in our own lives and the lives of others to respond to bullying.
But for today, I want to make sure one thing is crystal clear:
When you're listening to a liar, nothing seems louder than lies, but

(Click the image above or this link to view "Love Speaks Louder Than Lies" video.)
(If you have trouble with the YouTube link, try this DropBox link: https://www.dropbox.com/s/p2prhr8luo3w096/Love_Speaks_Louder_Than_Lies.mov)
Your Turn!
What kind of bullying have you experienced? How have you responded to it?
Which of the lies in the video have seemed loudest to you? How did you sense yourself responding to seeing them contradicted by God's Word?
Anything else on your heart!
Click to tweet this: "LOVE speaks louder than lies."