A Tale of a Girl Who Found Her Voice
Are you ready to lose that overwhelming sense that "something must be wrong with me" and learn, instead, to embrace this HSP gift God's given you? The Sensitive & Strong Community Cafe is now open to new members, and we'd love to have you join us!
July 13, 2005, 10:00 PM
I stare at my blank computer screen and pray for inspiration to write my Vision Statement for the MA program I'm starting.
"Get in touch with your stories," I've been told. "They will lead you to your vision."
I feel like saying, "Yes, Jedi Master," in my 12-year-old son's best Luke Skywalker immitation.
"Those who have lost their narratives have lost their voice," I've been told.
I feel like saying, "Whatever!" in my 14-year-old daughter's best know-it-all teenager tone.
Instead of trying to "visualize" or develop a "vision," I close my eyes and begin hearing voices.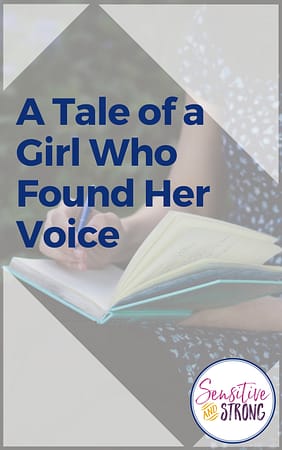 "What do you mean you lost your sweater? HOW could you have lost it already?"
"All right, I guess we HAVE to have Cheri on our team."
"Get in your room and do not come out until it is clean."
"Goodbye. I'll miss you. I'll write."
"Why haven't I heard any piano practicing this afternoon!?!"
"Sis, here's what you do: When you get a test back at school, keep it turned over on your desk and slide it into your backpack upside down. That way nobody will ever know your scores. And for heaven's sake, keep your mouth shut."
"You'll have to take over for Mother until she's better. I know you can do it!"
"You have a very natural seat on a horse. You have a lot of potential."
"Goodbye. I'll miss you. I'll write."
"Cheri, Nikki was hit by a car last night. We took him to the emergency animal hospital, but he died before they could attempt surgery."
"We had to choose between continuing your horseback riding lessons and piano lessons."
"I'm so glad you chose me to be your Dad."
"You know the Bach competition is this weekend. Get back in there and practice!"
"Cheri, all the junior high teachers were talking about you during faculty meeting today. They asked me to tell you that your mother needs to take you shopping for a bra with better support and coverage."
"Cheri, your room! Just walking by it I feel messy!"
"Cheri has the highest first quarter grade in Geometry. But today, I'd like to introduce a brand new student who will beat her next quarter."
"I'm not losing anything. I'm throwing her away because that's what you do with trash."
"And don't you dare tell Mother or Daddy!"
"Cheri Elder, Honor Roll."
"WHY didn't you TELL us?!? You knew all this time, and you didn't tell us?!?"
"Cheri Elder, ASB Religious Vice President"
"Just lose 3 more pounds."
"Damn you! I told you not to tell!!!"
"Cheri Elder, Honor Roll."
"Just lose another 3 pounds."
"Cheri Elder, National Merit Honorable Mention"
"Just lose another 3 pounds."
I contemplate the voices I've been hearing for the last hour. Do they mean anything? Are they anything more than a hodgepodge of childhood memories? How is "hearing voices" going to help me write my Vision Statement?!?
I look for themes, patterns, a metaphor, perhaps.
None of this is new; I've "dealt" with all of these stories (and many more!) in various counselors' offices. More than once I've tried to leave them all behind.
What is the good of revisiting these memories now, when I'm trying to move forward toward an MA (and perhaps a PhD), not slide backward?
And then it hits me.
I see something.
Actually, I see something that's not here.
I realize what is missing from this chronicle of the voices from my childhood and teen years.
My voice.
Where is my voice in all this?
It's not here!
Frantically, I scroll back through the pages.
I must have just gotten so caught up in all the stories that I forgot to record my own words. I'll just go back and add them in! Hmmm . . . should I add myself in between every voice or every other voice?
Stop.
This means something.
I can't just go back and "edit" myself into this.
What I've written, here, means something exactly the way it came out.
It means something, that I recorded all these voices — my parents, my brother, my teachers, my classmates — but not mine.
It means I had no voice.
That blank space between each voice?
That's me.
Voiceless.
Without a voice of my own, the voices of others defined my reality for decades to come.
Your Turn
What voice(s) were loudest during your childhood? What voice(s) are loudest now?