How to Feel All Right When Everything Goes All Wrong
Are you ready to lose that overwhelming sense that "something must be wrong with me" and learn, instead, to embrace this HSP gift God's given you? The Sensitive & Strong Community Cafe is now open to new members, and we'd love to have you join us!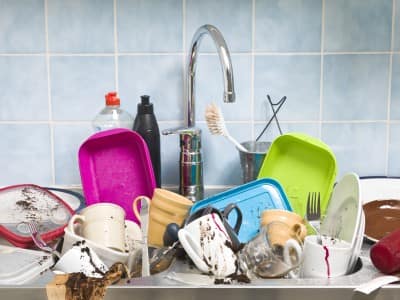 I now wish I'd taken photos of my kitchen on Wednesday night at 6:00 PM.
I mean, it's not every day I can document my most epic failure-as-a-cook moment.
Moment?
Ha.
More like hours.
Hours of preparation.
An hour of my students patiently waiting for the promised food.
Hours of clean-up.
All made increasingly mortifying by my humility-free guarantee: Mrs. G's World Famous Home-Made Pizza.
I'll spare you the full story. The "if one more thing goes wrong, I'm going over the edge" details include:
yeast that frothed with soap bubbles while proofing (at least they looked so much like soap bubbles that I dumped it out and started over);
one full batch of crust dough ruined because I ran out of flour in the middle of measuring and ended up with no idea how many cups I had or hadn't put in (which means I started over yet again);
fresh mushrooms that didn't just weep — they bawled as if they'd watched every Nicholas Sparks movie ever made and stored up their tears for the day they became pizza topping (I used up a roll of paper towels dabbing the pizzas every few minutes as they baked but still ended up with puddles at the bottom of the oven);
mozzarella cheese that would not melt let alone bubble (I baked those pizzas 'til the crusts doubled as diamond-cutters);
the lawn sprinkler drumming the window every 15 seconds (which I couldn't stop because the spigot handles are broken and only Daniel knows how to turn it off);
my dog barking at every stray air molecule that floated by her (which I couldn't stop because her bark collar had vanished);
the ever-popular combination of heat and humidity inside my house (which I could have made more bearable if I'd remembered to put out the drinks and ice before my students arrived instead of after they'd been sitting around sweating for forty-five minutes);
sliced strawberries that went from fresh to fermented in less than two hours, giving an unexpected (and distinctly unwelcome) "zing" to my refreshing lemon tea cake finale;
a kitchen that disgraced every moment of my mother's training to "clean and put away as you cook" (and fully realized her most dire "Wreck of the Hesperus" predictions).
The final insult up on all these injuries was realizing that I was wearing flip-flops but hadn't had a pedicure in three months. Somehow, I mustered up one last surge of energy to feel horrified that I–the elegant hostess (?!?)–had been seen with (say it isn't so) chipped nail polish.
While triaging my kitchen and ego well into the night and most of Thursday morning, I came up with the following free advice (well worth the price) for getting back to feeling all right when everything has just gone all wrong:
1) Defend Yourself Against Future Insanity by Documenting What Went Wrong This Time
I now suspect that the last time I made home-made pizzas with toppings-of-choice for a dozen people it was such a disaster that I repressed every gory details. I stamped "You need to try this again to show everyone that you really can do it!" over the whole episode and moved on.
I've heard "the definition of insanity is doing the same thing over and over and expecting different results" so many times I could sing it in my sleep.
But it now occurs to me that the deepest level of insanity is not even remembering that I'm doing the same thing over and over. How can I actually expect different results when I don't even remember the original ones?
This must change.
Which is why I'm writing this now.
So next year, when "You need to try making home-made pizzas with toppings-of-choice again to show everyone that you really can do it!" flashes into my brain, I can re-read this and dope-slap myself with the truth of what happened the last time I fell for that line.
2) Realize That the Only One Who Cares as Much as You Care is You
"I had a dream, I had an awesome dream."
Yes I did.
With apologies to Lionel Riche, mine was a living room full of students munching happily away at my "This is incredible, Mrs. G!" pizza. Reading aloud their skillfully-revised "This I Believe" essays, as we paused our chewing to listen in rapt attention. Enthusiastically applauding each other's creativity and individuality. Digging in to lemon tea cake and fresh strawberries. Finishing with hugs all around. Reaching for Kleenexes to dab those dratted tears.
The Best Christmas Pageant Ever.
Er…the Best Day of AP English Ever.
Or at least a Good Good-Bye.
As things went from bad to worse to "This can not be happening!", what kept me from weeping as my beautiful dream deteriorated into an absurd nightmare was this: I kept reminding myself that I, alone, had pre-lived my adjective-and-adverb-laden fantasy scene in La La Land.
The real teenagers in my real living room just wanted to fulfill the final requirement for the course and leave.
So they could graduate and leave.
I was the only one interested in leaving beautiful memories.
They just wanted to leave.
3) Turn It Into a Story You Can Share
At some point, decades from now, Wednesday's fiasco will be good for a laugh: "Remember when Mrs. G invited us over for pizza at 4:00 and we didn't do anything but sit around in her hot house waiting?!?"
Okay, maybe this one will never make it to the funny phase.
But I know I will encounter, probably very soon, a woman who tried her best to do something nice but it bombed. And the harder she tried to rescue it the worse it got. Until all she had to show for all her work was a mess of disappointment, which she now has to clean up.
I hope she'll let me grab a scrub brush and tell her the story of my mess while we mop up hers.
That way, neither one of us will feel quite so alone.
Try This Today:
Do you have a scripture by heart or at hand to hold onto when everything is going wrong and you feel like going over the edge? If not, seek one and memorize it or print it up on 3×5 cards that you can post and carry with you. (The one I have on auto-replay in my brain is Romans 15:13: "May the God of hope fill you with all joy and peace as you trust in Him so that you may overflow with hope by the power of the Holy Spirit.")
Your Turn:
What's a recent "disaster" you can take thru these three steps?
How do you handle situations in which things go from bad to worse to "This can not be happening"?
Anything else on your heart!
Tweet this post: How to Feel Right when Everything Goes Wrong