Never Good Enough = Adrenaline Addiction
Are you ready to lose that overwhelming sense that "something must be wrong with me" and learn, instead, to embrace this HSP gift God's given you? The Sensitive & Strong Community Cafe is now open to new members, and we'd love to have you join us!
(If you're stopping by today from the Online Bible Study of Stressed-Less Living, Welcome! Here are my reflections on option #2: Adrenaline Addiction.)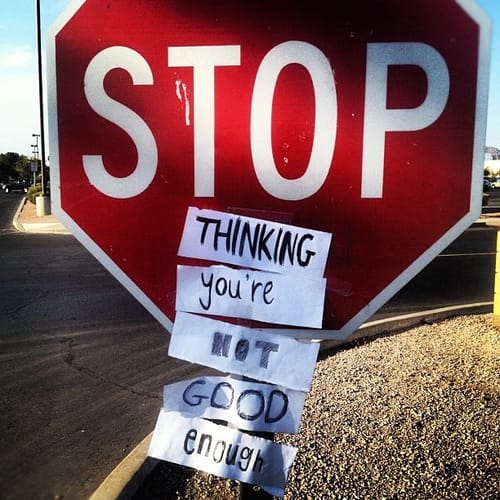 During a recent sermon, our pastor interviewed one of my award-winning colleagues and asked him for his one take-away from the school year.
"Good enough isn't good enough for my Jesus," he replied.
I should have cheered in agreement.
Instead, my heart sank, heavy with shame.
Enamored by Excellence
"Good enough isn't good enough."
I used to feel that way. Always going above and beyond. Always striving to raise the bar.
Over-achievement was my norm, my "C level."
I was impressive.
I was intimidating.
I was sick.
My frenzied efforts weren't for Jesus; their sole purpose was to protect me from failure and criticism.
Addicted to Adrenaline
It's been a year since I realized that Perfectionism, not God, has been in control of my life.
As I began saying, "No!" to this bully, I starting feeling off my game.
Run-down.
Irritated.
Tired.
"An addiction to adrenaline is often difficult to diagnose because it pushes us beyond what is healthy under the guise of normal life. People who are addicted will find that they make sure that they are doing something…all the time. There is never room for down time because that would mean that are not needed or they may feel unproductive. The rush they receive from busyness keeps them going from day to day…
No matter what the root cause of adrenaline addiction may be, adrenaline junkies are always overwhelmed, pulled in every direction (often by choice), and stressed to the max. They thrive on the need to feel necessary and productive and possess and insatiable sense of urgency and need for accomplishment. If anything comes up that derails their well-laid-out plans, sheer panic could potentially set in." (Tracie Miles, Stressed-Less Living, pg. 159-160)
As I began saying "No!" to Perfectionism, I started experiencing severe adrenaline withdrawal.
It was so tempting to go back to my comfortable, familiar, just-try-harder habits. But my mother's illness has provided me with a much-needed reality check.
Alzheimer's Disease
My mother has had Alzheimer's Disease for seven years and has lost most of her memories. For the few years, my brother, my father, and I have been comforting each other by remarking about how "happy" Mother is, now.
But when I visited a year ago, my brother and father kept saying, "She's the happiest she's been in 45 years." And I found myself getting more and more upset every time they said it.
Which felt very wrong.
Why wouldn't I want my mother to be the happiest she's been in 45 years?
Through prayer and journaling, I got in touch with a profound sadness for my mother: to be so unhappy for such a long time. 45 years!
Then, the real reason hit me: The real reason I got upset when they said Mother's the happiest she's been in 45 years:
I was about to turn 45.
My father remembers her happy days.
My brother remembers her happy days.
I do not I remember her happy days.
All I've ever known is the stressed-out Mother, the anxious Mother, the worried Mother, the profoundly disappointed Mother…disappointed with everything, and everyone.
Especially with me: I was "such the disappointment."
I always felt, in my heart of hearts, that my mother's unhappiness was my fault, and, thus, my job to fix. I've spent a lifetime trying to do the impossible.
She lived a life so full of disappointed expectations that she's had to completely lose her memories of herself and her family in order to finally be happy again.
The happiest she's been in 45 years.
Stress Less, Live More
I turned 46 yesterday and renewed the commitment I made last year:
I will not wait until my brain is stressed beyond memory to be happy.
I will not wait until I don't recognize the children I birthed and named.
I will not wait until I no longer know the man with whom I've spent over half my life.
I will not wait any longer to to experience the life of hope and joy and peace that God promises.
How?
Stop panicking that my "good enough isn't good enough for my Jesus."
Open my heart and ask God to remove the millstone of shame (the one that comes from trying harder and forever failing.)
And start inviting Jesus to define "good enough" for me.
Try This Today:
As you go through your daily commitments, ask yourself, "Am I doing this because I get to or because I have to?" For the "have to" activities, ask yourself, "Which of these are mandatory and which are optional?" For the optional ones, prayerfully consider how they got on your schedule in the first place. Might they be signs of an adrenalin addiction or the bullying of Perfectionism at work?
Your Turn!
How much margin do you have in a typical day–time to relax, refresh, and renew? Is this intentional or by default?
In the quote about adrenaline addiction, does anything resonate with you? Have you thought of it this way before?
How discern what's truly "good enough" in your daily life?
Anything else on your heart!