The Good News About Feeling Bad
Are you ready to lose that overwhelming sense that "something must be wrong with me" and learn, instead, to embrace this HSP gift God's given you? The Sensitive & Strong Community Cafe is now open to new members, and we'd love to have you join us!
Princess Buttercup: "You mock my pain."

Man in Black: "Life is pain, Highness. Anyone who says differently is selling something."
I love The Princess Bride, but I've always loathed this scene.
"Life is pain" sounds so cynical.
So fatalistic.
So accepting of what I've devoted my life to avoiding.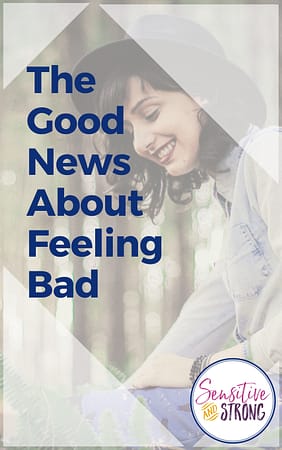 How Perfectionists Deal with Pain
After my brother and I shared memories at our mother's memorial service, my father commented, "Eleanor really did believe that if she just did everything right, nothing would ever go wrong, didn't she."
Every Perfectionist believes this, along with its unspoken, but all-important, logical conclusion:
"If I do everything right, nothing will ever go wrong. Thus, there will be no pain."
The intention is beautiful.
In execution, however, it's brutal.
Pain becomes the enemy. People experiencing or expressing pain become opponents.
After all, the existence of pain means that something has gone wrong which means that I have not done everything right which is unthinkable.
Perfectionists deal with pain by denying its existence.
We shame ourselves, we blame others.
But we do will can not acknowledge pain.
How People-Pleasers Deal with Pain
I'm still reeling from an article I read last week. In her two-part series, "Why Your Husband Won't Change," Sheila Wray Gregoire references Gary Thomas' article, "Why Men Don't Change" which starts with these paradigm-altering sentences:
What if your husband isn't motivated by your pain?

What if he's only motivated by his?
My take-away from Sheila's posts and Gary's article is that I've spent decades protecting people I love from pain they need to experience.
I've believed that permitting pain is the same thing as perpetrating pain. So I've devoted myself to preventing pain. In doing so, I've messed with necessary suffering.
People-Pleasers deal with pain by preventing it.
Unaware that by doing so, we are "protecting" those we love—and ourselves—from the very force that produces spiritual growth.
How Performancists Deal With Pain
"I'm afraid that once I start to feel it, I won't be able to stop."
I've heard this from every strong woman with whom I've shared deep conversation.
I get it.
I lived for decades with my pain brake pedal floored, terrified to let it up even a little. I thought I had a natural aversion to feeling pain. But it turns out, I was afraid of something much deeper:
I was afraid of losing control.
What I didn't see at the time was how much I was already losing:
Peace
Hope
Delight
Joy
Love
Performancists deal with pain via rigid control.
And since controlling "bad" emotions means the "good" ones get controlled as well, we end up apathetic. Or worse, full of crippling toxic emotions:
Annoyance
Indignation
Bitterness
Resentment
Despair
How Procrastinators Deal with Pain
Of course I need to deal with my pain. Just not right now.
So goes my impeccable logic.
As I reach for an unopened pint of Ben & Jerry's and a spoon.
As I log onto Facebook for the dozenth time. This hour.
As I charge my through a stack of catalogs.
Procrastinators deal with pain by numbing it.
Whether we use substances, experiences, relationships, or an impressive appetizer platter of bite-sized techniques to "take the edge off" (Brene Brown's apt term), our goal is the same.
I will deal with the pain, but Not. Right. Now.
The Good News About Feeling Bad
Now that I'm treading water through grief, I've discovered that I heard that infamous line from The Princess Bride all wrong.
I heard, "Life is only pain." Which would be very bad news indeed.
But the actual line is, "Life is pain." Which, while not my preference, is ultimately good news.
As I've stopped denying, preventing, controlling, and postponing my pain, I've discovered something unexpected:
Life is pain and delight.
Life isn't only pain. Life is pain and ______. We don't get the ______ without the pain.
Not on this planet.
But our hearts can take the pain.
After all, we know to Whom to take our pain.
And when you're more afraid of missing out on the good than you are of suffering through the bad?
Pain becomes a small price to pay.
You are worth it.