"Living With and Loving the Highly Sensitive People in Your Life"
Are you ready to lose that overwhelming sense that "something must be wrong with me" and learn, instead, to embrace this HSP gift God's given you? The Sensitive & Strong Community Cafe is open to new members now!

It was such an honor to be a guest on the "Better Together" podcast hosted by Barb Roose. Barb is the author of many powerful Bible studies and books, and she's also my literary agent.

Transcript:
Announcer
Life can be tough, but you are not alone. Whether you're at home or on the go, join us we have real conversations about our hopes, dreams, worries, and sometimes even our waistlines. It doesn't matter where you come from or what you've been through. This is the place where you can find hope, help, and practical next steps so that we can all get better together. Welcome to the Better Together podcast!
Hey, friends! it's Tabitha — Barb's Podcast Producer. And today we are talking all about Highly Sensitive Persons. If you need time to process, feel emotion strongly, or easily stimulated by your senses —like smell or taste — chances are you are an HSP. And guess what? Being an HSP is a beautiful thing.
In today's episode, Barb chats with special guest, Cheri Gregory, about how to live with and love the Highly Sensitive Persons in your life — and also how to celebrate and use the unique way God made you if you are one yourself. Cheri Gregory delights in helping women draw closer to Jesus, the strength of every tender heart. She's the co-leader of Sensitive and Strong; the founder of Write Beside You coaching services; and co-author of five books. Cheri speaks locally and internationally for women's events and educational conferences. She and her college sweetheart Daniel have been married for more than three decades. And they've spent the last 15 years living and serving on a Christian boarding school campus on the central California coast. So let's listen in to Barb's conversation with Cheri Gregory!
Barb Roose
Hello, friends! And welcome to this episode of the "Better Together" podcast. It's Barb Roose. And I am so excited because I get to talk with a friend today, who is one of the very smartest hardest-working people that I know. But what's fun about my guest today is she and I are friends and ministry partners — like we tick the boxes in a lot of different areas in each other's lives. It's a lot and so that for me is super fun, because that means that she has an incredible voice of influence and wisdom. So I'm excited to welcome my friend Cheri Gregory to the Better Together podcast. Cheri, welcome!
Cheri Gregory
Thanks so much for having me, Barb. This is so super exciting.
Barb Roose
This is especially since it's my turn to ask the questions, Cheri? I feel like the tables have turned, my friend. Are you ready?
Cheri Gregory
I don't know. I have to admit. I'm like, "Hang on a second…" How many times did we interview you on Grit 'n' Grace? I think you were one of our most frequent guests.
Barb Roose
You know what? I want to just stop … I want to let that linger in the air right there. For the listeners you heard in tap of his introduction, that Cheri Gregory was one of the co-hosts of Grit 'n' Grace. And Cheri knows this because I've said it many times. Grit 'n' Grace was the very first podcast that I listened to when I left working full-time for the church. I had no idea that there was this land of podcast hosted by Christian women. Cheri Gregory and Amy Carroll had this podcast and I was a rabid listener, and they just cast a vision for podcasting that inspired me years later. And so Cheri, I just want to say thank you to that. How many episodes did you and Amy do?
Cheri Gregory
I think right now where the total was 269. But we had a few extra episodes. So we had just under 300 episodes.
Barb Roose
Wow. Over how many years?
Cheri Gregory
I you know, I get the math wrong with COVID I can't do math anymore as to how many years things have been but I think around 6 years. Yeah. Wow.
Barb Roose
Oh, that is so incredible. I mean, I couldn't do math before COVID. But oh my gosh. And so the Grit 'n' Grace podcast over six years. That is so wild. Oh my goodness. Well, I have been honored to join you and Amy for some great conversations, and that was the first place that I heard about today's topic. We're gonna talk about HSPs or "Highly Sensitive Persons". And today I am excited to share your your insights with our listeners. Because God has created us all uniquely and differently. And I've discovered that I have a deficit when it comes to recognizing when someone is an HSP and loving them well. So are you gonna get me straightened out a little bit today?
Cheri Gregory
I don't know about straightening you out, Barb. But hopefully expanding your horizons a little bit.
Barb Roose
That's such a generous, graceful way of saying that. Good. Well, before we get to that, this is the "Better Together" podcast. And to help our audience get to know you better Cheri, who are some of the people who make you better in your life?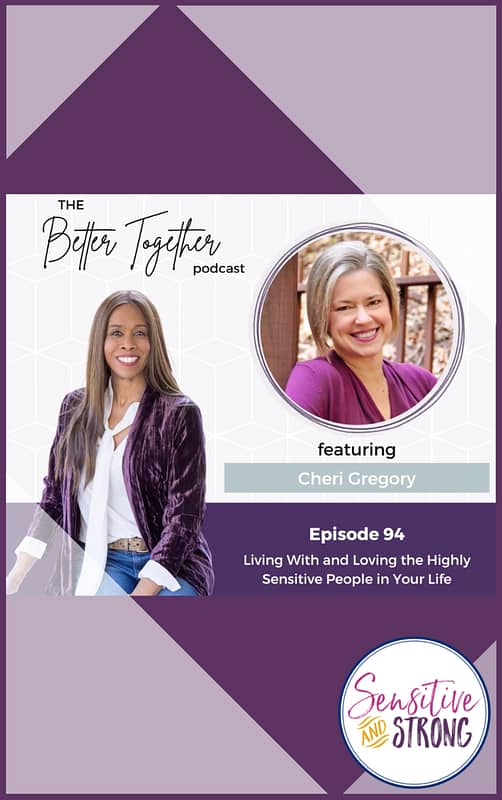 Who are some of the people who make you better in your life?

Cheri Gregory
You know, what comes to top of mind is going to be my, my co-authors: Kathy Lipp, of course, who we share a an abiding love for she and I have co-authored three books together. Denise J. Hughes, she and I co-authored Sensitive & Strong together. But since we've already been talking about Amy, Caroll, she and I have co-authored Exhale together and then also did the Grit 'n' Grace podcast together.
You know, the irony of spotlighting Amy is that we aren't working together anymore. And she made me better by telling me it was time for her to step away from the podcast. Now we're still together as friends. Like we had our first lunch date together that wasn't related to doing the podcast last week, and we're both reading books, and we're gonna be having conversations about it. And we might be doing some spontaneous, unscheduled, unsponsored podcast episodes. We haven't shut it down.—we haven't like yanked all the episodes off the air.
But when we first got started, her first question was, "Cheri, what's our exit strategy?" and I was hurt. Like, she wanted to "divorce" me before we "got married." I was like, "What you expecting this thing to fail?" But she was so wise and so caring. She had just come off of some relationships that had imploded. And she was like, "I'm coming to the table and laying all my cards out. I'm going to be 100% candid." And that has served us so well over the years. So that when a number of months ago, she said, "Cheri, God has let me know it's time for me to do something different" it wasn't this huge, shocking surprise. I didn't feel rejected. I didn't feel discarded — which I have all sorts of baggage from past friendships. (And let's be honest, sixth grade, okay, that kind of thing used to evoke sixth grade for me!)
And instead, we were able to go through a really strong process of ending well. It's ironic, I understand your title is "Better Together" — even though we are no longer doing that thing together, we were able to end well and be really proud of it. And I'd say that's probably one of the first times in my life I haven't seen an ending as a failure to be ashamed of and just ignored, but something that we could actually celebrate. So yeah, I'm gonna spotlight Amy.
Barb Roose
So good. Just a few weeks ago, I had Amy and on my other friend, Lynn Cowell on the podcast, because she's co-author to a new project. And so there's a season of life.
I love that idea of thinking of how an ending should go because we all go through the seasons. And we want to be wise in our relationships. So I just I love the fact that Amy presented this question to you. And instead of stonewalling, you actually went, "Yeah, let's go ahead and talk about the end." And if we take kind of that relational vein, today, we're going to talk about this, this phrase: Highly Sensitive Person. And Cheri, what does that mean? And why do we need to have this conversation?
What does it mean to be a "Highly Sensitive Person"?
Cheri Gregory
Okay, well, there's just so many myths and misperceptions about what "sensitivity" actually means. A lot of people think it just means being easily-offended or being a snowflake or that sort of thing. And there's actual psychological research on it. The Highly Sensitive Person refers to Sensory Processing Sensitivity. And so this isn't just somebody who irritates you or bugs you. And it also doesn't refer to somebody who makes everything all about them.
It is specifically describing a person who hears things that maybe other people don't hear … whose sense of smell is more intense … if they walk out into the sunlight, they actually feel more physical pain [from the bright light] than people who don't have sensory processing sensitivity. Each one of us has a different constellation, but their senses tend to be much more heightened. And that impacts the way that they they go about the world.
The thing that's so interesting is you, Barb, could be with somebody who is an HSP … be having the same sensory stimuli coming in … your brain is going to process it very differently than theirs. And so they might be in the process of having a reaction or a response that you don't understand, because you're not having that. And it's what's happening inside the brain — it's not necessarily what's happening on the outside, it's what's happening on the inside. And we can't see that. And so it's very easy to judge when somebody has this reaction that we don't expect.
Barb Roose
And I appreciate that concise picture of how an HSP — how their world is impacted. Because if I speak on behalf of (I believe) a number of listeners: I am a non-HSP. And so it's hard for me to stop and ask myself that critical question of, "I'm with someone, how is their environment impacting them? And how and most importantly, how am I impacting them?" So let's first start with your story. Cheri, are you an HSP? Or are you a non-HSP?
What's your story, Cheri?
Cheri Gregory
I thought I was defective my entire life. I thought there was something wrong with me. And I thought it was unfixable. I thought I was not just flawed, but actually broken. For the longest time, I thought I was a failed extrovert because I love love, love people. But when I get with people, at some point, I hit a wall and I stop gaining energy from them. And so I was like, "I can't even do that right! I can't even be an extrovert well!"
And so 10 years ago, I read the book QUIET by Susan Cain. And she has a chapter about the Highly Sensitive Person. And as I read that chapter — in which she quotes the work of Elaine Aaron, who actually wrote the book, The Highly Sensitive Person — it was one of those moments where everything that had not made sense in my entire life just kind of came swirling together and all the puzzle pieces fit. And I was like, "Oh my goodness! I'm not defective. There's nothing wrong with me. I am a 100%, normal HSP."
And here's the thing that that did for me. I know a lot of people feel like, "Oh, it's another label. It's another victim mentality. And now we have to tippy-toe around and coddle …" No, no, no, no. Because once I found out that I am an HSP — there's a name for it! And there's parameters for it! I could learn about it! I was able to take so much more responsibility for myself, because I knew what it was.
I was the kind of person who because I felt like I was defective, I didn't practice self-care. Why would you care for something that was broken? And so if I was thirsty, I wouldn't drink. If I was hungry, I wouldn't eat. If I was uncomfortable. If my lips were cracked, I wouldn't go get the Blistex.
Barb Roose
Now tell me more. For people who do not yet have an understanding of how to see a Highly Sensitive Person. Someone is no doubt at home going, "But if you're thirsty, you need to go get a drink!" So let me let me back up a little bit. What were some of the tip-offs from what you read? Is your reading Susan Cain's book and others? What were some of the markers of an HSP?
What are some of the markers of an HSP?
Cheri Gregory
Probably the biggest one was needing time to process. I have always said I'm one of the slowest people anybody knows. And people like, "No Cheri, you're not slow! You're so bright! You're so smart!" And I'm like, "You have no idea how long everything takes." And realizing it's not that I'm slow — I just need 24 to 48 hours (or more) to process just about anything. Because I'm reflective; I really reflect on things at a deep level.
So like at a staff meeting, if something was brought to a vote … like it was just brought up and in five minutes, they wanted to vote, I was like a deer in the headlights. I hadn't even begun to think about it. And so being a reflective thinker —I already mentioned the sensory sensitivity, and like I said, everybody has a slightly different constellation. I happen to be very sound sensitive and very "scent-sitive" — like smells will send me for a tailspin. When I used to teach junior high and the boys would basically shower in Axe, I had a headache all the time. And whereas other people might be like, "Oh, I can hardly smell it."
Barb Roose
If I can lean into that a little bit more then. So for someone who's listening, and you gave that great analogy of somebody, like makes a presentation and everyone has to vote. And you were like, "I need time to think!" So this would then play out in your personal life.
Cheri Gregory
Oh yeah.
Barb Roose
If you had family members, or if you were with people and they go, "Well, let's do this, this, this and this!" And all of the sudden you you have a reaction. Tell me about what that feels like. Because I suspect that there are women who are listening who are going, "That's me!" And then there are women like me who are listening and going, "Oh, no! That's what my family member does!" So walk us through that real quick before we move on.
What does over-stimulation/overwhelm feel like to an HSP?
Cheri Gregory
Sure. What it really ends up being is too much pressure all at once. Like if there was a plan … we get perceived as being very inflexible. When really, we're being blindsided. It's not that I don't want to cooperate. It's not even that I'm not willing to change. I just need a moment to catch my breath. Because if we had a plan, and now we need to make some changes, obviously, I'm a grown adult part of maturity says I've got to learn to be flexible. And I've learned to keep a straighter face than I used to so it doesn't look like I am in crisis just because there were some changes to my plans.
But it used to be you could read it all over my face. I would look shocked; I would look horrified; I might even tear up.
Not all HSPs are criers, I happen to be one who is. And it's not because I was upset, I wasn't attention-seeking, I wasn't being "high-maintenance." I was having the kind of response that my body has. And when supported — or in a supportive environment — then I can go through that, I can metabolize it, and I can flex with the best of them. I've been a junior high teacher! I can handle a classroom of 30 junior high kids. Again — this is not synonymous with weak or wealthy or anything like that. It's just needing just a little bit of time to be able to make that turn. I don't think on my feet well. I don't turn on a dime real well.
And so it's my responsibility. One of the things I did learn to do in staff meetings was to be able to start raising my hand and say, "Hey, could we possibly postpone this vote until the next staff meeting, so that those of us who need time to think about it more and process it more and come up with questions …"
That was the thing that always bothered me! I'm known to be good at asking questions. But I need that day or two to come up with even the questions to ask. HSPs, are 20 to 30% of the population. Once I realize that I'm not the only person like me in the room, I can actually become the spokesperson. I could be the quiet leader. For everybody else. Sure enough, when I started speaking up in a room of 50 people, I would have eight or 10 other people come to me and say, "Thank you so much. I just needed time. I didn't know how I was going to vote. And by next week, I'll be ready."
Barb Roose
Hmm, that's so good. And thank you so much for expanding upon that, because we were heading in a different trajectory. We're gonna get back to some more exam examples in a moment. But there actually is a test to help someone determine if they're an HSP. So you found that women tend to have one of two very different reactions when they take the quiz. And so what are those two reactions?
What are the two very different reactions women tend to have when they take the quiz and learn that they're an HSP?
Cheri Gregory
This is one of the reasons that I was so thrilled to co-author the book Sensitive & Strong with Denise J. Hughes. Because when I found out that I'm an HSP — you probably already heard it in my voice — I was thrilled! Finally a name. And I was normal, not defective. I was normal for an HSP. So I'm an "HSP? YAY!" kinda gal. Like I'm an evangelist, I got the pom-poms out. I am constantly meeting people and inviting them into the club, because I think it's a great place to be.
Denise, on the other hand, for her … in her her family of origin … "sensitive" was basically a curse word. And even to this day, she doesn't like the word. So she was "HSP? Nay!" or HSP? No way!"
So we find that there are those who are thrilled; it answers so many questions; they lean into it and embrace it. And then there's others who are like, "Oh, no, I hate that word. I don't want to be that, can I be cured? How can I cure myself?"
And honestly, both responses are legitimate. I'm not here to tell somebody they have to like being an HSP. And I needed to understand that for my first few years, I tried to convince everybody that being an HSP was wonderful. And there are some people for whom you know, there'll be grudgingly recognize it, but that's about as far as they go. And I can't push that on anybody.
Barb Roose
I appreciate and I can see how there would be two different sets of reactions. And again, for those of us who are non-HSPs, but we recognize that we need to honor those who process differently, explain again: it's very much about how our brain is processing information and there's a heightened awareness?
Explain again how this is very much about how our brain is processing information and heightened awareness.
Cheri Gregory
Yeah, yeah, absolutely. You know, probably the best example I can give is cilantro. Do you enjoy cilantro or not?
Barb Roose
I have right now in my refrigerator, I have a container of just fresh-snipped cilantro that I snipped myself a couple of days ago. And I have in my freezer little pellets of frozen chopped cilantro. I live in Ohio, and my cilantro game is still strong. That's not even an answer to your question, I just need to share that.
Cheri Gregory
I love all of that so much, okay?
So in our family of four … By the way, everybody in my family happens to be an HSP. And we each have different constellations. And my husband is on the autism spectrum, which overlaps with being HSP and then is its own thing.
So the thing about cilantro that we now know is that it's actually biological whether somebody enjoys the flavor of cilantro or not. It's not personal preference; there's actually a gene that they can find. And so my daughter, and I love cilantro; we add it in, we think it's delicious. For my husband, it tastes like soap or dirt, okay?
So here's the thing: We could actually go into your fridge, Barb. We could pull out that freshly-sniped cilantro, Annemarie and I could eat it and we'd be like, "Yum, yum!" we could give it to my husband, and he would be grimacing and he would find it disgusting.
Same stimuli … totally different interpretation happening inside the brain. Totally different wiring going on.
So here's the thing: I'm not going to ever make bowls and bowls of cilantro and feed it to my husband and say, "Here, if you eat enough of it, you'll eventually enjoy it." Because that's not going to happen. That's not the point. Okay? At the same time, he does not go anywhere and say, "Well, nobody here better put any cilantro in their food because I don't like it." We take responsibility for ourselves.
Because I'm close to him, and I know him well, I'm going to accommodate by making salsa for me and Annemarie. But before I add the cilantro, I'm going to put some in a little jar, put his name on it, and set aside. That's not hard. That's not a big deal. He doesn't demand it; he doesn't even need me to do it. It's just one of the things we do when we love somebody. We're like, we know what their little quirks are. And their preferences are. And we do it. It's just like my mom never used to put onions in his food because he doesn't like onions either. It's not a big deal. All right.
And then Annemarie, and I get all the cilantro to ourselves — it's wonderful! And so we are able to make space for that. But also, there's no expectation, there's no demanding. We take responsibility for our own needs. To me, that's so important. It's not another victim culture.
Barb Roose
And I love that. And I think that we can kind of package up some of the things that you've said — you've talked a bit about the different misconceptions that people have about Highly Sensitive Persons. And so one of them you said that people see it as a victim mentality, which is a misconception. Another is a lack of responsibility — that HSPs are like, "Well, that's just the way I am, and you got to deal with it!" Are there any particular misconceptions that really get under your skin?
Are there any particular misconceptions about HSPs that really get under your skin?
Cheri Gregory
Yeah, yeah. And it was actually our mutual friend, Cheri Fletcher, who helped me figure it out. Because she is also a card-carrying HSP. But she's the one that when I slid my laptop across the table at Starbucks to her and she took the quiz and she got a high score. She's like, "No, no, I can't be an HSP!" And I'm like, "Why not? We're wonderful!"
It took a whole year of conversation to realize … because she kept describing the person in her life that she thought was this Highly Sensitive Person. And this person was demanding and unreasonable and whiny like nobody's business and they always needed to be rescued and everything was all about them. And I finally realized: She's describing a narcissist. Not a Highly Sensitive Person. That's a narcissist. And by definition, if you're worried that you might be a narcissist, you probably aren't one 'cause narcissists never worry about being narcissists.
Barb Roose
That is so good. Like I had a feeling that there was a cold chill that went down some of the HSP listeners, and they were like, "I'm a narcissist!" No. No, if you're worried about being a narcissist, you aren't one.
And I love that you and Cheri have this ongoing dialogue about that. And so what was some of the takeaways now that you and Cheri have about going, "An HSP isn't a person who is oblivious to everyone else's needs just to focus on their own." How should an HSP define this for herself f she's listening?" Like what are some things that you say to yourself when you are coaching yourself in this HSP reality?
What are some things you say to yourself when you're coaching yourself in this HSP reality?
Cheri Gregory
Oh, that's such a great question, Barb. Recognizing that what my brain and body are doing — I believe that God created me on purpose for his purpose that He wired me this way. God created me sensitive; in Christ, I am always strong. And so when I start having a physical bodily reaction, or an emotional reaction, which of course happens inside the body as well, because I do run on the emotionally intense side — that's another quality of many HSPs. And I'm an expressor, I'm not a I'm not an internalizer or I'm an externalizer. Thus, the tears and, and I can get quite vocal with my emotional expression.
And so to be able to talk to myself and say, "This is what happens. This is what I do. This is what my HSP brain and body do. And this is what they need now." And so I can almost become my own big sister or favorite aunt, and kind of be like, "Okay, let's take a walk. Let's go pet the cat. Let's get that drink that you've been depriving yourself of."
Because you think by not getting a drink when you're thirsty, you think by not eating when you're hungry, you're proving how low- maintenance you are. Because you don't like being called high- maintenance. So if you don't take care of yourself, then obviously you're very low-maintenance. (Circling back around to that.)
Barb Roose
Wow. Really? Seriously? So because an HSP may hear from people "Oh, you're so high-maintenance!" or "You're so needy!" or "You're so …" they may intentionally deprive themselves of what they need to prove that they are not like… " <Barb loses her mind a little bit>
Cheri Gregory
But of course, then what that can do if we're not actually taking care of our own needs, or expressing them in appropriate ways to those who might be able to assist us, then we crash and need rescue. And that's so embarrassing and so shameful that the whole cycle can start over again.
So the self-coaching is so important about noticing early on. And it's not about noticing, "h, I don't feel like working today. I think I'll just watch Netflix and eat bonbons. "Okay? It's about noticing, "Boy, I'm really resisting dealing with that letter from the IRS. I'm really scared of what's in there. I can feel panic rising. I need to reach out to my friend Amy, and say, "Hey, can you pray for me while I while I set a timer for 10 minutes to at least read this scary letter?" I need to take a walk to get out some of those emotions. And then probably hunker down and try to bang out a first draft of a response. And recognizing for me, I'm a very belonging-connected relational person, and knowing that somebody else is holding some space for me and having some empathy for me and saying, "Boy, the IRS … " as Amy would do for me, "Oh, that's so scary. Anytime I see an official letter come from the IRS, I get scared too."
That's one of the other qualities of an HSP is is empathy. And to be able to know what I need, and to be able to ask for it — whether I asked myself for that drink, or I ask a friend for prayer or whether I asked somebody to hold me accountable or just say I'm gonna report to you in an hour and let you know how I did. All of those kinds of things, for me now, are part of my self-coaching and my self-care.
And actually, Denise, I used an even better word in the book than self-care … and it's stewardship. It's being a good steward of the HSP brain and body that God gave us. They have certain needs that need to be listened to. And listening to them is not pandering or being weak. It is allowing us to use the gifts that God has given us to their maximum ability to serve others.
Barb Roose
That's good. For those of us who may be recognizing there could be certain people who we go, "Maybe they're an HSP!" whether this person's taken the quiz or not. When we do not hold space for them … when we assume that their sensitivity is neediness or that it is bothersome … when we try to force them to make decisions and they're not ready. What does that do to an HSP?
What does it do to an HSP when non-HSPs don't hold space, assume their sensitivity is "neediness," and try to force them to make decisions when they're not ready?
Cheri Gregory
Mmmm. It just makes you so unsafe. And it's very confusing. It's very, very confusing. It also ratchets up that feeling of defectiveness.
Now that I'm used to being an HSP, I can relate to somebody like that so much easier. I can be like, "Wow, they just totally don't understand. They're a person who thinks on their feet. They're a person who makes instant decisions. I'm slowing them down. I'm an obstacle. This situation must be so frustrating for them!" And I won't cave or feel the need to change. I'll try to be able to have a conversation with them. But, yeah, I'm sure it's very frustrating.
And being able to communicate ahead of time what the needs are and just slowly insert into conversations questions like, "Hey, would it be helpful …" You know, in our family, we are constantly letting each other know ahead of time. Like my kids came up with this little routine, "Mom, in about five minutes, we're going to be using the blender in the kitchen." And you know, it's just so nice, because it's one less violent flinch I need to have. Because when there's a noise out of nowhere, my entire body reacts. And it's just so kind of them when they let me know, because then my body doesn't have to ramp up and ramp back down again.
But again, I want to vote for the personal responsibility, if they forgot, or if it happens, then I have the tools to be able to dial it down and to self-soothe and to comfort my own system.
Barb Roose
And I appreciate that — that it's on both sides. For those of us who have people in our lives that we go, "This could be someone who fits into some responses that are an HSP, then I can — out of love for that person …"
For me, I can hold space, when it looks like they're having a hard time and not judge them or push them. I can be courteous enough if I'm going to go to lunch with someone who's an HSP … Whereas somebody could get in the car with me and go, "Hey, Bob, where do you want to go to lunch?" And I'll come up with something. If I'm with a friend who fits more in the HSP category, the day before: "Hey, we're having lunch tomorrow. What's great for you?"
Or if I'm working with a co-worker who is an HSP, as much as I can to be able to plan out ahead of time what's going to help them be successful. Like those are some ways. But Cheri, what are some low-hanging fruit for ways that we can love an HSP better and support them better.
What are some "low-hanging fruit" for ways that we can love an HSP better and support them better?
Cheri Gregory
Barb, I just love everything I've heard you say! You know, so much of what we deal with, especially when we're interacting with other people is that our brains and bodies just start to go into over- reactivity. And we could use just a little time to dial it down. So if you see somebody, they're starting to seem flustered, and they're starting — in my case, I start talking faster and my pitch changes. And so if a friend says, "Hey, do you need just a few minutes? Do you need a little bit of a break?"
I don't need a half an hour or a day. I might need three to five minutes to do a few breathing exercises. If I have started to tear up over something, I don't need a really long break; I can go splash some water on my face, do some deep breathing, and come back and reenter the conversation. Just a little tiny break can be so very, very valuable. Just to break the amount of input that's happening. And just insert a little bit of quiet, a little bit of peace can make a huge, huge difference.
Barb Roose
I love that. And if you're listening friends, Cheri has been dropping in some practical things that she does it to help her self-soothe, self coach, and Cheri there's a spiritual aspect to some of this self-coaching, you have a Sensitive and Strong Facebook group. And there is a Lectio Divina group that meets every Friday. And so why did you start doing this? And why do you continue? And how does this help you along your HSP journey?
Why did you start hosting a Lectio Divina group every Friday and why do you continue? How does this help you along your HSP journey?
Cheri Gregory
It is one of my favorite things to do. I started doing it early in the pandemic because we needed to connect, and I needed to be immersed in God's word. And it is just so it is such a special time. We do it for about a half an hour — that's about the time it takes to get everybody there and then we'll do a scripture passage that takes about oh two or three minutes to read. Sometimes it's like an entire Psalm or just a particular chunk. And there's specific questions to be "pray-cessing" — processing through prayer — for each time that it gets read. And so I'll read out the questions, then I'll read the passage, then there's little time to just kind of quietly reflect and then we'll share with each other in the comments.
And then I'll go through the second reading and the third reading. And it just blows me away every single time how personally God shows up for each one of us based on the circumstances that we're having — through the exact same words of Scripture. And so it is an incredible, reciprocal blessing, because not only do I receive — and each one of us receives — what the Holy Spirit is laying on our hearts. But then as we share with each other in the comments, then we're receiving and being like, "Oh yeah! Oh yeah! Oh yeah!" And so it's just this incredibly rich and full experience that we have together.
And by the time we get off, it's been a wonderful time to connect with my Sensitive and Strong Sisters in Christ — which is the name of the the Facebook group — and there is something that really draws us … that reflective nature of going through the exact same passage, not once, not twice, but a third time And sometimes it's during that third reading is when some things really come and pop out from it. So , anybody can do Lectio Divina. But doing it with sister HSPs is especially a rich experience.
Barb Roose
Oh, that sounds so good. And I appreciate that as a resource. And so let's talk about some of the resources because I imagine that a woman who's listening — either for herself or someone that she knows — she's like, "Whoa, I gotta find out more about this!" So first, for a woman who wants to find the quiz, where would you suggest that she start?
Where would someone find the "Am I a Highly Sensitive Person" quiz?
Cheri Gregory
My website is SensitiveAndStrong.com. And if you put a slash join, you'll get a little form you can fill out and you'll get an email with the PDF with a quiz.
Barb Roose
Ooh, that's so good. And the Sensitive and Strong Sisters in Christ Facebook group that you host. Tell us about that group and who who would be a great fit for it?
Cheri Gregory
You know, really that group is specifically for Lectio Divina. I have to be honest, Facebook is not a great place for for those of us who are HSPs. But it is a great location for us to do Lectio Divina on Fridays, and we've added the we're doing it via Zoom as well. I do the Zoom and then I livestream into the Facebook group. So some people prefer to be on Zoom, they're off camera, nobody sees them. We do everything through chat, because you know, the rest of might be a little too overstimulating, especially for those who are really trying to just focus on God's word. Love it
Barb Roose
Love it — real quick, I know we're getting ready to wrap up. But what is it about social media? How does that impact an HSP?
Cheri Gregory
Oh, it's just all the outrage and being bombarded by the bad news and people being angry and hateful and yelling at each other. It is just it is way too much input way too … especially the negative input. Yep.
Barb Roose
Okay. That's so good to know. I know that this conversation was for my listening audience. But Cheri, I have learned so much today about HSPs, about what's happening behind the eyes, the uniqueness around how God has created HSPs, and most importantly, how I can make sure that I can love them better. And I'm hoping the listeners are as well. And so do you have any final words of encouragement for the woman out there who realizes that she may be an HSP?
What final words of encouragement do you have fo the woman who realizes she may be a Highly Sensitive Person?
Cheri Gregory
Yes, and it may seem counterintuitive, but I'm going to say it anyways. And that is that HSPs are wired by God to be leaders. And I know from the description that I've given, it might seem like, "Cheri, no, no, no!" But we are wired with the qualities of Servant Leadership. And years ago in the leadership program I'm in — I'm getting a PhD in leadership, as I think, you know — my advisor actually told me, "Maybe HSPs aren't made of leadership material!" And it made me so mad.
And I realized through my research that yeah, we're not wired for Charismatic Leadership. But we are — especially because of the reflective nature, especially because of the empathy, and then also the noticing of nuances (which is one of the other qualities of an HSP) we are created to be Servant Leaders. And often the leadership we do is one-on-one or in very small groups. And it counts. It still counts as leadership. And God is still using it and working through it. So for anybody who might be like, "Oh, I don't know if I want to be an HSP!" or "Maybe I can ignore all this" or "What does it really mean?"
It is an amazing gift. One that yes — sometimes there are some challenges that need to be dealt with … there needs to be good stewardship. But there's also the joy of the kind of leadership that God has created us for. And there are just amazing rewards when we use the gifts of being an HSP the way that He's intended.
Barb Roose
Ooh, that is a great, great ending note of encouragement for today's listeners. Friends, my guest today has been Cheri Gregory, and we have been talking about the power of the HSP. We're going to have links in our show notes to everything that Cheri talked about today as far as resources, the quiz as well as how to get in connected connected to our Facebook group. So Cherik thank you so much for everything that you have shared with us today.
Cheri Gregory
Oh, thank you so much, Bob. It's been great talking with you today.
Barb Roose
Whoa, ladies! If you have enjoyed today's episode, and you know that either you are probably an HSP — or you've got a friend —send this link, share this link, get this link out to the others that you know. Or you can go to BarbRoose.com on the podcast page for this episode, as well as our past episodes. We will put out new episodes on the first and third Mondays of every single month.
And if you have enjoyed this show, or previous shows, would you leave a review on iTunes? This is how we can get more folks connected to our "Better Together" community because I do believe that we can all get better together. So thank you for joining me this week. I look forward to seeing you soon. Bye-bye.