How to Get Permission to Quit
Are you ready to lose that overwhelming sense that "something must be wrong with me" and learn, instead, to embrace this HSP gift God's given you? The Sensitive & Strong Community Cafe is open to new members now!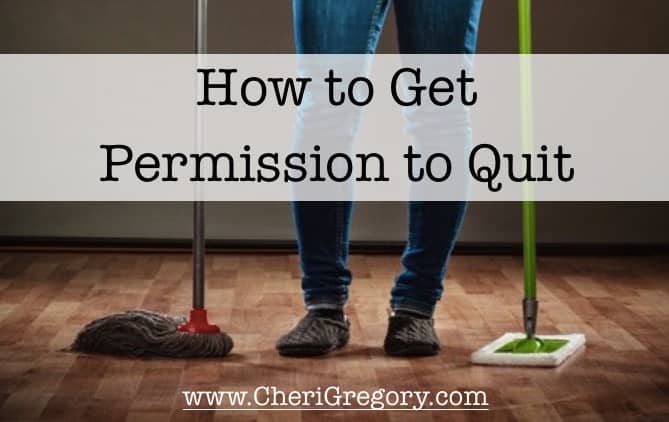 What the … ?!?
Pulling the cushions off the couch reminds me of carseat days.
Ugh.
I stare at the pens, pencils, paperclips, and half-inch layer of crumbs that lines the innards of the couch we bought new over a decade ago.
What are we, a bunch of barn animals?
I haul a cushion into the kitchen where my Little Green Machine awaits. My plan is to clean two cushions a day for three days so that the couch, love seat, and chair will be presentable for guests on Friday night.
This shouldn't be too hard.
Done
Half an hour later, the kitchen floor is covered with a half-inch of water. The window, cupboards, and counter appliances are spattered and streaked. I am soaked with sweat, and my arms are sore.
The Sanguine/Expressive part of me that thought Oh, this will be fun! was wrong.
So wrong.
The Choleric/Driver part of me devoted a full thirty minutes and is done.
Done in.
Done for.
So done.
I take a break to let the cushion dry.
Later, when I hold it up to the others, I want to cry.
It's clean.
Too clean.
I can't just put it back on the couch and quit. If I do, it'll scream, "She cleaned me but nothing else! This family was born in a barn!"
I do the math:
30 minutes x 8 more cushions =
I try not to cry.
2 Much 2 Do
I still need to buy a "Toilet Repair Kit" so guests can actually use the upstairs bathroom.
The whole house needs to be cleaned.
I still need to make a grocery list, shop, and cook.
Shatzi bounds up to me, panting and licking her chops. I look at the couch: the crumbs are gone, as are most of the paperclips. And a pen or two.
Great. Now I need to take my dog to the vet, too.
"This place," announces a voice from my childhood, "is an absolute pigsty!"
My Inner Critic is running scales, warming up for a major performance.
"You started it, so you have to finish it. Otherwise people will think…"
No.
"You started it, so you have to finish it. You don't want to look like a quitter who…"
NO.
"You started it, so you have to finish it. It's all up to you to…"
NO!
I Google "sofa cleaning," and ten minutes have a confirmed appointment for 1 sofa, 1 love seat, and 1 chair Thursday afternoon.
"But that costs money and you don't earn …"
I said NO.
Besides, the website says that "furniture manufacturers recommend professional cleaning every 12-24 months." So technically, this is nine years over-due. I'm actually being a good steward of the money we invested. Put that in your pipe and smoke it!
Rest
I spend the next few hours, waiting for guilt to arrive. For me to feel like I should cancel the appointment and do it myself after all.
Instead, I feel elation.
Our couch and love seat and chair — which have served us well for ten years and should easily last another ten or more — are about to get cleaned.
By someone who actually knows how.
I will focus on the rest.
And I'll get some rest before our guests arrive.
Permission
I share a lot of cautionary "where I went wrong" stories on this blog. Today's, however, is one in which I went right.
Where did I go to get permission to quit? Here's where I didn't go:
I didn't ask my friends.
I didn't ask my kids.
I didn't even ask Daniel.
While I do ask for input with many decisions, this time I didn't need to.
I gave myself permission.
Permission that came from self-compassion. I knew what I could and couldn't do. I knew that I needed rest.
So when I asked myself:
This time, can I just quit?
The answer was obvious:
Yes.