How to be Flexible in a Crisis (Even When You Feel Fragile)
Are you ready to lose that overwhelming sense that "something must be wrong with me" and learn, instead, to embrace this HSP gift God's given you? The Sensitive & Strong Community Cafe is open to new members now!
Note
: Below is a machine-generated transcript of the Facebook LIVE I did in the Sensitive and Strong Sisters Facebook group on 03-26-20.
I want to talk about how to be flexible in a crisis, even when you're feeling fragile. And based on the response, I've gotten to this topic, I'm not the only person who is finding herself feeling a little bit weak around the edges during the pandemic.
But this really does apply to any time and one of the illustrations I'm going to be sharing has absolutely nothing to do with a pandemic.
I want to start off by telling a bit of a story that's going to end up being a metaphor for this entire time together.
Injury
We're going on almost 20 years ago, I injured my back of all things I was I was about to turn 35 and I wanted to get myself back into shape. I want to be a good role model for my children. So I signed up for a local gym.
And long story short, I was being encouraged by one of the trainers to do something harder and faster even though I hadn't exercised at all for almost 18 years. And I ended up fracturing a vertebrae and hurting eating the disc above and below it. And but we didn't know that for quite some time.
All I know is that I walked into that gym feeling pretty good. And I walked out of that gym, in pain in the kind of pain that felt like it was stabbing it felt like it was a hot knife, and all that pain did was get worse. And what I did, I've never had pain like that before. I've never had persistent chronic pain like that before. I've been through childbirth, I've had other surgeries and before that, but this was the first time I'd experienced anything like this.
And so what ended up happening as the days turned into weeks, which turned into months, and we finally found out what it was but there was no treatment. It was just kind of Hope it got better by itself, is I found myself really withdrawing from life. And I was so terrified, not only feeling the pain that I was in, but I was so terrified of making it worse, that I basically, I was drawn to this kind of self protection mode.
Feeling Physically Fragile
I felt fragile. I felt physically fragile. And over the over the months, I became emotionally fragile because of the impact of the pain. But physically, I felt fragile. I felt breakable. I felt like if I moved the wrong way, like I would shatter like whatever was going on in my back. It was just one wrong move. And I was just going to fall to pieces.
And so what happened to me physically is I literally became unmoving. I became very tense and very, very resistant to any kind of moving because I was choosing and then over time, my body was just instinctively being very resistant. Well, finally I went to a sports specialist of all things and discovered that exactly what the problem was. And what had happened is that I had developed some really bad muscle knots all around the injury site. But my back was weak. And what he told me was that weak muscles spasm. And so the pain I was feeling wasn't the actual original injury, the pain I was feeling was the spasming of all of these weak muscles that were just kind of like I'm frozen in place trying to hold my body together because it thought I was falling apart.
And so nothing I was going to do could actually break me at that point, it just felt like it. And so actually, I had done the worst thing I could possibly have done.
Protection Strengthen
So all of the time of not being active of laying on the couch of holding myself rigid in fear of the pain I was already feeling and in fear of the future pain, it was all the wrong thing. Instead of protection, I needed to strengthen. And so I got a prescription for physical therapy. And oh my goodness, I was the worst possible patient at that first session because I was like, After all this pain, after all this time off work, I need to be better now. And I discovered, the only thing that happened quickly that day was I discovered, you don't do physical therapy quickly. And I was so angry with my physical therapist. And a few weeks and months later, I realized that physical therapists are in God's angels sent down to earth to take care of us. And what she taught me was she taught me to do these small, slow, steady stretches. And she also put me on the Pilates table for core strengthening.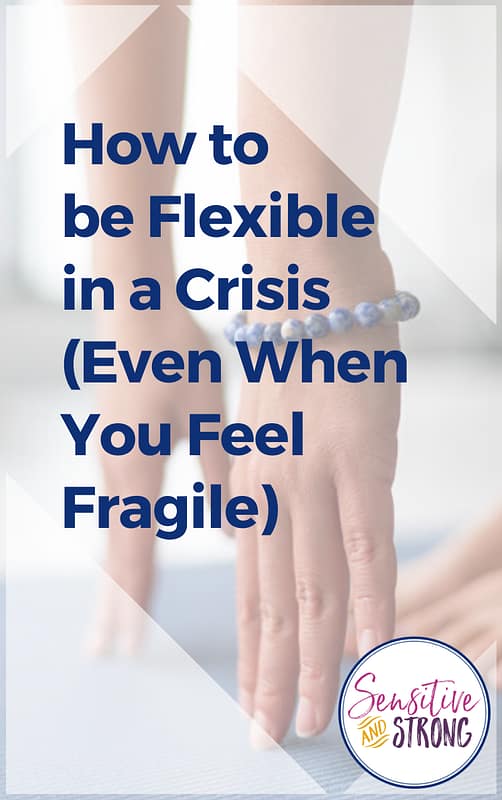 How to Be Flexible as an HSP
And I've learned a similar lesson from my emotional life, mice, relational life, my spiritual life as an HSP.
The as the metaphor I'm giving you here is a literal physical injury. But in any area of my life, my number one reaction to pain — and I don't care if it's pain or if it's stress or anxiety or fear or whatever negative trigger you want to call it — my number one reaction is freeze. It's to tighten up, it's to become rigid to not move for fear that I'll break.
And so the quick example that I'll give you is yesterday we had a family celebration and planned but we ended up kind of being in our own zones, and we ended up with miscommunication. We ended up with some disappointment. We ended up with conflict. And with that on top of everything else that's going on in life, I really all I wanted was to go hide in a closet with the door shut, like I just wanted to be there, literally like this with the door set, where nobody could find me and I would have been completely content to just stay there for like 24 hours standing stock still in a closet.
But here's the thing:
God did not make us fragile. He created us flexible.
A Scriptural "Stretching" Progression
And the scripture that reminds me of this whole concept is Romans 5:1-5 in the New American Standard Bible. It reminds me of the kind of Stretching that I went through in physical therapy from my back. So let's take a look at it here, I'm going to resort to my reading glasses. It says,
Therefore having been justified by faith, we have peace with God through our Lord Jesus Christ, through whom also we have obtained our introduction by faith into this grace in which we stand. And we exalt in hope of the glory of God. And not only this, but we exalt in our tribulations, knowing that tribulation brings about perseverance, perseverance, proven character, and proven character, hope. And hope does not disappoint, because the love of God has been poured out within our hearts to the Holy Spirit who was given to us.
And what I see here is this progression and this verse may well be very familiar to many of us.
But when I think about that, in terms of a kind of parallel to that physical therapy, I went through with my back in terms of the stretching, and at first I could only do this and then I could do this, which was me to do this, which led me to have a much greater range of motion, far less pain and allowed me eventually to get back to a reasonably normal life with chronic pain levels that are much more manageable.
And so this stretching that is modern here in this scripture of tribulation, perseverance; perseverance, proven character; proven character, hope — I'll be honest, it does not sound fun. It is not my favorite verse in the Bible.
And yet I recognize it. I recognize the validity of it. I recognize the truth of it, I recognize that this is what has happened in my life in many different areas.
And so I wanted to apply this concept of this stretching that leads to strengthening specifically to our lives as HSPs and how we can become more flexible in crisis.
What to Avoid
What might it look like to strengthen through stretching?
What might that actually look like in life?
For a highly sensitive person, Well, the first thing I want to say is, here's what we need to avoid. Because for many of us, it is our It is our gut reaction. Once we realize, Oh, I'm all tense, now I need to start stretching! I won't speak for you. But for me, I tend to be an all or nothing kind of person. And so when I suddenly realized, Oh, I'm being too rigid in any area of my life, you know, it could be relationally. It could be spiritually it could be emotionally, then I'm really tempted to throw myself into some new program in the opposite extreme.
And here's the thing. If you've done anything that involves stretching, like I used to jog three miles a day, and I knew that if I wanted to be able to stretch rather than cause my hamstrings to tighten up, I needed to go slowly. I couldn't do it all at once. And the same thing is true of us emotionally and relationally and spiritually.
The 3 S's of HSP Stretching
So there's going to be three S's I want to share with you — the three S's of HSP stretching. And you'll recognize them. They're nothing magic:
small
slow
steady
So just to give you the example from yesterday, to apply this to the what happened yesterday with the family conflict. So there was one particular person I was in conflict with. And, you know, remember I wanted to go hide in that closet, like I would have had been perfectly fine in that closet for 24 hours. It sounded heavenly. Personally, I wanted to retreat I wanted to protect, but I didn't need protection, I needed to strengthen. And so I made that choice. And it was a small choice to say, "Can we talk for a few minutes?" Okay, so that was the first thing that's just an example of how I went small. I didn't try to have a huge, long, long conversation I didn't even try to involve the whole family went to one person and I said, "Can we talk…" I think I may have even said "…for five minutes?" and it did stay a small conversation.
And so then I asked one question, and I did the hardest thing in the world for me. I listen. Like my head had been spinning with all of my, you know, my experience and I decided, Okay, I'm going to go slow this train down. And I'm going to listen. So that was slow.
And then I, even during that short conversation, I still wanted to run I wanted to numb. I was like, well, the kitchen's over there. And I know there's chocolate in there, I want to stuff my feelings. And instead, I stayed present. And I breathed through it. And I kept leaning into it. And so that would be the steady that I saw happening yesterday.
So small, slow and steady.
Now, did we resolve everything like is everything happily ever after?
No, things don't actually turn out that way in my family. Maybe they do in yours? I'm willing to bet not. But it wasn't anybody's fault. It was that the issue was too big and it was to multi layered. So we really only addressed a small portion of it.
But here's the thing: instead of freezing up, and instead of locking myself in my closet — literally or metaphorically … because I don't have to lock myself in a physical closet, for my family to think to feel like I've locked myself in a closet, some of you may understand that as well. I just distance myself I just shut myself up in my own head. So instead of locking myself up in a literal or metaphorical closet, I leaned in, and I did the thing that was most important to me, which was to connect with this person, even though it was hard. It was painful. It didn't feel great at the time. If anything while I was doing it, I was like, Oh, can I stop now? Yeah, really? No, I'm done. Can I stop now?
And but I continue to stretch in ways that were small, that were slow, and that were steady.
And in the end, I was tired, but I was not in the same kind of pain that I was feeling when I went into that conversation or even before I propose the conversation, and I felt a little bit stronger. I'm not saying I felt like Wonder Woman. But I will say that I felt stronger because I had stretched.
Stretching in All Areas of Our Lives
So whatever area of your life that you're feeling frozen in, and you know that just that feeling that you've gone rigid, maybe you're afraid of breaking process, What would it look like for you to stretch in that area in ways that are small, that are slow, that are steady?
I'll give you one more illustration. All right, for whatever reason, I have had trouble in my spiritual life over the last number of months getting into God's word. Now, that feels really heretical to say out loud, because I'm a Christian speaker. I'm a Christian author. But it is what it is. That's what's been happening. And so I was being very rigid. Like I was trying to cure this problem. I was trying to block off a full hour like, you know, like, the only way to make up for not spending time with God was to like suddenly spend a full hour with God. And I was going to use the concordance and my highlighters and you know, there have been seasons in my life when that's worked really, really well. And so I realized, Okay, wait, that's the rigid, that's the way that you know, I'm going to end up feeling super duper fragile, actually, rather than feeling stronger.
And so I looked for small things that I could do. And I think one of them that I've already shared in this group is I just started leaving my Bible open, so that anytime I pass by it, and it's right here in the living room with me, I could just pause, I could read a verse, keep it super duper easy. And so just even even leaving it open was a very small, slow, steady stretch, pausing to read that scripture, small, slow, steady stretch.
I've downloaded the Dwell app onto my, my cell phone. And so in the morning, when I get up to feed the cats early, instead of listening to a podcast, I just hit the listening plan that I'm on and I listen to that instead. Okay, again, small, slow and steady.
And what I'm finding of course, as we know, one We get back in once we get started, again, some of the old rhythms, some of the, the strength that I've had in the past. Here we go, I'll use that I'll use that metaphor, I have muscle memories, from the times that I have really, really soaked and dived into scripture driven into scripture, really, really immersed in Scripture, I have muscle memories from those times, and those are coming back.
So that's just a quick illustration of how something like this might apply to your spiritual life.
So, again, this is something I would just encourage you to pray-cess the question and pick a particular area of the life in which you're feeling frozen or stuck or self protective or fragile.
And just ask God to show you what it might look like to stretch in that in that particular area of your life in ways that are small and slow and steady.
A Promise of Hope
And then I just want to close by reading the scripture one more time. I think it is so beautiful, and I really want to focus on the the last verse at this point because it is the promise for our spiritual life for what this verse is actually talking about. And it's the promise, I think, in any area of our life, it's a promise of hope. So this again is Romans 5:1-5, from the NASB.
Therefore having been justified by faith, we have peace with God through our Lord Jesus Christ, through whom also we have obtained our introduction by faith into this grace in which we stand, and we exalt in hope of the glory of God. And not only this, but we also exalt in our tribulations, knowing that tribulation brings about perseverance, and perseverance, proven character, and proven character hope. And this is what I want to close on. hope does not disappoint, because the love of God has been poured out within our hearts to the Holy Spirit who was given to us.
And so ultimately, of course, the strength that we have is never our own. You guys have heard me say it before:
God created you sensitive. And in Christ, you are always Strong.