Five Steps to Go From Chaos to Calm in the Kitchen
Are you ready to lose that overwhelming sense that "something must be wrong with me" and learn, instead, to embrace this HSP gift God's given you? The Sensitive & Strong Community Cafe is open to new members now!
My mother was the ultimate "hostess with the mostest."
When she entertained, she planned her meal not just with recipe cards, but colored sketches of the filled dinner plates to guarantee an attractive range of colors. When she said, "lunch will be served at 1:00 PM," lunch was served at 1:00 PM, give or take ten seconds. Hot foods hot, cold foods cold. She pulled it all off effortlessly, never breaking a sweat or allowing anyone in the kitchen to help.
In stark contrast, I spent decades serving monochromatic meals, an hour (or two) late, hot foods tepid, and me mere moments from a melt-down. My every attempt to reproduce my mother's skill in the kitchen felt like a total disaster. And by the time my guests arrived, the last thing I wanted to do was eat or attempt conversation. All I wanted to do was hide in my bedroom until they were gone!
Reading Bible verses admonishing me to "offer hospitality to one another without grumbling" (1 Peter 4:9) only made me feel more guilty and ashamed. I constantly berated myself:
What's wrong with me?
Why can't I do something as simple as fixing and serving a meal for a few guests?
It's not that hard!
Then, a decade ago, I learned that I'm an HSP — a Highly Sensitive Person. Suddenly, my aversion to the kitchen, and all the chaos I associate with it, made sense.
The high-intensity meal preparation that comes so easy for natural hostesses, like my mother, turns out to be completely overwhelming for HSPs like me. Despite our best intentions—This time, everything will go smoothly!—preparing for guests can send us into sensory and emotional overload without us realizing how quickly or completely it's come over us.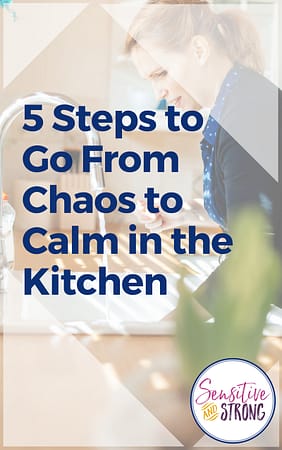 For those of us who get caught up in kitchen chaos when we're trying to practice hospitality, here are five intentional steps we can take to create kitchen calm, instead:
1. Take breaks
It may feel counter-intuitive to think about taking breaks before you've gotten started. But breaks are vital to self-soothing when chaos starts creeping in.
Breaks aren't a luxury, something we'll do if there's time. They're a necessity.
Taking a break simply means getting out of the kitchen for a few minutes and …
…praying for your guests, for your family, for your own heart.
…sitting in a favorite chair with a good book.
…reclining on the couch (with or without a purring cat!)
…writing in a gratitude journal.
…listening to quiet (or upbeat) music.
…taking a brisk walk.
…whatever else works for you!
The goal of a break is a change of state. Think of it as "cleansing the palate" of your head and heart before you move on to the next stage of meal preparation.
2. Make a written plan
I used to trust my intuition to tell me when to start preparing my various recipes and which order to put them in the oven. But I always ended up with some dishes done an hour too early and others a full hour away from being ready.
So now I employ backwards design. I figure out how long each dish needs to bake, cook, set, or chill. Then I do the math to calculate when I need to begin, factoring in all my breaks (see #1).
When I first started making a written plan, I was shocked —It can't possibly take that long! And even embarrassed—I should figure out ways to shave time off that total.
But calculations are far more realistic than gut feels or guilt-filled "shoulds" will ever be. Instead of berating ourselves, we can assure ourselves—It takes as much time as it takes.
3. Prepare ahead
Back when I dreaded hospitality, I procrastinated everything until the last possible moment. Which, of course, caused a ton of kitchen chaos which kept the whole self-reinforcing cycle spinning.
Now, part of my written plan (see #2) includes figuring out everything I can do ahead of time.
Like the house cleaning. I used to try to whip my house into shape on the same day I was doing all the cooking. Talking about sensory overload! Not to mention going all day without a single break. No wonder I was a wreck when guests arrived. Now, I schedule all house-cleaning for the days prior and do strategic touch-ups on the day of.
Preparing in advance includes:
buying pre-made ingredients rather than making everything home-made.
doing all the chopping, slicing, and dicing a day or two ahead.
taking the first step of a recipe (such as cooking the rice for a casserole) the night before.
Fixing a meal feels so much less daunting when everything is ready to "throw and go"!
4. Accept help
I used to mimic my mother's habit of shooing everyone out of the kitchen. Partly because I didn't want to admit that I needed help. But mostly because I was flying by the seat of my pants so badly, I couldn't even articulate the help I needed.
Now, when someone says, "How can I help?" I refer to my plan (see #2) and give them a specific answer.
It's a reciprocal gift when we're prepared to say
"Could you peal and slice the carrots? Everything you need is laid out overs here."
"Would you put those rolls in that basket and cover them with one of these napkins?"
"If you could pour the drink—it's on the top shelf of the frig—that would be wonderful!"
5. Clean as you go
This is one of my mother's habits that I've embraced as my own. Before each break (see #1), I quickly scrub and rinse everything in the sink and set it all in the dish drainer to air dry. When I return, I use a towel as necessary and put everything back where it belongs.
For some, this might feel like adding extra work in the middle—why not save clean-up to the very end and do it all at once?
But for others, pausing to tame the chaos is a smart step toward sanity. Starting the next stage of meal preparation in a clean kitchen automatically creates a sense of calm.
A little intentionality goes a long way to calming kitchen chaos, enabling us to be truly "eager to practice hospitality" (Romans 12:13) and to receive the many reciprocal blessings God has in store for us when we open our homes and hearts to others.
Your Turn
What steps do you take calm kitchen chaos?