One Cure for a Procrastinated Life
Are you ready to lose that overwhelming sense that "something must be wrong with me" and learn, instead, to embrace this HSP gift God's given you? The Sensitive & Strong Community Cafe is now open to new members, and we'd love to have you join us!
I'm not a procrastinator.
I'm a Choleric/Driver, and I have the lists to prove it!
I am constantly in production mode. Check. Check. CHECK!
You won't catch me putting things off until later. I'm not a putter-offer. Nope, not me.
I just wait until I'm ready to do certain tasks.
And some tasks require me to wait for weeks.
Months.
Even years.
(Ahem.)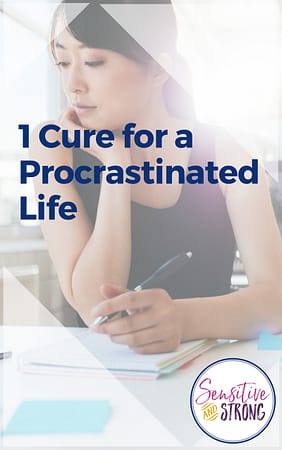 Recognizing Procrastination in Hindsight
I can't tell you how many projects I've started with great gusto, certain I'll finish them in no time," only to have them drag out ad infinitum.
The one that finally forced me to recognize that I am an unintentional procrastinator was my MA degree. I started it in 2005 and should have easily graduated in 2007. But I didn't get my diploma until 2013.
Why eight years?
For the longest time, I had a laundry list of reasons:
The big move from southern California to the central California coast.

The new job teaching ESL, which I'd never done before.

Both kids becoming teenagers.

Launching my speaking ministry. Blogging.

Mother's decline into Alzheimer's Disease.

And so on.

And so forth.
But in writing The Cure for the "Perfect" Life, I recognized the real reason I failed to make progress for so many years:
I didn't know what to do next.
I feel foolish admitting this.
But the only thing more foolish than admitting it seems to be … well … not admitting it.
This sense of I don't know what to do next paralyzes me.
It's fear. But instead of fight or flight?
I freeze.
And stay stuck.
For weeks. Months. Even years.
Waiting until "I'm ready."
The Problem With Putting Projects Aside
Here's the thing: when I'm in the midst of a project, I do know my next steps. But then life happens, and I have to set it aside for a few days (or weeks or … you know the drill!)
By the time I go to pick it back up again, I've forgotten where I was in the process. So, I have to spend hours and hours getting back into the flow before I can make an iota of progress …
… and then life happens again …
… which means that the next time I have time, I'm going to have to spend hours and hours, again, figuring out where I was, only to make another miniscule iota of progress.
I just don't have that kind of patience.
I want to do things once and move on. I can't keep doing the same things over and over again; I have to see progress.
One Thing That's Working
Right now, I've got multiple projects "in process."
To keep myself from stalling out on any of them, I'm doing something startlingly simple.
When I'm done working on any particular project "for now" — and I'm not sure when I'll be able to pull it out next?
I grab a Post-It Note and write out my next 3 detailed steps.
Then I tape it to the spine of the project binder.
Tape so the Post-It doesn't fall off and get lost.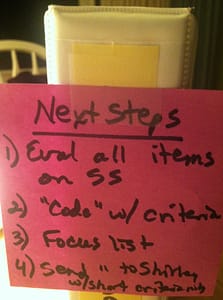 If I need more detail, I can always type up my thoughts/ideas/whatever, print them out, and tuck that sheet inside the binder. AND tape a Post-It on the spine that says "1. Read notes in binder"
I've been doing this for several weeks now, and it's working.
I'm so excited!
I know it's not the cure for cancer.
But it is one cure for a procrastinated life.