How to Say No to the Hardest Person to Say No to
Are you ready to lose that overwhelming sense that "something must be wrong with me" and learn, instead, to embrace this HSP gift God's given you? The Sensitive & Strong Community Cafe is open to new members now!
Why did I do this to myself—again?
It's late October, and I'm looking at my November and December calendars.
Once again, almost every square is crammed with microscopic writing.
My own writing.
I can hear my first boss's immortal words: "Yes, Cheri, you sure did this to yourself!"
Why did I do this to myself again?
I'm taking a hard class this semester.
I'm catching up on a bunch of old projects.
I'm de-cluttering the house.
I'm anything but bored. What happened to my bold proclamations that I was "cutting back" so I could "do less, better"?
Why did I do this to myself again?
The answer hits hard and true:
I'm trying to stretch my plate.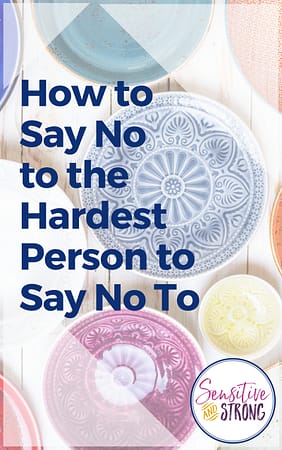 A Capacity Metaphor
My dear friend and mentor, Kathi Lipp, uses the metaphor of a plate to illustrate how each of us has our own individual capacity.
"Some people have a serving platter, some have a dinner plate, and others have a demitasse saucer."
The first time I heard Kathi say this, my first reaction was
Yes! I have a serving platter!
All my life, friends and acquaintances have showered me with accolades for my productivity:
"You do ____, ____, AND you're doing _____?!?"
"Cheri, I don't know how you do it all!"
"I could never do half as much as you do!"
They never knew the truth.
Neither did I.
Another Capacity Metaphor
In December, I read a blog post from Seth Godin in which he references a snippet scene from The Hobbit: Bilbo Baggins telling Gandalf, "I feel thin … sort of stretched … like butter scraped over too much bread"
Godin comments
What happens if instead of always seeking more butter, we find the discipline to cover less bread?"

Spreading our butter too thin is a form of hiding. It helps us be busy, but makes it unlikely we will make an impact.
Hiding? No way. "Showing off" maybe. But hiding?
But even as I fought it, the truth sunk in.
Trying to stretch my plate is a form of hiding.
Borrowing and Juggling
My plate manipulation strategies aren't limited to stretching. I've also begged, borrowed, and stolen plates from other people.
Then, to "get it all done," I've juggled like a madwoman. A madwoman with no hand-eye coordination. Which meant sweeping up a lot of broken plate pieces.
All because I'd convinced myself
Yes! I have a serving platter!
The Truth
But I don't have a serving platter. Or a dinner plate, for that matter.
Turns out, I'm a demitasse saucer kinda gal.
Five decades of trying harder and harder have taught me:
No matter how high I pile my plate, I can't make it bigger.
The harder I try…
… the more I let down those I love.
… the more I disappoint people to whom I've made promises.
… the more I exhaust and lose myself.
Worst of all, each time I try to stretch my plate, I demonstrate distrust in my Maker, basically telling God
I'm going to show You and everyone else I know that Yes! I do have a serving platter!
The Hardest Person to Say "No" to
We've all heard great advice for how to say "No" to other people.
But the most important—and hardest—person for me to say No to is myself.
I've spent my life telling myself Yes! I have a serving platter!
Except that I don't.
The plate God gave me is small. When I start to load it with projects, it holds very few.
Thus, I must choose the few that only I can do.
How to Say No
When considering a new optional commitment, I now ask myself one question:
Is there space on my plate?
NOT, Can I pile it higher?
NOT, Can I borrow someone else's?
NOT, Can I juggle one more?
One question:
Is there space on my plate?
Each time I say this kind of No to myself, I say Yes to coming out of hiding.
I must say No to myself.
So I can say Yes to my truest self.