Handling "Mortified Mom Moments"
Are you ready to lose that overwhelming sense that "something must be wrong with me" and learn, instead, to embrace this HSP gift God's given you? The Sensitive & Strong Community Cafe is now open to new members, and we'd love to have you join us!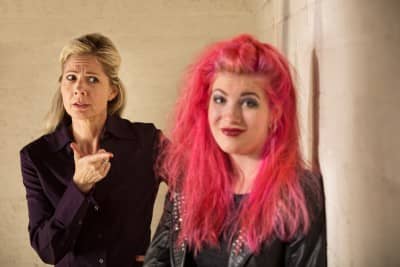 (Today's blog post is one I wrote for SpeakerChicks.com. Stop by for some great FREE resources if you're in ministry and/or leadership!)
If you're a mom, you've probably had your child's foibles, foolishness, or failures come to light in a public way and at an awkward time.
I call these "Mortified Mom Moments."
Perhaps your 4-year-old shares some choice "vocabulary words" with the other kids in the Mopettes class.
Or the grapevine learns that your 7th grader was suspended from school…and why.
Or your teenager posts photos of disappointing, perhaps even destructive, behavior on their Facebook page.
Yes, I'm intimately familiar with all three (and so many more!)
5 Phases of Mortified Mom Moments
As the mother of two children who are PKs (pastor's kids) and TKs (teachers' kids), I've had countless MMMs when I wanted to say, "Whose kids are those?" and hide under a rock.
I've found that my reaction to the latest MMM goes through five predictable phases:
1. I fear exposure.
In this phase, I'm frantic for spin control. I either try to make sure nobody finds out, or I am certain that everyone knows and is talking about me. My sense failure becomes overwhelming.
2. I feel unqualified.
The enemy puts, "If you can't even lead (read: CONTROL) your own child, how dare you try to lead others?" on endless replay. Shame settles in.
3. I flee into hiding
Often I don't realize I'm hiding until I've missed several meetings or backed out of a bunch of commitments, usually with cover stories about being busy or sick.
VITAL: Avoid the temptation to stop and stay in Phase 3. The enemy wants nothing more than for women to isolate!
4. I face my own issues
When I ask the Holy Spirit what I need to learn from a Mortified Mom Moment, I often find myself dealing with painful truths about my unrealistic expectations of my children or my own failures to actively mentor them. I fret less about the episode's impact on my leadership position as repentence and forgiveness become part of the experience.
5. I find others who understand
Finding other moms in ministry with whom I can be honest and vulnerable has prompted amazing relational and spiritual growth. There's nothing like having other women who "get" me who will listen, challenge, pray, and love me without judgment. Having such women in my life has taught me how to better listen to, challenge, pray for, and love my children.
The Harsh Glare of the Spotlight
I asked a few ministry friends to share their thoughts about what happens when kids of moms in ministry end up in the spotlight.
"I think people judge you [as a leader] more harshly when your kids don't act perfectly." (Michelle Lazurek)
It's so easy for us to pass such feelings of judgment on to our kids in the form of high expectations.
"I was a PK, and whether it was real or simply perceived in the mind of a child, I always felt the pressure to be perfect." (Holly Barrett)
"As a principal's kid, I always felt there was an additional layer of responsibility I had to adhere to. Due to the politics, some people really loved to catch us doing wrong." (Michelle Kelly)
"My mother was a well respected/known teacher in our community. She taught at my school so it was hard because she knew EVERYTHING I did good (and bad) in the classroom. I felt the need to always be the perfect student because I was her daughter." (Tracy Steel)
I wish I'd had the wisdom of April May's mother who explained, up front, the privileges and responsibilities of being a pastor's kid.
"She wasn't mean or harsh, and she did not put false expectations on us. She made it clear that it was a blessing to have this honor instead of an obligation."
Two HIGHLY Recommended Resources
1. "When Strong Mamas Feel Quite Weak" — fabulous blog post by Lysa TerKeurst in which she challenges our tendency to draw a straight line from our kids' choices to ourselves.
2. "Cut the But" — a powerful Mother's Day sermon by Lysa TerKeurst in which she addresses "the fragile choices of our children"
Your Turn!
Share a "Mortified Mom Moment" you've witnessed or experienced recently!
What are your thoughts about children of ministry leaders: Should they be held to higher standards? Should their parents be judged by their behavior?
Anything else on your heart!